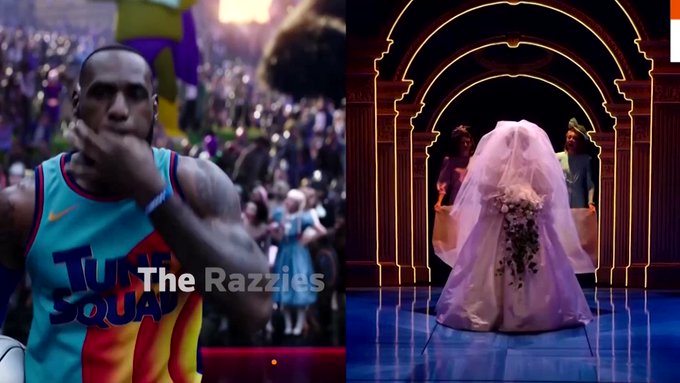 I'm not up to writing about the
Oscar winners
today, so I'm returning to
the Razzies
. Watch the
42nd Razzie® Award Winners!
Beamed live from outer space ... Razz Barry solicits the help of local aliens to deliver Hollywood's most un-coveted $4.97 trophy for 2021's worst achievements in film. Even they were stupefied by the glut of Razzie fodder.
I like calling the mascot "Razz Barry." I've been following these awards for years and haven't seen it used before. it's about time, if not a little late, as Google search reveals previous uses of "Razz Barry." I hope the Razzies manage to hold onto the name.
The
Razzies press release
summarizes the "winners."
The bulk of the tacky, gold-spray-painted statuettes were "won" by two films. The NetFlix/streaming version of the year's biggest Broadway bomb, Diana: The Musical "won" in five categories: Worst Picture (which critics said "makes Cats "Look like a masterpiece!"); Worst Actress (Jeanna deWaal as a twitterpated version of the Princess of Wales), Worst Supporting Actress (Judy Kaye in a dual role), Worst Director (Christopher Ashley) and Worst Screenplay (featuring some of the year's most ridiculed dialogue and lyrics – Including rhyming "Camilla" with both "Manilla" and "Godzilla").

Dribbling into second place with three "wins" was Space Jam: A New Legacy, more of a remake than a sequel, called out as a 115 minute commercial for all things WarnerMedia. Basketball phenom LeBron James was the MVP in both Worst Actor and Worst Screen Couple (along with all those cartoon co-stars and product plugs) while the film itself was chosen Worst Remake/Rip-Off or Sequel.

Other winners included Jared Leto (rhymes with "Gepetto") for Supporting Actor, giving a controversial performance as "Paolo" in House of Gucci; 4-time past Razzie® "winner" Will Smith, praised for his performance in Oscar favorite King Richard and awarded as this year's Razzie® Redeemer; and Bruce Willis in Cosmic Sin, chosen from among eight low budget movies nominated in the special category Worst Performance by Bruce Willis in a 2021 Movie.
Not only did "Diana the Musical," which is about the British Royal Family, so politics and government by default, earn the most nominations, it earned the most trophies, making it the worst movie (actually a variety special like "
Hamilton
") about politics and government last year. Also, "Space Jam: A New Legacy" earned the second highest number of statuettes, making it the worst big-budget speculative fiction movie of 2021. That covered both of my interests in movies and television.
Speaking of speculative fiction, Jared Leto will be starring in "Morbius," which premieres on April 1st — no fooling. His award fits a pattern I noticed
six years ago
.
In addition to the covert misogyny I suspect among the voters, there is overt Schadenfreude; the voters seem to delight in finding bad performances by big name performers and creators and using them to bring the highest low. I don't have a problem with that, so I find it to be a useful role for the Razzies.
I just hope his Razzie win doesn't ruin his reception as Marvel's "living vampire." Instead, I hope it helps for making people prepared for the comic, pun intended, dimensions of his anti-heroic character, which just might make the movie succeed.
As for success and anti-heroic behavior, I wonder what the Razzies think of Will Smith winning Razzie Redeemer after his performance last night. That's all I'll write about that for now. Stay tuned for my coverage of my Oscar winners to see if I have anything more to say about it.