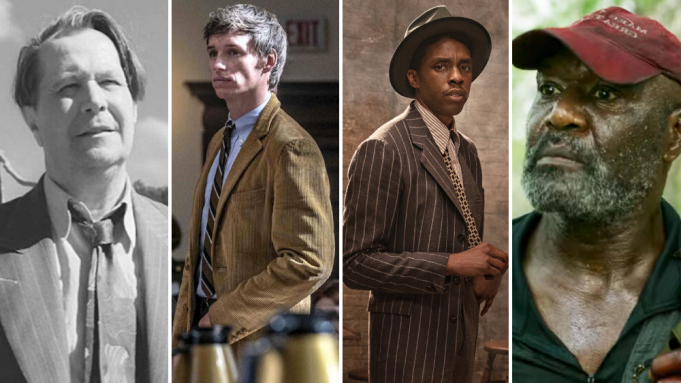 As I promised yesterday
, this is "the final post of February, a Sunday entertainment feature about the
movie nominees
at the
2021
Critics
Choice
Awards
." Not only is this a follow-up to the television nominations and
Critics Choice
Super
Awards
, it's a companion of sorts to tonight's
Golden Globes
, to which I'll compare and contrast. Remember, electorates matter.
I'll begin with the relevant paragraphs from the press release.
This year's film nominees are led by Netflix's "Mank," which earned an impressive 12 nominations including Best Picture, Best Actor for Gary Oldman, Best Supporting Actress for Amanda Seyfried, Best Director for David Fincher, Best Original Screenplay for Jack Fincher, Best Cinematography for Erik Messerschmidt, Best Production Design for Donald Graham Burt and Jan Pascale, Best Editing for Kirk Baxter, Best Costume Design for Trish Summerville, Best Hair and Makeup, Best Visual Effects, and Best Score for Trent Reznor & Atticus Ross. "Minari" (A24) followed closely behind with 10 nominations including Best Picture, Best Actor for Steven Yeun, Best Supporting Actress for Yuh-Jung Youn, Best Young Actor/Actress for Alan Kim, Best Acting Ensemble, Best Director for Lee Isaac Chung, Best Original Screenplay for Lee Isaac Chung, Best Cinematography for Lachlan Milne, Best Foreign Language Film, and Best Score for Emile Mosseri.

With her nomination for Best Supporting Actress for Sony Pictures Classics' "The Father," Olivia Colman becomes the only artist recognized for their work in both film and television this season, having previously been announced as a nominee for her leading role in "The Crown" (Netflix). Chadwick Boseman also received multiple nominations for his outstanding performances in both "Da 5 Bloods" (Netflix) and "Ma Rainey's Black Bottom" (Netflix), and Trent Reznor & Atticus Ross have two chances to win in the Best Score category with their nominations for "Mank" (Netflix) and "Soul" (Disney).

In the studio/network tally, Netflix leads both film and television nominations with a total of 72 possible wins. HBO/HBO Max carries over their 24 series nominations, and Amazon Studios expands its total to 18 with today's film additions.
Like the Golden Globes, the most nominated movie is "Mank," so it's the default favorite in the first category, even though Critics Choice Awards voting member Grace Randolph ranked "Promising Young Woman" first on
her ballot
.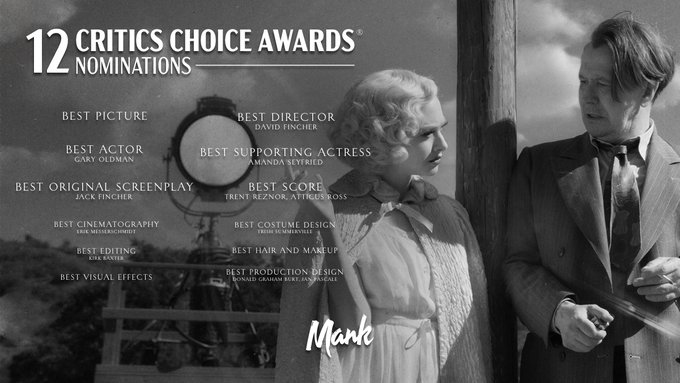 BEST PICTURE

Da 5 Bloods (Netflix)
Ma Rainey's Black Bottom (Netflix)
Mank (Netflix)
Minari (A24)
News of the World (Universal Pictures)
Nomadland (Searchlight Pictures)
One Night in Miami (Amazon Studios)
Promising Young Woman (Focus Features)
Sound of Metal (Amazon Studios)
The Trial of the Chicago 7 (Netflix)
Unlike the Golden Globes, which only allows five nominees, the Critics Choice Awards allow up to ten, which is also the maximum number for the Oscars. As such, I'll have to add to my descriptions for the Golden Globes and Critics Choice Super Awards. I begin by recycling from my analysis of the Golden Globes.
"Mank" has more nominations than any other film...It also is a story about Hollywood, which, all other things being equal, makes it the favorite because Hollywood loves good show about itself. It will probably be enough for "Mank" to win this category at the Golden Globes and earn lots of nominations at the Oscars, making it the favorite there, too. However, when Grace mentions that it includes politics, it's mostly the politics of Hollywood and the movie industry, not the politics that influences government. "The Trial of the Chicago 7" covers that..."Nomadland," which IMDB describes as "After losing everything in the Great Recession, a woman embarks on a journey through the American West, living as a van-dwelling modern-day nomad"...looks more like a documentary than a scripted drama.
...
"Ma Rainey's Black Bottom" also explores social and political issues within entertainment, as IMDB summarizes the film as "During a recording session, tensions rise between Ma Rainey, her ambitious horn player and the white management determined to control the uncontrollable 'Mother of the Blues'." Both feature diverse nominees as well as depicting African-American perspectives on their respective eras.
While I mentioned "One Night in Miami," I didn't say much other than it tied for political content with "Judas and the Black Messiah" and "The Trial of the Chicago 7" among movies with supporting actor nominations at this year's Golden Globes, so I'm quoting
the movie's IMDB description
: "A fictional account of one incredible night where icons Muhammad Ali, Malcolm X, Sam Cooke, and Jim Brown gathered discussing their roles in the Civil Rights Movement and cultural upheaval of the 60s." I also skimmed over "Minari" and "The Sound of Metal," but that's because neither is really political, although both feature the stories of people of color, provide interesting social commentary, and have nominated performances by their lead actors. Speaking of nominated performances, "News of the World" and "Promising Young Woman" both showcase the talents of their lead actresses and examine social issues, although "News of the World" has elements of a war movie with the military involved. Speaking of the military, "Da Five Bloods" did not earn a nomination at the Golden Globes, but it won two Critics Choice Super Awards, Best Action Movie and Best Actor in an Action Movie. I pointed out that it's a war movie and told my readers to remember that "the military is a branch of government and war is a kind of international politics."
Follow over the jump for the rest of the movie nominations and my opinions, including how well the nominated movies fit the themes of
politics
and
government
and how well they showcase
diversity
.