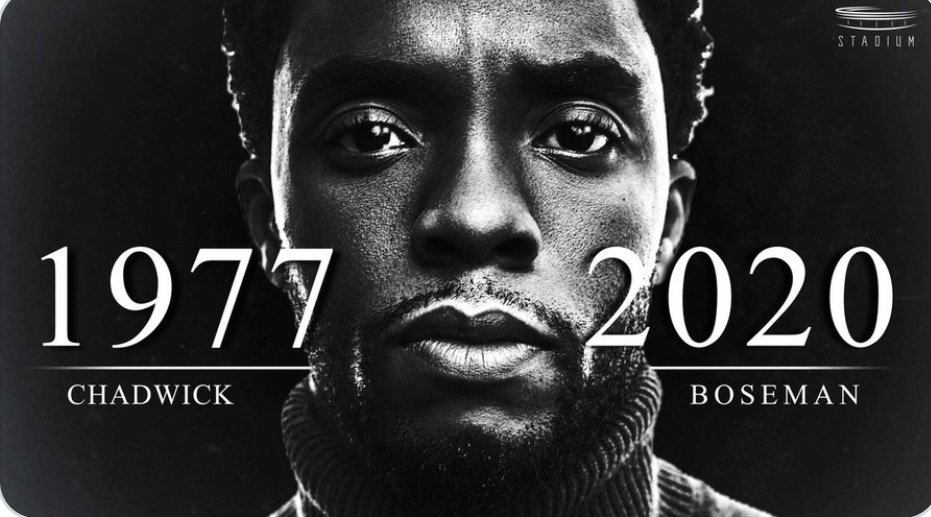 Yesterday
, I wrote that "the death of
Chadwick
Boseman
called to me" and that I would likely get to his passing and
the 15th anniversary of Hurricane Katrina
later. Well, today is later, so I am celebrating the life of a larger-than-life actor who played larger-than-life characters, both real and fictional.
I begin with Good Morning America's tribute,
'Black Panther' star Chadwick Boseman dies of colon cancer at age 43
.
The "Black Panther" star who also portrayed a roster of Black American icons is being remembered by fans, friends and fellow actors for his talents, his spirit and his heart.
In addition to being
T'Challa
, the
Black
Panther
, a role and movie I wrote about extensively, I blogged about Boseman playing Thurgood Marshall in "
Marshall
." I missed that
he played
fellow UCLA Bruin Jackie Robinson and musician James Brown. While T'Challa was a fictional hero that became a symbol of inclusion, diversity, and representation, both Marshall and Robinson were real heroes for inclusion, diversity, representation, equal treatment, and justice. Boseman played them all.
Speaking of those roles, I continue with CNN's video obituary,
'Black Panther' star Chadwick Boseman dies at 43
, which features more clips of Boseman's films as well as one of his commencement address at his alma mater, Howard University.
Chadwick Boseman, the man who brought "Black Panther" to life, has died. The actor has been battling colon cancer since 2016 and died at home with his family and wife by his side, according to a statement posted on his Twitter account.
He was 43, his publicist Nicki Fioravante said in a statement.
"A true fighter, Chadwick persevered through it all, and brought you so many of the films you have come to love so much," the statement said. "From Marshall to Da 5 Bloods, August Wilson's Ma Rainey's Black Bottom and several more, all were filmed during and between countless surgeries and chemotherapy."
The statement said the role of King T'Challa was the "honor of (Boseman's) career."
It certainly was.
The above video show what the news professionals thought of Boseman and his impact. Follow over the jump for two videos from Grace Randolph of Beyond The Trailer that express what the entertainment media and Boseman's fans think of him.