For this year's celebration of
Revenge of the Sixth
, the dark side of
Star Wars Day
, I'm viewing it through a political lens, as I did in
2020
and
2021
. Watch Mehdi Hasan and his guests examine
The Politics of 'Andor' | The Mehdi Hasan Show
.
In honor of Star Wars Day, this special episode analyzes the politics of the Disney+ series 'Andor' and just how much this tale about the origins of the Rebellion against the Empire has to tell us about the current global fight against tyranny and oppression.
My wife and I couldn't get past the second episode of "Andor." It was too slow a burn for us and not escapist enough. On the other hand, the critics and entertainment professionals love it. Its IMDB page lists
2 wins and 22 nominations
, including Best Science Fiction/Fantasy Series, Limited Series or Made-for-TV Movie at the Critics Choice Super Awards.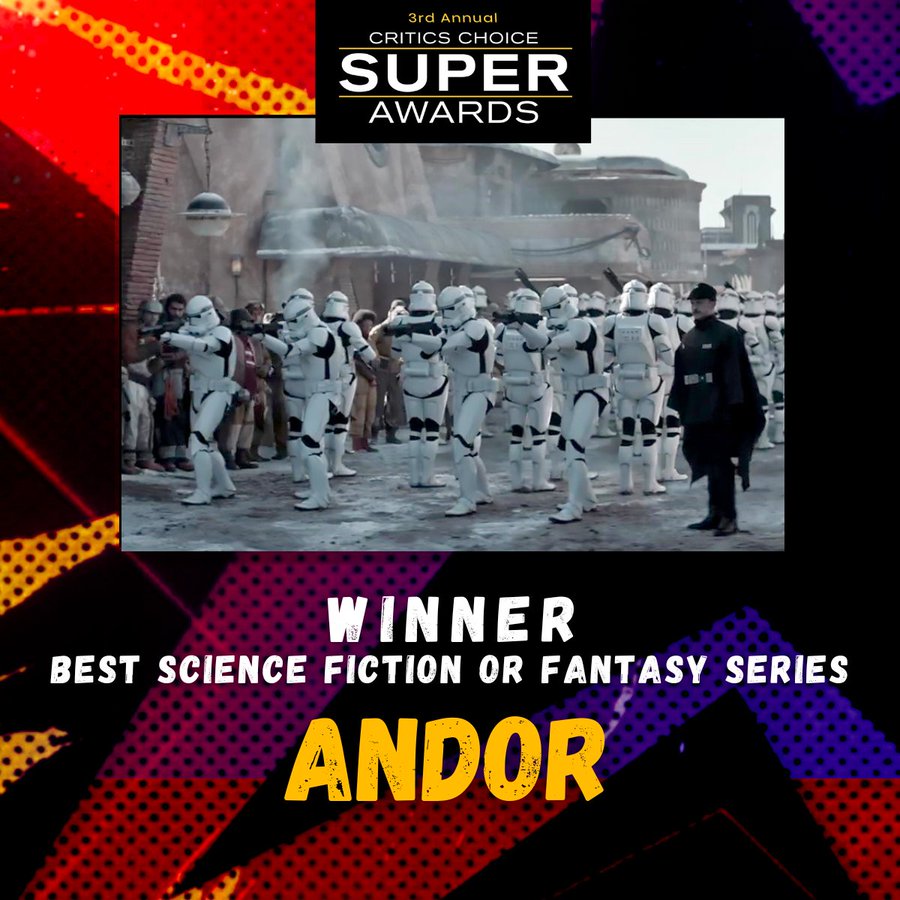 Congratulations!
Watching Hasan, Tracy Brown, and Wajahat Ali dissect "Andor" and relate it to real-life struggles against occupation and oppression make me interested in resuming the series. I've heard that the show gets more interesting after the second episode and looking at it as a serious political allegory would probably increase my appreciation for it. Besides,
I'm a Saturn Awards voter
and want to be able to vote intelligently in this year's awards.
Now I'm curious about how "Andor" will help the
Star Wars
franchise in
'Star Trek' vs. 'Star Wars' in streaming science fiction at the Saturn Awards
. I voted for "The Mandalorian"
last year
, but "Star Trek: Brave New Worlds" won. Let's see how well "Andor" does at this year's awards should it be nominated. That's not a sure thing. The Saturn Awards goes for entertainment over art and likes to stick it to the experts, so "Andor" might not even earn a nomination. I hope it earns at least two, one for the show and another for Diego Luna.
Follow over the jump for food, drinks, and music for the day.
Insider reported on
The Best 'Star Wars'-Themed Food And Drinks At Star Wars: Galaxy's Edge, Disney's Newest Park
four years ago.
Disney's newest "Star Wars"-themed park has all of the food and drinks a young Jedi could ask for. From blue milk to roasted meats and boozy concoctions, there's something for everyone inside Star Wars: Galaxy's Edge inside Southern California's Disneyland.
I should see how many of these dishes and drinks survived the
pandemic
. Next year.
Now for the music,
Star Wars: The Dark Side March (Imperial March, Droid Army March, Jedi Temple March & MORE)
by Samuel Kim Music.
I can hear why this was one of the top results when I searched for "Dark Side Star Wars music" on YouTube. The power of the Dark Side indeed!
While this qualifies as an entertainment post, I still plan on posting a Sunday
entertainment
feature tomorrow. No "
Saturday Night Live
" highlights on Sunday until next fall, after the strike is resolved? No problem. I have something else planned. Stay tuned.