It's time to finish my series about Time's People of the Year with
Aaron Judge: TIME Athlete of the Year 2022
.
When Aaron Judge stood in the Yankee Stadium batter's box in late September, he couldn't quite shake the silence. Some 45,000 voices hushed, as if they were at a basilica, not a ball field. As fans anticipated a landmark moment in sports—the breaking of a revered home-run record—they refused to peep as the pitcher wound up.

"I never noticed the crowd until they stopped cheering, which was one of the craziest things in my career," says Judge, 30, sitting in the leafy courtyard of his luxury New York City apartment building, about a week after the end of a monumental campaign in which he set a new American League home-run mark, with 62. "That's when I started to kind of realize, 'Oh boy, there's something special going on here.'"
Judge's story about gum serves as a good example of the usefulness of superstitions, as irrational as they are. Then again, humans are not completely rational, so we need to be able to use our irrationality.
TIME recorded a second video,
How to Hit a Home-run like Aaron Judge
.
Now, Judge, TIME's 2022 Athlete of the Year, is sharing some of his best tips for knocking home-runs out of the park.
Nice apartment building! Also, good advice, except I played football not baseball in high school and I'm far too old to ever use it. May someone younger pay heed to Judge's coaching.
I conclude with Judge's TIME cover.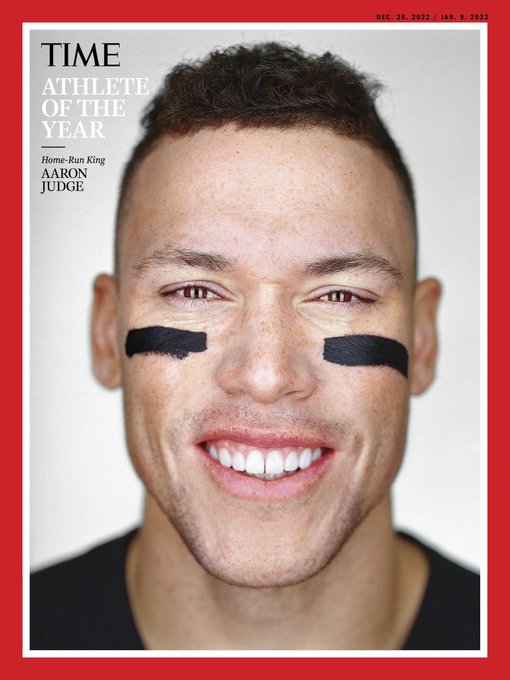 That's it for this series. Stay tuned for a post celebrating
Winter Solstice and Yule
tomorrow.
Previous posts about Time's People of the Year