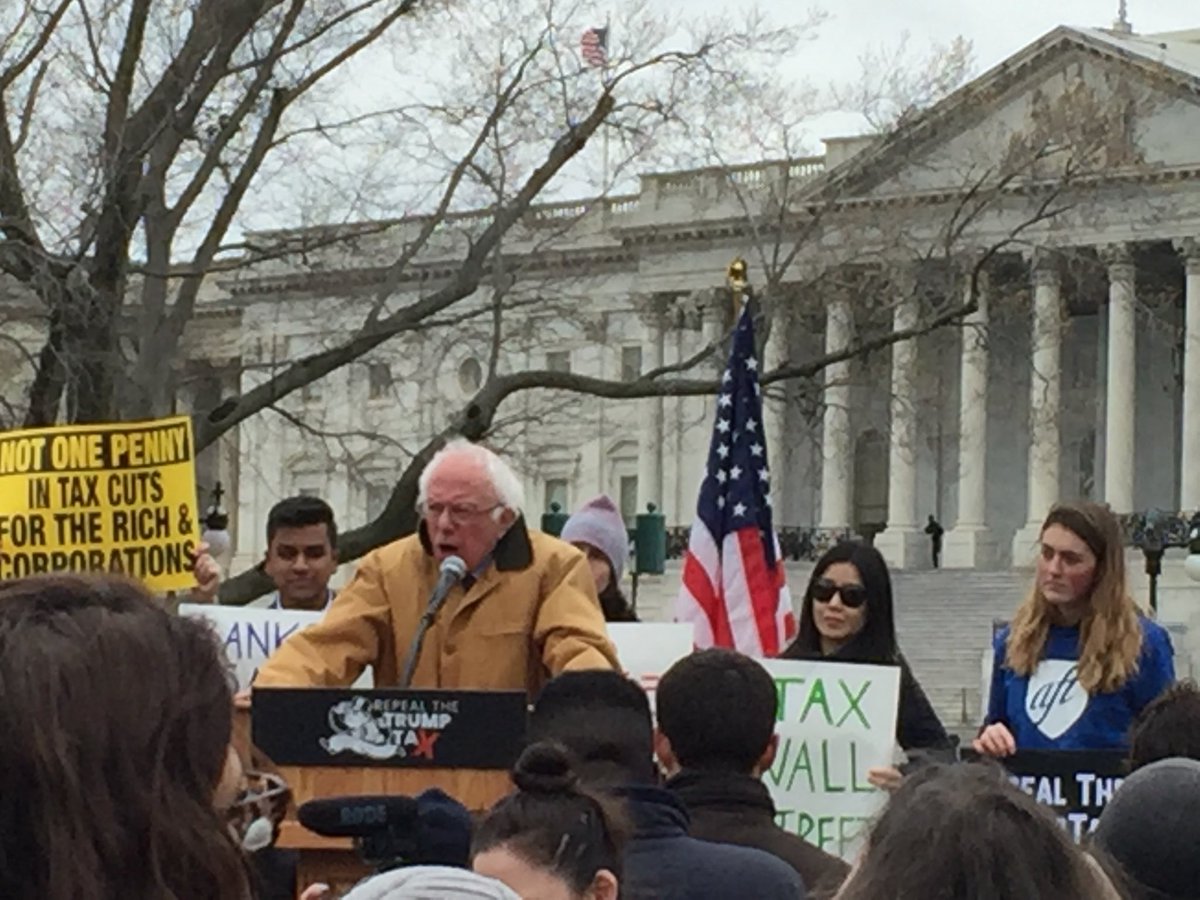 I explained why I posted
R.I.P. Art Bell
instead of a report on the
Tax March
yesterday.
[T]wo events happened that convinced me to postpone that entry. First, the D.C. Tax March is today, so I'll wait for tonight's videos to be uploaded so I can write about them tomorrow.
I didn't see any videos, but I did find this passage in Business Insider's
Tax Day became one of 2018's biggest media wars, as the GOP and Democrats battled over the new tax law
.
Progressive activist groups, including former Missouri Senate candidate Jason Kander's Let America Vote, staged a rally on the Capitol's east lawn, where Democratic lawmakers banged their fists and decried the law as inequitable and unjust.

The group Tax March put on the rally that featured top Democrats like Democratic Senatorial Campaign Committee Chairman and Maryland Sen. Chris Van Hollen and Sen. Bernie Sanders, an independent who ran for the Democratic presidential nomination in 2016.

"The American people's instincts on this bill were exactly right when they knew from the beginning that this thing stunk," Van Hollen said in reference to fluctuating poll numbers about the tax law's approval ratings.
Bustle
listed all of the speakers and noted that all but two were Democratic (or at least Democratic-aligned in the case of Sanders) lawmakers.
Senate Minority Leader Chuck Schumer
Speaker of the House Nancy Pelosi
Sen. Bernie Sanders
Sen. Chris Van Hollen
Rep. Maxine Waters
Rep. Keith Ellison
Rep. Jamie Raskin
Rep. Joseph Crowley
Rep. Lloyd Doggett
Sister Simone Campbell of NETWORK Lobby for Catholic Social Justice
Elena Hung of Little Lobbyists
While
Republicans are struggling to campaign on the tax bill
, Democrats seem to have more success campaigning against it.
Follow over the jump for reports from Tax Marches around the country.
I did promise to post something about the Palm Beach Tax March, which did get television coverage. Here is WPTV News'
Dozens take part in tax march in West Palm Beach
.
A crowd of protesters gathered in West Palm Beach on Saturday near Mar-a-Lago.
Those are fair samples of what the Democratic rank-and-file think of
the tax bill
. So are the quotes from
Tax March protesters say $1.5 trillion in cuts could undermine social safety net
in the San Diego Union-Tribune and
Tax Justice March sees protesters in Eugene come out in full force
from KVAL in Eugene, Oregon.
San Diego Union-Tribune found people with complaints.
"We're out here to oppose the Trump tax and tax scam that is going to financially devastate our country, all to give tax cuts to the richest 1 percent," Steve Timberman, an organizer with SoCal Healthcare Coalition, told a small but passionate crowd.
...
Retired school teacher Laura Fuentes seemed unimpressed by promises of trickle-down economics. The 63-year-old said she came to Sunday's event because she's concerned that slashing taxes will trigger severe cuts to social spending in the future.

"I've heard they're talking about cutting people off Medicare," she said. "They're going to have to do something to pay for the big tax cuts they're gave the rich."

Yusef Miller, a Navy veteran now working with the Council on American-Islamic Relations, echoed those concerns: "We should be funding these nonprofits to house our homeless. These are Americans. These are our children.

"We see people who can't get food. We see families on the streets. Yet, we're going to give tax breaks to the people who are cushioned," he added.
In contrast, KVAL found people with solutions.
"We think the money needs to be spent at home on infrastructure," said Patty Hine, a protester at the rally. "That means public education, maybe even free public education."

For Hine, and others, the main thing they were asking for on Sunday was change.

"We're pushing for a tax system that benefits everybody, not just the rich and powerful," said Michael Carrigan, with the Community Alliance of Lane County.
I'm with both Hine and Carrigan.
Tomorrow is Throwback Thursday, so stay tuned for a retrospective about the top posts of the previous blogging year.