Just this past January, I wrote
National monuments, more of Obama's environmental legacy
about Former President Obama creating Gold Butte National Monument and Bears Ears National Monument. While I reported on the controversy surrounding the designation of Bears Ears, I concluded "the monument will be a good thing and that it will last." I should not have been so sanguine. I still think it's a good thing, but Bears Ears may mostly go away, surviving in two smaller parts under a different name. CBS News reports
Trump drastically downsizes nationally protected land in Utah
.
President Trump announced that he cutting nearly two million acres from the Bears Ears and Grand Staircase-Escalante national monuments in Utah. National Geographic's environment editor, Brian Howard, joins CBSN to discuss the impact and the expected legal response.
As Howard said, this move is unprecedented and will face stiff legal resistance. I wouldn't be surprised if it ends up in the Supreme Court, which means that it will take years for this move to take effect, if ever. I expect to be posting updates on this terrible move for the environment, as well as another attempt to obliterate Obama's legacy, right up to the end of the decade. It should be fun to watch.
By the way, I had no idea how many paleontological resources there were inside both national monuments until I stumbled across these two images from the Society for Vertebrate Paleontology (SVP). They're out of date, as they were designed to prompt people to use them during the comment period, which expired a while ago, but they're still interesting.
First, Bears Ears, which SVP wrote should be expanded, not reduced.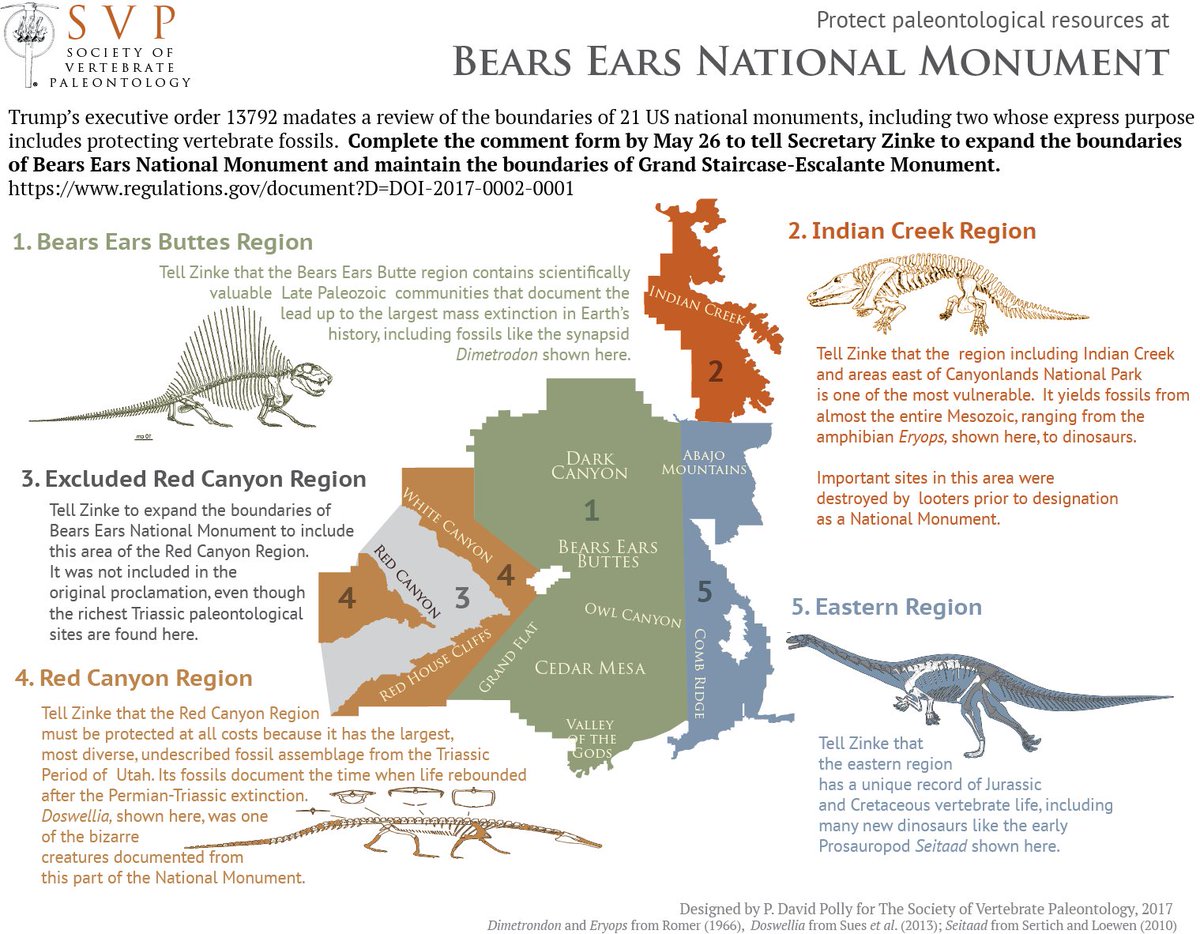 Next, Escalante-Grand Staircase.
As
a paleontologist
who worked at
Rancho La Brea
and gave presentations about
Pigmy Mammoths at Channel Island National Park
, I'm impressed, as the topic of fossils in National Parks and Monuments is one that is near and dear to my heart. I wish I had known earlier, but I doubt my input would have made a difference to this administration. Sigh. At least I have its
space
policy
, which is cold comfort for all the ill Trump and Zinke have done for the environment.