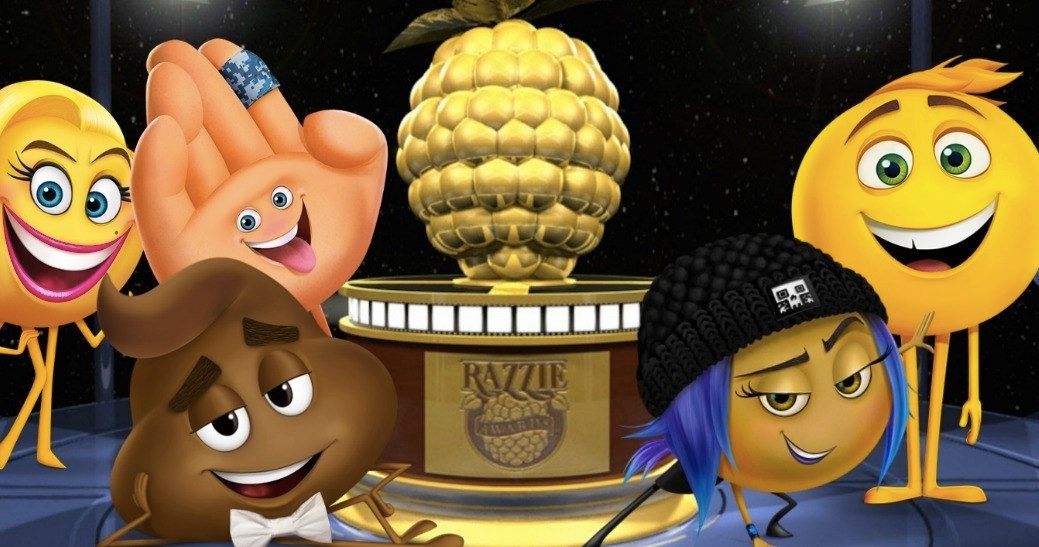 I told my readers to "Stay tuned for the winners of the
Razzie Awards
" at the end of
The UCLA Marching Band at the 1969 Oscars for Marching Music Day
yesterday. Wochit Entertainment is helping me follow through with
Razzie Awards Name Worst Film Of 2017
.
Maybe it was destiny for a movie with a pile of poop as a central character. "The Emoji Movie" has received Hollywood's most famous frown, the Razzie Award , for worst picture of 2017, making it the first animated feature in 38 years to earn the top dishonor. "The Emoji Movie" landed four of the 10 Razzies given out this year, also taking worst screenplay, worst director, and worst screen combo, which was given to "any two obnoxious emojis" from the movie. Tom Cruise's attempted reboot of the "Mummy" franchise landed him worst actor.
I'm glad "The Emoji Movie" won Worst Picture and the rest of its awards. It would have been my choice had I paid the $40 to vote. As for Tom Cruise, I didn't think he was that bad. I might have voted for Zac Efron or Mark Wahlberg instead. There is nothing so unfunny as a bad comedy. Speaking of which, Tyler Perry would have been my choice for Worst Actress out of that field. The rest of the nominees didn't deserve it.
CNN has the rest of the "winners" in
Razzie winners announced
.
WORST PICTURE
"The Emoji Movie"
WORST ACTRESS
Tyler Perry for "BOO! 2: A Medea Halloween"
WORST ACTOR
Tom Cruise for "The Mummy"
WORST SUPPORTING ACTOR
Mel Gibson for "Daddy's Home 2"
WORST SUPPORTING ACTRESS
Kim Basinger for "Fifty Shades Darker"
WORST SCREEN COMBO
Any Two Obnoxious Emojis in "The Emoji Movie"
WORST REMAKE, RIP-OFF or SEQUEL
"Fifty Shades Darker"
WORST DIRECTOR
Anthony (Tony) Leondis for "The Emoji Movie"
SPECIAL ROTTEN TOMATOES AWARD: THE RAZZIE NOMINEE SO BAD YOU LOVED IT!
"Baywatch"
WORST SCREENPLAY
"The Emoji Movie" screenplay by Tony Leondis, Eric Siegel and Mike White.
"Transformers: The Last Knight" may have been the most nominated, but it walked away empty-handed. I'm sure the people who made the film are relieved. So are the makers of "Baywatch," which only won a "So Bad It's Good" award. On the other hand, "Fifty Shades Darker" earned two awards. I'm not surprised.
Stay tuned for a post about the Oscar winners tomorrow.