Three years ago, I wrote
R.I.P. John McCain, the last Republican presidential candidate I voted for
. I cast my vote for McCain in the 2000 Michigan Republican Primary, my last act as a GOP voter.* That means he was not the last Republican nominee that I voted for. That honor went to Bob Dole, who I voted for in 1996. Dole died yesterday at the age of 98. NBC's Today Show uploaded two clips celebrating his life, beginning with
Nation Mourns Bob Dole: Senator, Presidential Candidate, War Hero
.
The nation pauses to remember Bob Dole, who died Sunday at age 98: a decorated war hero who became a defining voice in American politics for decades as a senator and presidential nominee. NBC chief Washington correspondent Andrea Mitchell reports for TODAY.
While he was a partisan, Dole was interested in solutions, so he worked across the aisle to achieve them. He also remained friends with his Democratic colleagues. Both of those are rare these days and I miss those qualities in today's politicians.
Today continued its remembrance of Dole in
Bob Dole 'Embodied Sacrifice,' Says Presidential Historian
.
Presidential historian Jon Meacham joins TODAY to assess the legacy of Bob Dole, who died Sunday at age 98. "His is the most American of stories," Meacham says. "Bob Dole really did embody sacrifice."
Hearing that "May You Never Walk Alone" was one of Dole's favorite songs inspired me to conclude this entry with this musical dedication to the late Senator,
Phantom Regiment & Madison Scouts: You'll Never Walk Alone
.
The Phantom Regiment joins the Madison Scouts in playing "You'll Never Walk Alone" at the Show of Shows in celebration of the Scouts' 75th Anniversary.
R.I.P. Senator. You will be missed.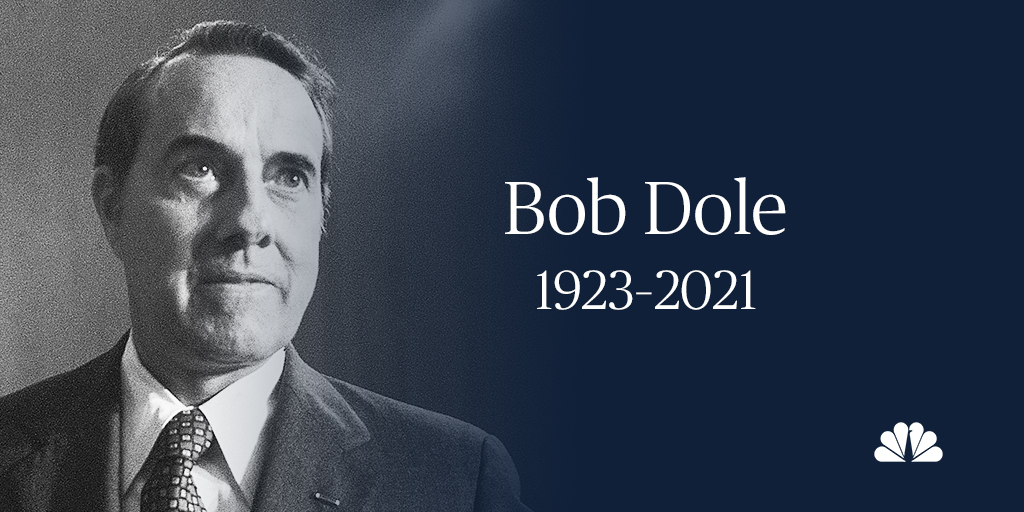 *I left the party shortly after that for reasons I described in
If I were still a conservative
a decade ago and cast my vote in the general election for Ralph Nader, much to my later shame. After seeing the results of that contest, I vowed not to make that mistake again and became a Democrat in 2004.
Dole helped contribute to my leaving the party when he made
the following remarks about teachers unions at the 1996 Republican National Convention
.
"I say this not to the teachers, but to their unions...if education were a war, you would be losing it. If it were a business, you would be driving it into bankruptcy. If it were a patient, it would be dying.

"And to the teachers unions I say, when I am president, I will disregard your political power, for the sake of the parents, the children, the schools and the nation."
I was a member of a teachers union at the time, so Dole's remarks disturbed me, although I still voted for him. After four years of them gnawing on me, they helped contribute to my leaving the GOP. I decided I didn't want to be part of a party that didn't like what I did and what I believed in.