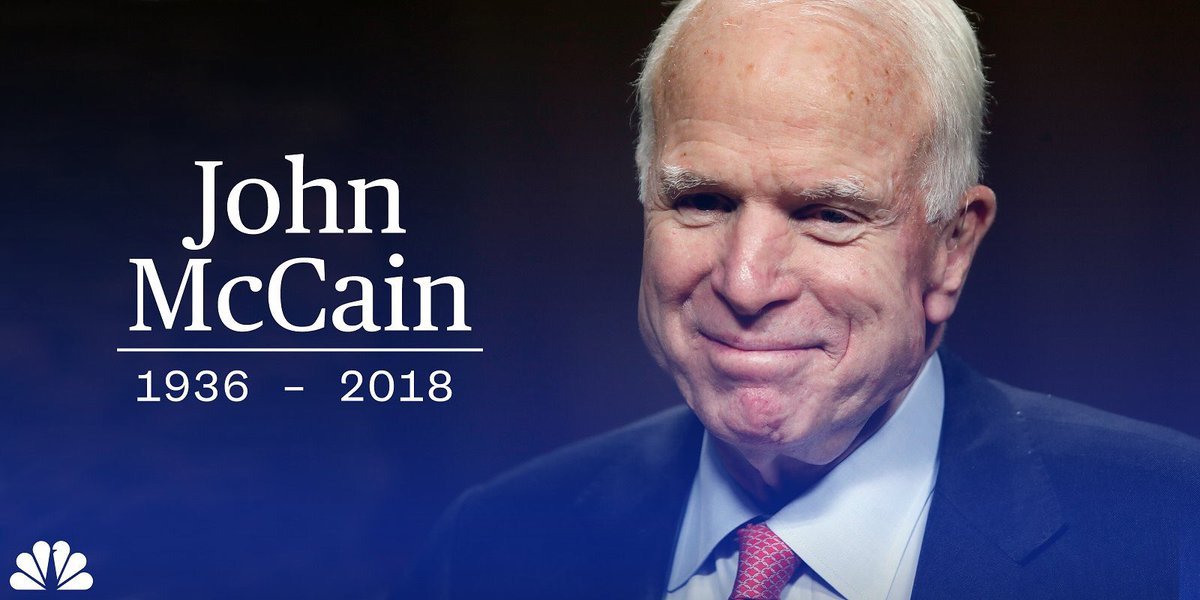 I wrote that "I plan on returning to my regular programming" in
yesterday's entry
. Sadly, my regular programming includes
obituaries
. Saturday night, I heard and read that Senator John McCain died. CBS News has the story in
Remembering the life and legacy of Sen. John McCain
.
Arizona Sen. John McCain died Saturday night after a 13 month battle with brain cancer. Doug Wead, presidential historian, interviewed the senator multiple times. He joins CBSN's Elaine Quijano to discuss how McCain's experience in the military impacted his time in politics.
Seven years ago, I noted that I voted for John McCain in the 2000 Michigan Republican Primary in
If I were still a conservative
. I also wrote that it was my last act as a Republican, as I left the G.O.P. shortly afterwards.
To commemorate McCain's life and service, Climate State uploaded
John McCain: Climate Change Most Critical Issue of our Future (2003)
, which shows one of the reasons I voted for McCain 18 years ago and also why I stopped being a Republican later that same year. It's also one of the reasons why I did not vote for McCain in 2008, as the G.O.P. abandoned climate change mitigation as an issue.
Senator John McCain introduces legislation to reduce greenhouse gas emissions (January 8, 2003, at Capitol Hill).

Witnesses testified about proposals to limit greenhouse gas emissions, global climate change, and regulations that would create mandatory limits on all sectors of the economy.
...
Mr. LIEBERMAN. Mr. President, I rise today to join my friend and colleague, Senator McCain, to introduce the first ever comprehensive legislation to limit the emissions of greenhouse gases in the United States. Today we take the first step up a long mountain road, a road that will culminate with this country taking credible action to address the global problems of our warming planet. The rest of the world is now taking on the challenge this problem presents. The United States, as the world's largest emitter of the gases and the home of the world's strongest economy, must not have its head in the clouds.
As I also wrote seven years ago, "Liberal or conservative, Republican or Democrat, I've always been an environmentalist."
Farewell, Senator. Rest in peace.