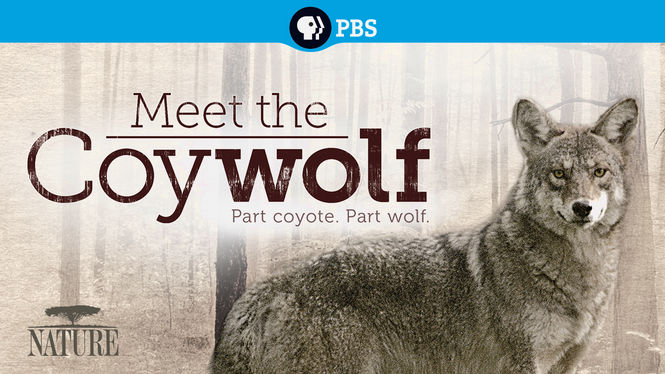 Happy
Darwin
Day
! Normally, I'd focus on some entertainment news for today, since it's Sunday, but I took care of that yesterday with
'Arrival' leads speculative fiction film nominees at the BAFTA Awards
. Instead, I'm finding a compromise between observing today's holiday and the usual entertainment for Sunday by focusing on a particular program about evolution, just as I did last year with
'Your Inner Fish' for Darwin Day
.
Today's show examines evolution taking place around me in eastern North America, the PBS Nature Documentary "Meet the Coywolf." Here's the trailer from Arizona Public Media:
Nature: Meet the Coywolf
with text from
another PBS promo
.
Beginning in Canada but by no means ending there, the story of how it came to be is an extraordinary tale of how quickly adaptation and evolution can occur, especially when humans interfere. Tag along as scientists study this new top predator, tracking it from the wilderness of Ontario's Algonquin Park, through parking lots, alleys and backyards in Toronto all the way to the streets of New York City.
Follow over the jump for clips from the show itself, along with WNET's feature about coywolves/eastern coyotes in New York City.
What's a coywolf? PBS answers the question in
Coywolf vs. Coyote: What's the Difference?
An animated video short about how the coywolf is a coyote/wolf hybrid.
Next, how did the coywolf arise?
Coywolf Hybrid Evolution
answers that question.
Trace the extraordinary evolutionary journey of the coywolf, a mysterious and distinctly modern creature, in this video excerpt.
So that's the origin of the coywolf/eastern coyote. What are they doing now? They're moving from the countryside into big cities.
Coyotes in Chicago Habitat
shows how well they are adapted to the Windy City.
Follow researchers as they document the original coyote in Chicago.
Coyotes/coywolves are also moving into New York City, as WNET 13 in New York reports in
Meet the Coywolf: A New Hybrid Carnivore Roams the City | MetroFocus
.
Chances are you've never seen a wolf-coyote hybrid called the coywolf but it has arrived in New York. "Meet the Coywolf," the latest documentary from PBS' Nature series, premiering on January 22 at 8pm on PBS stations nationwide, introduces us to the elusive canines. They originated in eastern Canada and are now emerging in New York City and on Long Island. Two wildlife biologists featured in the program, Mark Weckel of the American Museum of Natural History and Christopher Nagy of Mianus River Gorge Preserve, join Pi Roman to talk about tracking the hybrid species as part of their Gotham Coyote Project.
When I wrote earlier that this show examined "evolution taking place around me in eastern North America," I wasn't kidding. These animals live in the northern suburbs of Detroit. A few months after
my wife and I moved
into
our new home
, I found a woodchuck killed by coyotes in my backyard. It took another two years before my wife and I heard coyotes howling, but that merely confirmed what I already knew. One of these days, I might blog about my coyote neighbors, but that will be a subject for another entry.
In the meantime, I have an obituary planned for tomorrow and an entertainment story for Valentine's Day. Stay tuned.