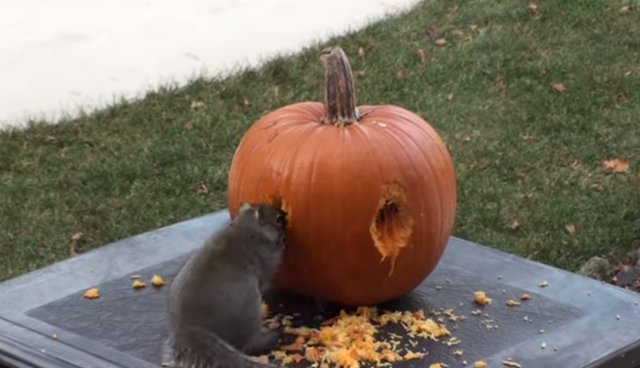 Happy
Wester
! For any new readers who don't yet know the story of Wester, I'm quoting
For Winter Solstice 2016, the Archdruid and I discuss Discordianism and fake holidays
.
[Me:] Oh, I'm familiar with Discordianism. I'm single-handedly keeping alive a fake holiday called Wester, which is the first Sunday following the first Full Moon after the Autumnal Equinox. When I first posted about it, my Discordian friend claimed it for Discordianism. As far as I'm concerned, it's still a Discordian holiday.
...
[Greer:] Pinku-Sensei, yes, I thought I remembered you were a closet Discordian. Wester is funny; presumably that was the day that some messiah or other descended from the living?
...
[Me:] I agree, Wester is funny. As for an anointed one descending from the living, sorry, that wasn't part of the Wester story that I heard. However, the holiday has its own animal mascot, the Wester Squirrel, which goes around and gathers goodies to hide instead of hiding goodies to pass out like the Easter Bunny.
Hence my telling my readers at the end of
yesterday's National Coffee Day entry
to "Stay tuned for a celebration of
Wester, squirrels included
" — since one of my readers suggested the mascot, the fake holiday is now associated with squirrels.
Wester is a fall holiday with a squirrel mascot and one of the symbols of fall is the
pumpkin
, I have a hard time thinking of something more appropriate than watching
a squirrel carving its own pumpkin
.
Squirrel Carves A Jack-O-Lantern | This SQUIRREL is about to carve a face into a pumpkin to make his very own jack-o-lantern.
How cute, although the squirrel isn't a clever as this video makes it out to be. Some of the viewers think that peanut butter or maple syrup was smeared on the pumpkin where the squirrel chewed out the eyes, nose, and mouth, and I agree with them. Still, it was clever on the part of the people involved and make for a fun video to watch.
Today is also
National Hot Mulled Cider Day
.
National Hot Mulled Cider Day is observed annually on September 30.
Fall welcomes warm mugs of mulled cider wrap our chilled hand around. Such a cozy way to spend an evening, sipping a tart, spiced beverage on a chilly evening while gazing at trees ablaze in crimson, gold, and orange. It is the perfect time to celebrate this holiday and enjoy this delightful drink.
Hot Mulled Cider is a traditional fall and winter drink made by heating cider to almost boiling and adding cinnamon, orange peel, nutmeg, cloves and other spices and then simmering it. Just the scent of it steeping on the stove will warm the home and lift the spirits of everyone in it.
Since this is a non-alcoholic drink, Tipsy Bartender is not the appropriate source. Instead, watch
Jamie's Mulled Cider | Jamie Oliver
.
If you're looking for something a bit different to the classic Mulled Wine, have a look at Jamie's Mulled Cider.
It's a little too sugary for
me to drink because of my diabetes
, but it looks and sounds delicious. May my readers enjoy drinking it even more than I did watching it!
I hope everyone had a happy Wester. The next fake holiday I plan on celebrating will be a blue
Norther
on
Festivus
. Feats of strength and airing of grievances around the Festivus pole!