An early
happy
Thanksgiving
to my readers! I begin my celebration of the long holiday weekend, which extends until
Giving Tuesday
with this year's version of
Local news coverage of marching bands in the 2021 Macy's Parade for Thanksgiving
, one of the most popular posts last year.*
NBC News gave one of the bands national attention in
Queer Big Apple Corps To Spread Message Of Community During Macy's Thanksgiving Parade
.
The Queer Big Apple Corps is set to march into the history books when the perform at the Macy's Thanksgiving Parade, delivering a simple message that despite adversity, it's ok to be yourself. NBC News' Joe Fryer has their story.
I thought placing this clip first was important this week, not least because it's a national news story. This is also why I didn't call this post
local
news coverage of the bands marching tomorrow morning.
I begin the local news coverage with
Benedict band to perform in Thanksgiving Day parade
from News 19 WLTX in Columbia, South Carolina.
The students will get to strut their stuff on the national stage as they participate in the Macy's Thanksgiving Day parade.
Go Tigers, a sentiment I will repeat later on in this post.
Follow over the jump for the rest of the news coverage of the marching bands in the 2022 Macy's Thanksgiving Day Parade.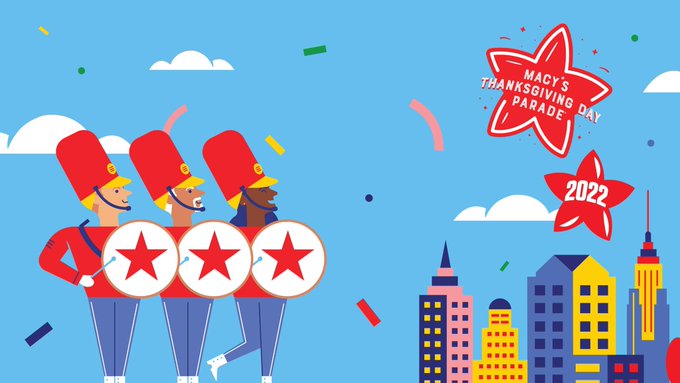 FloMarching
listed the rest of the bands marching past Macy's flagship store in more or less alphabetical order, beginning with
Bourbon County band ready for Macy's Day Parade
.
The band will finally be performing after COVID-19 kept them out the last two years.
As I wrote last year, "the band delayed its trip from last year because of the
pandemic
." It's one of several with the same story.
By the way, Bourbon County is the first of three bands in the Macy's Parade to compete in
Bands of America (BOA) Grand Nationals
, where it placed third in Class A.
Speaking of BOA, WISH-TV covered the 2022 Class AAAA and Grand National Champions in
Carmel High School band heads to Macy's Thanksgiving parade
.
Congratulations to Carmel H.S. for both their BOA Championship and Macy's Parade performance. I'm thrilled you got to perform in both this year!
Continuing in alphabetical order is the one California band in tomorrow's parade, which KMPH FOX26 News covered in
Clovis North Band hits the Big Apple for Macy's Day Parade Performance
.
Clovis North Educational Center Bronco Band made it to New York City on Sunday to perform in the Thanksgiving Macy's Day Parade!
Once again, I'm glad to see a band make it NYC after being delayed by the pandemic.
I didn't find any news coverage of the Delfines Marching Band from Veracruz, Mexico, so I'm moving on to a seven-year-old report from CNN on
250 students, 50 states, 1 marching band
.
The Macy's Great American Marching Band has more than 200 members from 50 States and only 3 days to get ready for the Thanksgiving parade.
I didn't say it had to be this year's news! Better late than never.
Speaking of news coverage, I couldn't find any for the NYPD Marching Band, so on to The Pride of the Dakotas, the South Dakota State University marching band. KELOLAND reported on their preparations in
Jackrabbits in NYC ahead of parade performance
.
Looks like they're having fun!
While I still have more bands to mention in alphabetical order, the last BOA Grand Nationals participant is next as 10 Tampa Bay reported
Tarpon Springs High School marching band set to perform in Macy's Thanksgiving Day Parade
.
It's a trip that's been years in the making. The Tarpon Springs High School marching band has already started packing up for the trip of a lifetime in New York City. This year, they'll be performing in Macy's Thanksgiving Day Parade.
Tarpon Springs is also the current BOA Class AA Gold Medalist and placed fifth overall at the BOA Grand Nationals. Congratulations on those achievements and on making it to the Macy's Parade!
The final college or university band performing tomorrow hails from the University of Missouri and KSDK 5 previewed their performance in
Marching Mizzou to lead Macy's Thanksgiving Day Parade in NYC
.
Watch the 350-member University of Missouri marching band perform live starting at 8:45 a.m. Thursday on 5 On Your Side.
Go Tigers! Yes, that applies to Benedict College as well and I mean that for them, too. Also, that video description reminds me that the primary message of television is to watch more television. I'll be watching it on YouTube because WDIV will be covering the Detroit parade instead.
I close with the final competitive high school band in
Vandegrift Viper Band to perform in Macy's Thanksgiving Day Parade | FOX 7 Austin
.
The Vandegrift Viper band is one of 12 set to perform in the parade, and the only band from Texas this year.
Congratulations to all the units performing tomorrow and may you indeed have the times of your lives — and stay healthy!
*I decribed how popular in
Ramadan begins, a holiday special
.
Despite earning 1,391 raw page views by March 20, 2022, Local news coverage of marching bands in the 2021 Macy's Parade for Thanksgiving from November 24, 2021 never made the default top twenty. It still managed to rank twenty-third overall in raw page views and twentieth among entries posted during the eleventh year of this blog. I shared it at the Coffee Party Facebook page on Thanksgiving, but it earned more page views during December 2021, ranking it eighth overall for the month. The post continues to attract readers, as it now has 1,446 total page views, which the graphic above rounds to 1.45K.
People are still reading the entry one year later, as the graphic below shows. It earned at least one page view every single day for a total of 3,072 raw page views, which the graphic below rounds to 3.07K.


So far, this post has 2,211 raw page views this calendar year and 1,681 page views since March 21, 2022, likely placing it among the top twenty for both calendar year 2022 and the 2022-2023 blogging year. Wow! If that's what my readers want, then I'm going to give it to them.