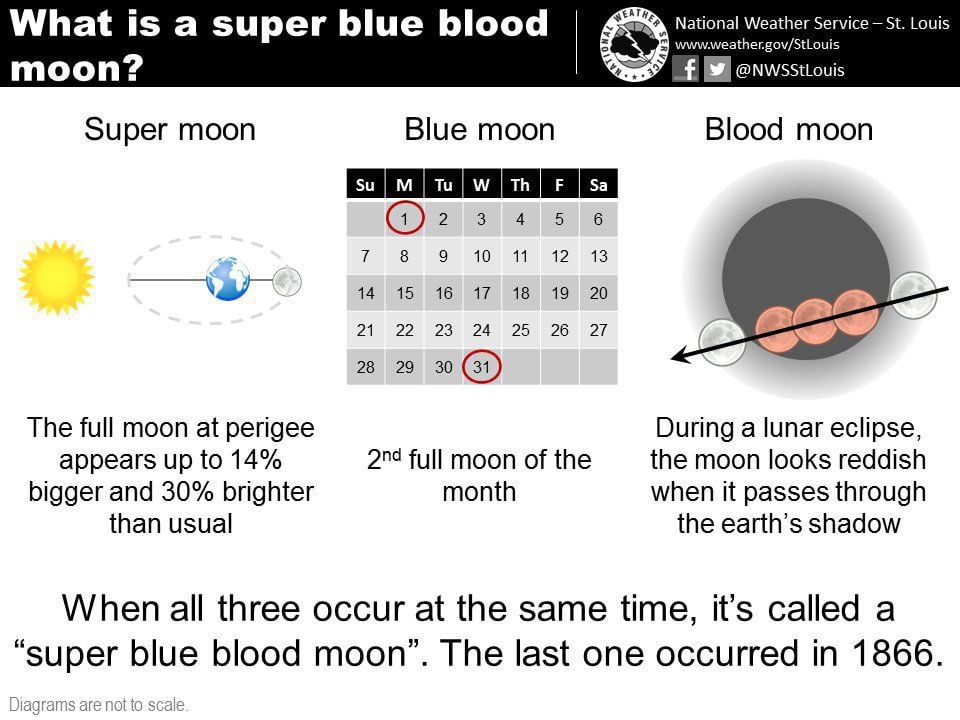 Tomorrow night and morning, three astronomical phenomena involving the Earth's Moon will happen simultaneously, a super moon, a blue moon, and a blood moon. NASA describes all three in
Jan. 31, 2018 Super Blue Blood Moon and Lunar Eclipse
.
January 31 brings a lunar trifecta: the super blue blood Moon! Starting at 5:30 a.m. Eastern, NASA TV will offer a livestream of the Moon. This full moon is the third in a series of "supermoons," when the Moon is closer to Earth in its orbit -- known as perigee -- and about 14 percent brighter than usual. It's the second full moon of the month, commonly known as a "blue moon." The super blue moon will pass through Earth's shadow to give viewers in the right location a total lunar eclipse. While the Moon is in the Earth's shadow it will take on a reddish tint, known as a "blood moon."
This will be the last of a series of three supermoons as NASA explains in
ScienceCasts: A Supermoon Trilogy
.
A series of three supermoons will appear on the celestial stage on December 3, 2017, January 1, 2018, and January 31, 2018.
Happy viewing to those of my readers who can see the eclipse!