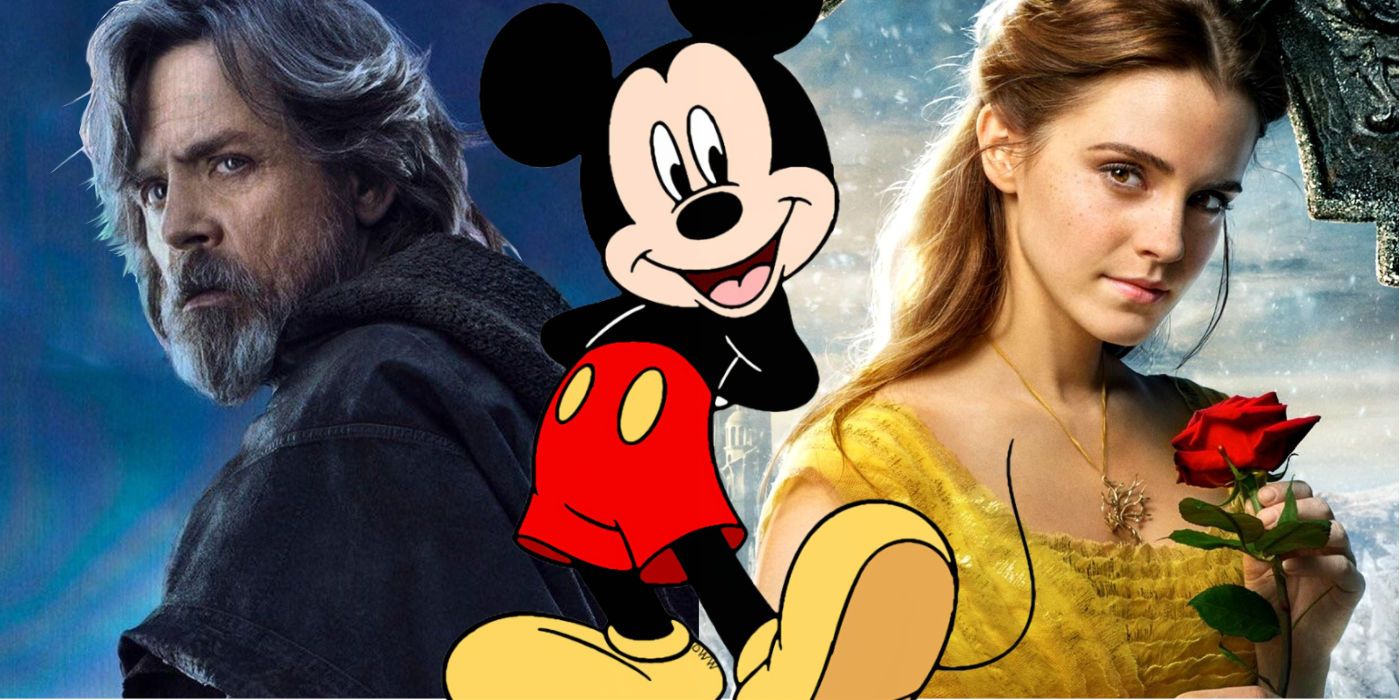 Happy
National Science Fiction Day
! Yes, that's a real day, which I'll explain over the jump. Right now, I'm following up on the prediction I made at the end of
Drink to 'The Last Jedi' and 'Jumanji' atop the box office for Boxing Day 2017
.
Finally, "The Last Jedi" is within easy striking distance of "Wonder Woman" and could pass it by this Friday to become the second highest grossing movie of 2017. It will eventually pass "Beauty and the Beast" to earn about $600 million in domestic box office and well over $1 billion worldwide, becoming the highest grossing film released this year, but that will happen well into January.
"The Last Jedi" passed two of those milestones by New Year's Eve as Newsy reported in
'The Last Jedi' passes $1B at the box office
.
Since "the Force awoke" in 2015, each new "Star Wars" film has brought in upwards of $1 billion at the worldwide box office.
The other milestone was passing "Beauty and the Beast" to become number one at the 2017 box office.
Once again
, "I wasn't optimistic
enough
about the movie's performance at the box office!" Maybe I should increase my projection for its total domestic box office to $700 billion. Anyone else think so?
Follow over the jump for the story of National Science Fiction Day and how speculative fiction films ended the year at the domestic box office.
National Science Fiction Day is celebrated annually on January 2nd by millions of science fiction fans across the United States.

The date of January 2 was chosen for National Science Fiction Day as it corresponds with the birth date of famed science fiction writer Isaac Asimov.

American author and Boston University professor of biochemistry, Isaac Asimov was born Isaak Yudovich Ozimov on January 2, 1920. He was best known for his works of science fiction and his popular science books. Isaac Asimov, whose works are followed by many, died on April 6, 1992.

Considered a master of hard science fiction, Asimov, along with Robert A. Heinlein and Arthur C. Clarke, was considered one of the "Big Three" science-fiction writers during his lifetime. The Foundation Series is regarded as Asimov's most outstanding piece. His other major series are the Galactic Empire Series and the Robot Series.

Some of the successful television shows that are recognized by science fiction fans include Star Trek-The Next Generation, The X-Files, Battlestar Galactica, Doctor Who and The Twilight Zone.
To conclude the celebration, I'm going to rank 2017's speculative fiction movies at the domestic box office as of New Year's Day according to
Box Office Mojo
. I will note that every one of the top ten for the year is a speculative fiction film as well as most of the top twenty. I'll also note that I stopped after the top 200, which means that a couple of animated films, "Sword Art Online: The Movie - Ordinal Scale" and "Yu-Gi-Oh! The Dark Side of Dimensions" and a superhero film, "The Inhumans," didn't make the list, along with other films that escaped my attention.
Science Fiction
1 Star Wars: The Last Jedi $533,089,228
21 War for the Planet of the Apes $146,880,162
23 Transformers: The Last Knight $130,168,683
33 Blade Runner 2049 $91,524,557
35 Power Rangers (2017) $85,364,450
38 Alien: Covenant $74,262,031
61 Valerian and the City of a Thousand Planets $41,189,488
62 Ghost in the Shell (2017) $40,563,557
70 Geostorm $33,424,531
78 Life (2017) $30,234,022
98 Downsizing $18,558,365
150 Sleight $3,930,990
There are big dropoffs from number one to number two and again from six to seven. I expect Downsizing would pass "Life" and "Geostorm" when its run is completed. Just the same, the mediocre nature of most of the past year's science fiction releases stands out, especially if "Transformers" and "Power Rangers" are considered action.
Fantasy
2 Beauty and the Beast (2017) $504,014,165
13 Jumanji: Welcome to the Jungle $185,755,967
18 Pirates of the Caribbean: Dead Men Tell No Tales $172,558,876
19 Kong: Skull Island $168,052,812
51 The Dark Tower $50,701,325
54 The Great Wall $45,157,105
64 King Arthur: Legend of the Sword $39,175,066
96 Baahubali 2: The Conclusion $20,186,659
104 The Shape of Water $17,015,155
162 Colossal $3,029,287
Again, there are big gaps between the top movie and the next three and again between four and five. As for "The Shape of Water," it could pass "The Dark Tower" if it wins as many awards as I think it might. As for "Colossal," that's a better movie than the numbers suggest. It also might be better placed as a thriller.
Superhero or other Comic Book
3 Wonder Woman $412,563,408
4 Guardians of the Galaxy Vol. 2 $389,813,101
5 Spider-Man: Homecoming $334,201,140
7 Thor: Ragnarok $311,441,239
9 Logan $226,277,068
10 Justice League $225,897,455
Unlike the other genres, these movies are all in the same ballpark in terms of box office. This should also be the Saturn Award field for Comic-to-Movie adaptation with the possible addition of "Ghost in the Shell," which is an adaptation of a manga.
Horror (including Thrillers)
6 It $327,481,748
16 Get Out $175,484,140
22 Split $138,141,585
28 Annabelle: Creation $102,092,201
36 The Mummy (2017) $80,101,125
47 Happy Death Day $55,683,845
59 47 Meters Down $44,307,191
65 Jigsaw $38,052,832
76 Underworld: Blood Wars $30,353,973
80 Rings $27,793,018
83 Resident Evil: The Final Chapter $26,830,068
87 The Bye Bye Man $22,395,806
94 The Circle (2017) $20,497,844
101 mother! $17,800,004
105 Flatliners (2017) $16,883,115
109 Wish Upon $14,301,505
111 It Comes At Night $13,985,117
118 Unforgettable (2017) $11,368,012
120 The Belko Experiment $10,166,820
126 A Cure for Wellness $8,106,986
133 The Snowman $6,670,765
153 Friend Request $3,759,078
157 Phoenix Forgotten $3,600,146
159 Til Death Do Us Part $3,455,267
160 Raees $3,262,954
177 The Salesman $2,402,067
180 Jeepers Creepers 3 $2,335,162
182 The Killing of a Sacred Deer $2,291,901
193 The Wall $1,803,064
Being bad is never a problem for most horror films, as they are pretty cheap to produce. Notice how many ranked between 101 and 200, especially in comparison to other genres.
Animation
8 Despicable Me 3 $264,624,300
14 Coco $182,061,459
15 The LEGO Batman Movie $175,750,384
17 The Boss Baby $175,003,033
20 Cars 3 $152,901,115
34 The Emoji Movie $86,089,513
39 Captain Underpants: The First Epic Movie $73,921,000
43 The LEGO Ninjago Movie $59,281,555
46 Ferdinand $56,760,105
55 Smurfs: The Lost Village $45,020,282
63 The Star $40,237,925
79 The Nut Job 2: Nutty by Nature $28,370,522
90 My Little Pony: The Movie $21,885,107
91 Leap! $21,858,070
123 Rock Dog $9,420,546
135 Loving Vincent $6,252,858
145 Your Name. $5,017,246
179 Pokemon the Movie: I Choose You! $2,401,722
This was another good year for animation, and this list doesn't even include "The Breadwinner," which I expect will be nominated for an Oscar.
That's enough science fiction, fantasy, and horror for today. I'll return to reality tomorrow with a follow up to
Neutron star collision detected and other top science stories of 2017
. Stay tuned.