For today's Sunday
entertainment
feature, I am following through on a promise I made in
Politics, government, and diversity among movie nominees at the 2022 Golden Globes
.
"Don't Look Up," "Licorice Pizza," and "West Side Story" all tie for the most nominated comedy or musical with four nominations each. The most political is "Don't Look Up," which uses a comet impact as a metaphor for the reaction to and inaction about climate change. This is right up my alley and I plan on writing an entry concentrating on the film.
I begin with
DON'T LOOK UP | Leonardo DiCaprio, Jennifer Lawrence | Official Trailer | Netflix
.
Based on real events that haven't happened - yet. Don't Look Up in select theaters December 10 and on Netflix December 24.

DON'T LOOK UP tells the story of two low-level astronomers who must go on a giant media tour to warn mankind of an approaching comet that will destroy planet Earth. Written and Directed by Adam McKay.
As the trailer advertises, this movie truly features
an all-star cast
with five Oscar winners for acting, Leonardo DiCaprio, Jennifer Lawrence, Meryl Streep, Cate Blanchett, and Mark Rylance, two Oscar nominees for acting, Jonah Hill and Timothee Chalamet, the
Oscar
-and-
Emmy-winning Tyler Perry
, who earned those awards for his efforts behind the camera but who qualifies as a sixth Oscar winner, Golden Globe winners
Ron Pearlman
and
Michael Chiklis
, SAG Award winners
Rob Morgan
and
Paul Guilfoyle
, Grammy winners
Ariana Grande
and Scott Mescudi as
Kid Cudi
, Critics' Choice and SAG Award nominee
Melanie Lynskey
, and SAG Award nominee
Himesh Patel
. That's fifteen actors with major award wins and nominations, fourteen of whom share the nomination for Outstanding Performance by a Cast in a Motion Picture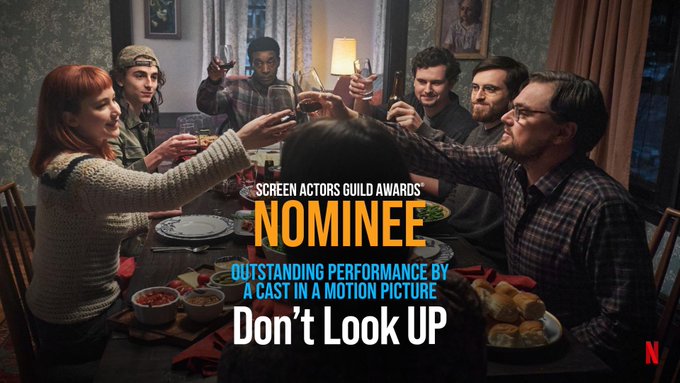 Sorry to say that IMDB does not list Paul Guilfoyle among the nominees. On the one hand, he is only in one scene, but his character's actions become a running joke for the rest of the movie.
WHY WOULD HE CHARGE US FOR FREE SNACKS pic.twitter.com/Fi7EClnjXv

— NetflixFilm (@NetflixFilm) January 20, 2022
Because he could. Do my readers have a better answer?
Enough about the cast. What about the science? WatchMojo covers much of that in
Top 10 Things Don't Look Up Got Factually Right and Wrong
.
It's time to separate fact from fiction when it comes to "Don't Look Up". For this list, we'll be looking at what the satirical sci-fi flick got right and wrong about climate change, as the Netflix film has drawn a lot of attention for its references to real life. Our countdown includes The Science Is Clear, The Next Gold Rush Will Be Critical Elements & Minerals, The Climate Crisis Is Just One Problem, and more!
That pretty much summarizes the accuracy of the science, at least regarding climate change. The movie's treatment of climate change was accurate enough that it won the
Sloan Science in Cinema Prize
. That's good enough for me.
For what it's worth, the human response to both the comet and climate change also matches that to the
pandemic
, which I find to be an unhappy accident, right down the
misinformation
, including
from
politicians
. Sigh.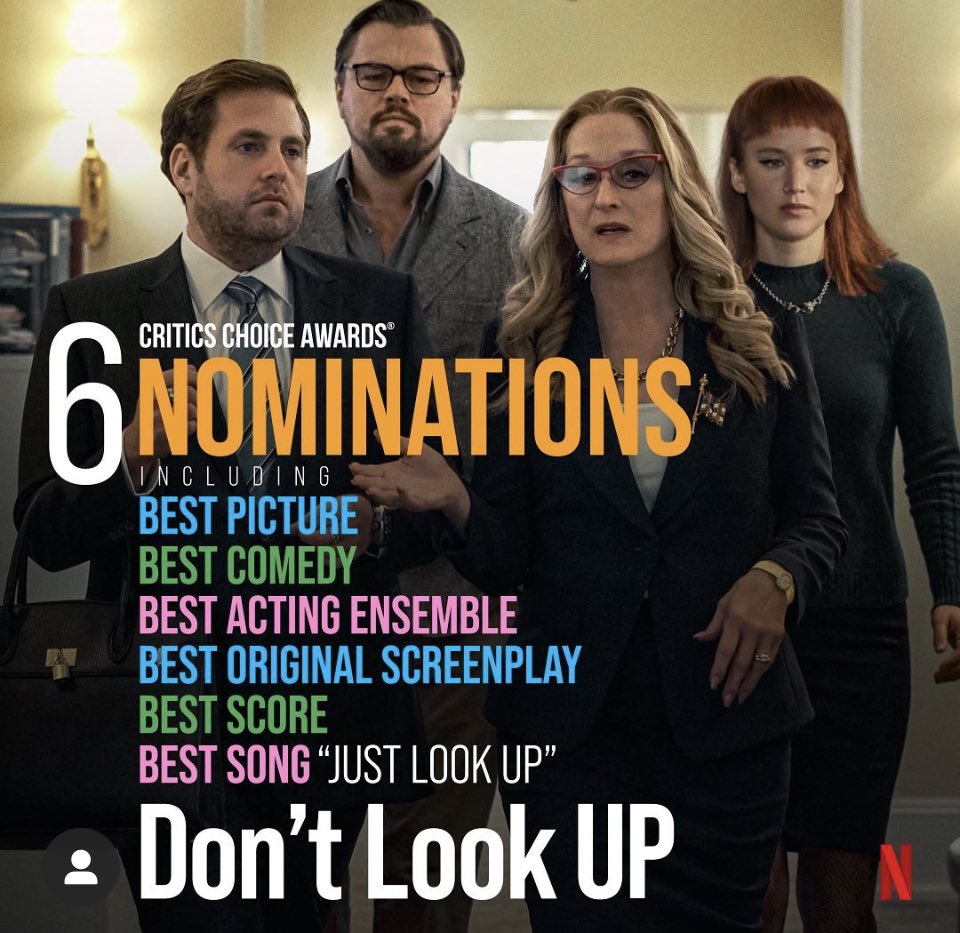 The cast earned another nomination for its cast at the
Critics' Choice Movie Awards
, including Best Picture, Best Comedy, Best Original Screenplay, Best Score, and Best Original Song. The Society of Composers and Lyricists also recognized the score and song.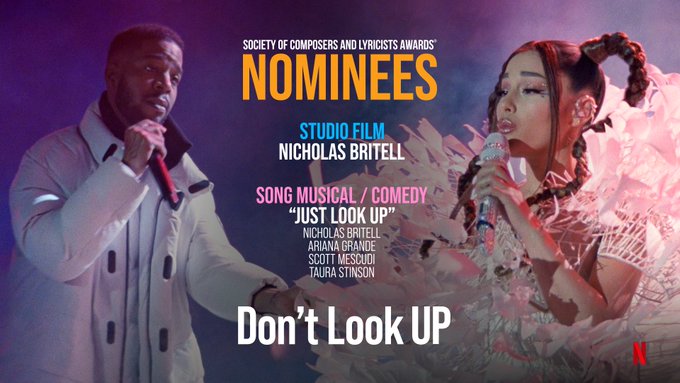 In addition,
the Hollywood Music in Media Awards
nominated the music for two comparable awards along with Best Original Song – Onscreen Performance. "Don't Look Up" won Best Original Score - Feature Film, but lost the song categories to Billie Eilish for Best Original Song and Best Original Song – Onscreen Performance to Emilia Jones singing "Both Sides Now" in "CODA."
I predicted that Eilish would win the Golden Globe
, so I'm not surprised. Since the Golden Globes did not nominate the song, here's
Ariana Grande & Kid Cudi - Just Look Up (Full Performance Video) | Don't Look Up | Netflix
to close out the entry.
The official "Just Look Up" full performance video by Ariana Grande & Kid Cudi from 'Don't Look Up', Adam McKay's next comedy.
The song is on
the Oscar shortlist
, so break a leg to be nominated.
That's it for entertainment. I'll return to reality tomorrow for a series of short posts. Stay tuned.