As I have since
2019
, I begin my coverage of this year's Primetime and Creative Arts Emmy Awards, which the Television Academy announced earlier this week, with
the
nominees
for
Outstanding
Commercial
. I'm featuring the two Emmy-nominated Public Service Announcements (PSAs) about
gun
violence
in general and school shootings in particular above the jump, beginning with past nominee and winner Sandy Hook Promise, whose nominated PSA this year is
Teenage Dream
.
Gun violence shouldn't be part of growing up.
...
*** This video contains sensitive content related to gun violence that may be triggering for some viewers. ***
The irony of these school shooting survivors singing Katy Perry's "Teenage Dream" was not lost on me, which was the point, as News 12 in New York highlighted in
Sandy Hook Promise's 'Teenage Dream' PSA aims to prevent further gun violence
.
Sandy Hook Promise tapped survivors of gun violence in schools from around the country to recite the lyrics to the Perry tune.
That was one of the adults behind the PSA. Good Morning America interviewed the teens themselves in
Survivors share how their 'teenage dreams' disappeared after school shootings l GMA
.
A new PSA from Sandy Hook Promise features survivors of school shootings reciting the lyrics of the popular Katy Perry song in hopes of preventing others from experiencing the same grief.
Yes, you heard that right;
gun violence was the number one cause of death among U.S. children and teens in 2020
, passing auto accidents. That stat deserves a post of its own, so I'm moving on.
Normally, Sandy Hook Promise would have gun violence to themselves, but this year, Change the Ref joined them with
Lost Class 1/3
.
This year, 3,044 students won't get the chance to graduate because they were killed by a gun. It's time we pass universal background checks, so we can protect our students and make sure more of them make it to their graduation day.

By donating to Change the Ref, you're helping in the fight against the gun violence epidemic. Change the Ref uses the funds raised to keep applying pressure to our politicians and policymakers through creativity, creating more campaigns like The Lost Class. Together, we can change the perception of guns in America and inspire change that will keep the futures of our students safe from guns.
In its own way, showing all those empty chairs and switching the audio between the commencement address and the 911 calls is even more effective than Sandy Hook Promise's PSA. Also, convincing a former head and current board member of the NRA to address 3,044 empty chairs is quite a feat. Democracy Now examines how that happened in
Meet the Father Who Tricked Ex-NRA Head into Addressing 3,044 Empty Chairs for Gun Violence Victims
.
The parents of a student killed in the 2018 massacre at Marjory Stoneman Douglas High School duped a former president of the National Rifle Association into giving a high school graduation speech defending gun rights in front of 3,044 empty white chairs — one chair for each student who could not graduate this year because they were killed by gun violence. David Keene, who still serves on the NRA board, thought he was giving a rehearsal speech for graduating students at the James Madison Academy in Las Vegas, but no such school exists. Video of the speech was turned into a viral video promoting universal background checks. The stunt was organized by the group Change the Ref, which was founded by Manuel and Patricia Oliver, whose son Joaquin was shot dead in the Parkland, Florida, massacre. Manuel Oliver says the video has led to an outpouring of support from across the U.S. "We need to do these more often, because it shows that the NRA, the gun industry and the gun lobby are not as powerful as they say," he says.
This clip includes not only the commercial I embedded above, but parts of the other two videos in the series, so not only does it explain what's went on, but saves me the trouble of embedding them, too. Thank you.
Follow over the jump for the other four nominees.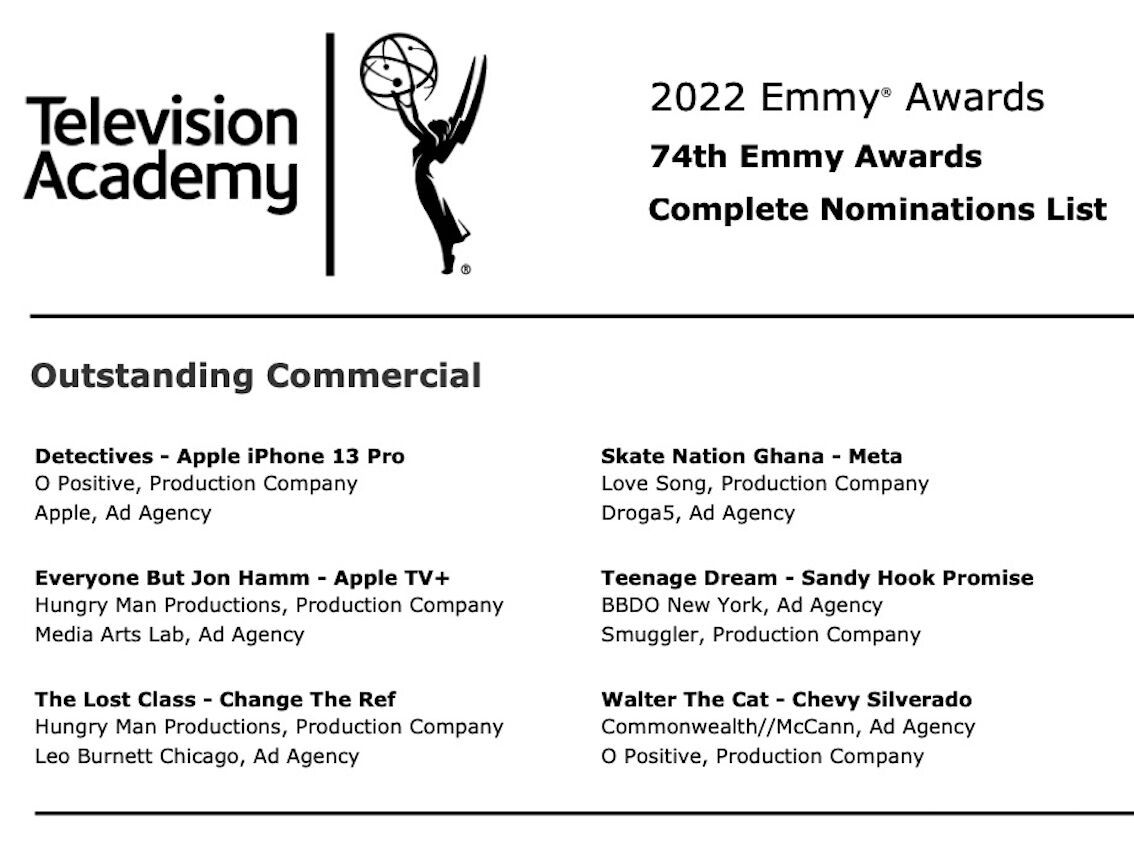 Apple has had many nominees over the years, so I'm not surprised the first two nominated commercials in alphabetical order are from the technology company, beginning with
Detectives | Cinematic mode | iPhone 13 Pro | Apple
.
Shift the camera's focus automatically, manually and even after you've shot. Cinematic mode on iPhone 13 Pro. Hollywood in your pocket.
That commercial is even more effective on a big-screen TV.
Apple earned the next slot with
Everyone but Jon Hamm | Apple TV+
.
With Hollywood's biggest stars in front of and behind the camera, Apple TV+ has pretty much everyone… but Jon Hamm.
I've written before, all things being equal, Hollywood will vote for a nominee about itself. That this is the most viewed of all the nominees with 15,434,546 views on YouTube helps its prospects. Wow! It's funny, but I didn't have any idea it was so popular!
Next, the Television Academy recognized
Skate Nation Ghana
by Meta AKA Facebook.
"Skate Nation Ghana" tells the story of Joshua and Sandy, and how they used Facebook's platforms to build an emerging skateboarding culture in Ghana.

Their tight-knit community inspires skaters around the globe. We change the game when we find each other.
Usually, the Television Academy nominates a Nike commercial with a sports theme. This year, it's Meta, a brand not usually associated with sports. Surprise!
I conclude the nominees with a car commercial,
Walter the Cat
.
As someone with both a dog and a cat, I found that hilarious. Too bad I'm not GM and Chevrolet's target audience.
I'll return with more entries about Emmy nominees. In the meantime, stay tuned for
Souther
, which is returning to
National Ice Cream Day
and
World Emoji Day
.