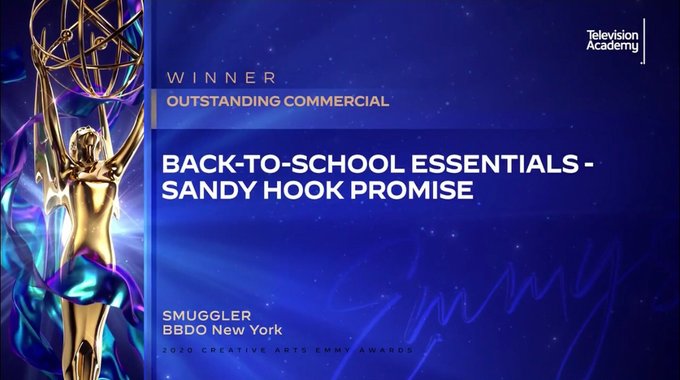 I was pleasantly surprised by the winners of
Outstanding Commercial
at the
Creative Arts Emmy Awards
and the
News and Documentary Emmy Awards
, just as I was two years ago when I wrote
'The Talk' and 'Shark Week 2017' — two Emmy winning commercials
. Then, I expected an entertaining Super Bowl commercial and a serious news or documentary promotion to win. Instead, a serious public service announcement (PSA) and an entertaining promotional announcement took home the trophies instead. The same thing happened last week, when
Back-To-School Essentials | Sandy Hook Promise
won instead of the two Super Bowl commercials I thought were favored, Groundhog Day for Jeep and What did we do before Alexa? I am happy to say I was wrong and that one of the two socially conscious PSAs took the Emmy home instead.
Just to refresh everyone's memory, here's the YouTube upload of the PSA.
Survive the school year with these must-have back to school essentials.
...
**Please note that this PSA contains graphic content related to school shootings that may be upsetting to some viewers. If you feel that this subject matter may be too difficult for you, you may choose not to watch this video.**
Powerful stuff that impressed the Television Academy. I just hope it changes minds outside of Hollywood, especially in Congress.
Now for the fun winning commercial over at the News and Documentary Awards,
So Good You'll Scream: Shark Week Starts Sunday, July 28!
Here is
the field of nominees
it beat for the award.
Outstanding Promotional Announcement

FRONTLINE "Rule The World" PBS
Lost & Found Trailer National Geographic
Shark Week 2019 "Shark Scream" Discovery Channel
The Movies "Anchors Campaign" CNN
The Movies "Iconic Graphics Spot" CNN
Once again, a well-produced, creative, and fun nominee beat out a field of more earnest fare. Considering how grim the News and Documentary Emmy Awards nominees and winners can be, I can't blame them for wanting to recognize something entertaining and effective.
Speaking of entertaining, I'll be back with more Emmy winners in between coverage of the
COVID-19 pandemic
2020 election
, and
climate
and
weather
. Stay tuned.
Previous posts about the 2020 Primetime and Creative Arts Emmy Awards