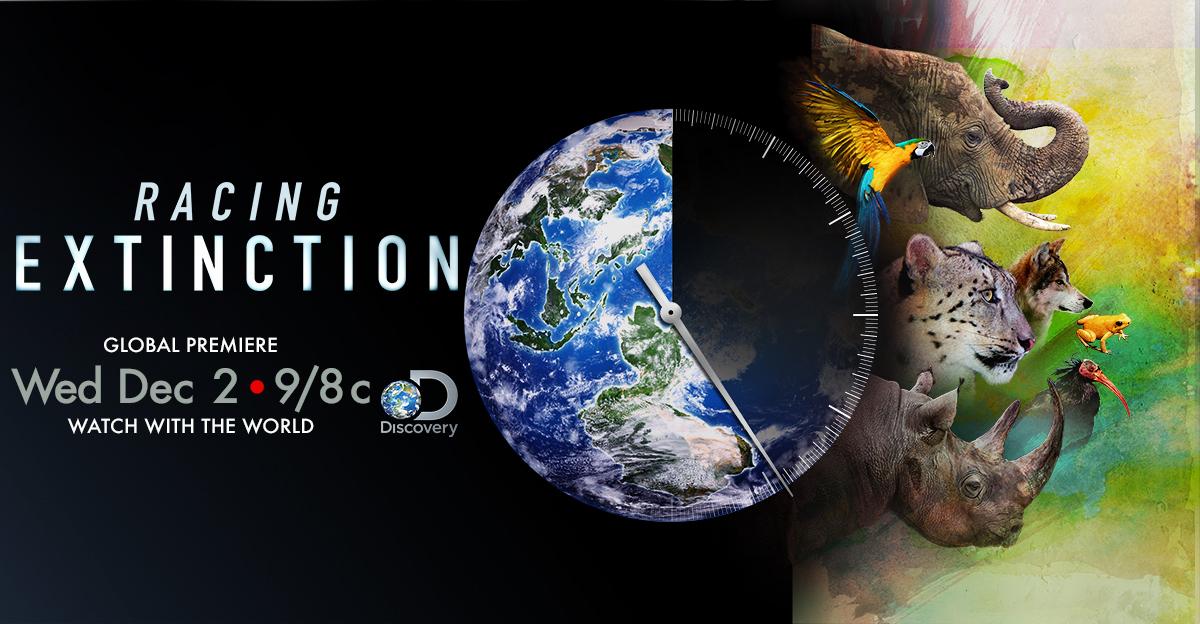 Discovery Channel is showing "Racing Extinction" tonight. That may make it, as Vanity Fair reported yesterday, "
the Most-Watched Documentary in History
."
The film from director Louie Psihoyos and producer Fisher Stevens, who made the Oscar-winner The Cove, debuts Wednesday on the The Discovery Channel and with its partners worldwide. John Hoffman, Discovery's executive vice president for documentaries and specials, estimates a potential audience of 2.4 billion—and at least 500 million expected to watch.

"I'm trying to blow this up and get it to the widest possible audience, ever," says Psihoyos, which looks at global warming as a potential extinction-level event, and particularly at its impact on ocean life.
With this level of exposure as well as the buzz from the Sundance Festival described in Vanity Fair, "Racing Extinction" is now my favorite to be win the Best Feature Length Documentary award at the Oscars next year. Of course, I thought the same of "
Blackfish
," and
it was snubbed
. The movie still did some good, as
SeaWorld phasing out its current Orca shows in San Diego
.
To see what the hype is about, watch
the theatrical trailer
.
Utilizing state-of-the-art equipment, Oscar®-winner Louie Psihoyos (The Cove) assembles a team of artists and activists intent on showing the world never-before-seen images that expose issues of endangered species and mass extinction.

Whether infiltrating notorious black markets with guerilla-style tactics or exploring the scientific causes affecting changes to the environment, "Racing Extinction" will change the way we see the world and our role within it.
Speaking of "guerilla-style tactics," Vanity Fair mentioned them in its preview.
Just as The Cove took the form of a heist movie, Racing Extinction has its own share of spycraft, with women bringing hidden cameras into sushi restaurants that are serving contraband meat and activists infiltrating a Hong Kong factory that sells illegal shark fins.
The results of "women bringing hidden cameras into sushi restaurants that are serving contraband meat" show up in
Discovery Channel's Extended Sneak Peek
.
Humans are causing the mass extinction of animal species all across the globe and not enough is being done to stop it. In RACING EXTINCTION, a team of artists and activists look to expose the hidden world of extinction with never-before-seen images that will change the way we see the planet.

RACING EXTINCTION premieres in more than 220 countries and territories around the world December 2 at 9PM ET/PT on Discovery.
In case the restaurant serving whale looks familiar, it's the same one featured in
Whale meat sushi chefs plead guilty
last year. Yes, viewers get to see the sting operation that led to those convictions. That's worth watching the film all by itself.