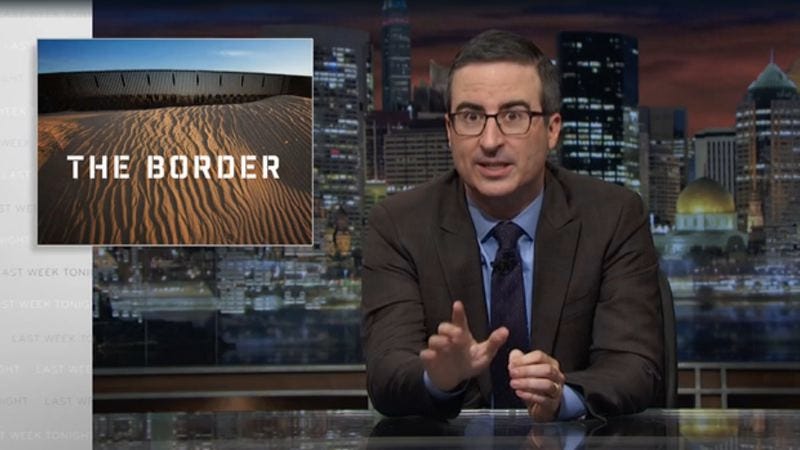 "'Last Week Tonight with John Oliver' has seven more nominations for me to cover, to say nothing about all the other nominees in politics, science, and speculative fiction. Stay tuned." That was the promise I made at the end of
'Last Week Tonight' on the now-dead Sinclair-Tribune merger and long-dead Warren G. Harding, a double Emmy nominee
and that's the promise I'm (partially) keeping today.
The next nominated episode I'm covering is
Border Patrol
, which is competing with Episode 418, the one that contained segments about both Sinclair Broadcast Group and wax President Harding and which I covered yesterday, for Outstanding Picture Editing For Variety Programming. Yes, the show is competing with itself, but I'm not worried, as
it won the category last year
and
the year before
.* Please watch.
Donald Trump's plan to hire more Border Patrol agents could lead to more corruption and misconduct. If only their recruitment ads were designed to attract the most suitable applicants.
Even though this episode is 11 months old, it is still timely, as it ties into
why seeking asylum in the U.S. is so difficult
. The same is true of the third nominated episode with three nominations, which I'll cover tomorrow. It's about
North Korea
. Stay tuned.
*One of the other nominees is "The Great American* Puerto Rico (*It's Complicated)," which I covered in
Samantha Bee helps update 'Vox on Puerto Rico statehood and John Oliver on territories,' the fourth most read entry of the seventh year of Crazy Eddie's Motie News
. I didn't realize I was looking forward to the current Emmy Awards, but I was. I'll be sure to post more videos from that special in a future installment.