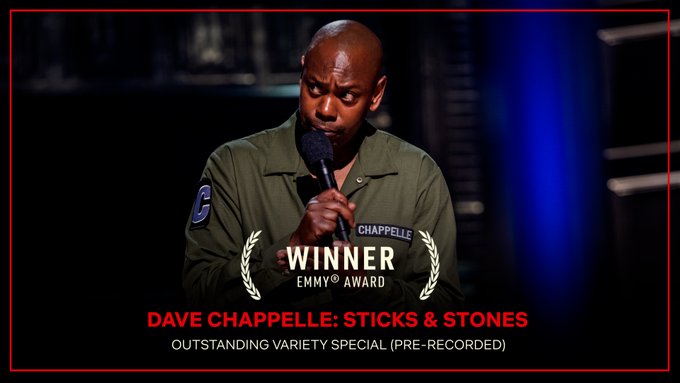 I'm continuing my series of
Emmy winners
of color
for Black History Month
by being a good environmentalist and recycling an aside from
'SNL' gives its satirical take on the election results
.
Since I have a video of Chappelle in which he mentions his Netflix specials, I'm going to congratulate him on the Emmy wins for for "Dave Chappelle: Sticks & Stones": Outstanding Variety Special (Pre-Recorded), Outstanding Directing for a Variety Special, and Outstanding Writing for a Variety Special. As I wrote in For National Presidential Joke Day, I present the variety talk show nominees at the Emmy Awards, "Wow! No matter who wins, Netflix does as well. As for who I'd bet on, it would be between Dave Chappelle and Patton Oswalt." It was Chappelle. Congratulations!
I think Chappelle deserves a post of his own this month, so here it is. The Television Academy did not upload a clip of any of the acceptance speeches, but Daily Dose Comedy did. Watch
Dave Chappelle Badass Emmys Acceptance Speech 2020
.*
Dave Chappelle gave a fiery Emmy acceptance speech. He blasts the critics who criticized his Stick & Stones special and gave a special shoutout to his wife. He also said it's a great night for comedy because "comedy gets to be itself again".
That was a great speech, but I can see why the Television Academy didn't upload any clips of him. Too bad.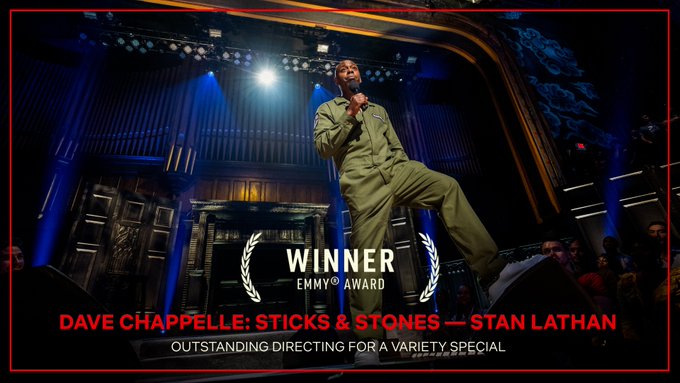 Chappelle made a point of crediting Stan Lathan as his director. Netflix recognized the award, but still showed Chappelle. Lathan is also African-American, so he deserves to be recognized in this series as well. Congratulations!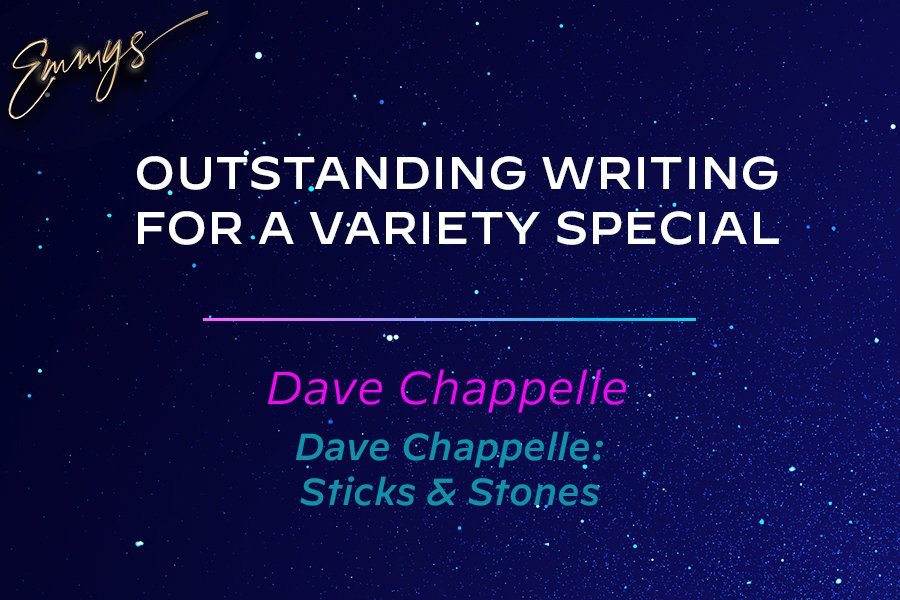 Comedy is nothing without good material, and the Television Academy recognized Chappelle for his writing. Here's to his being an insightful and funny critic of society for years to come, just as he has been for years already.
*I anticipate the comedians will have a hard time winning Outstanding Variety Special (Pre-Recorded) this season, as I think this is the category "
Hamilton
," the
winner of two People's Choice Awards
for drama movies, will end up competing in unless the Television Academy rules it to be a Television Movie. My readers and I will find out in July. Right now, stay tuned for at least one more entry in this series.