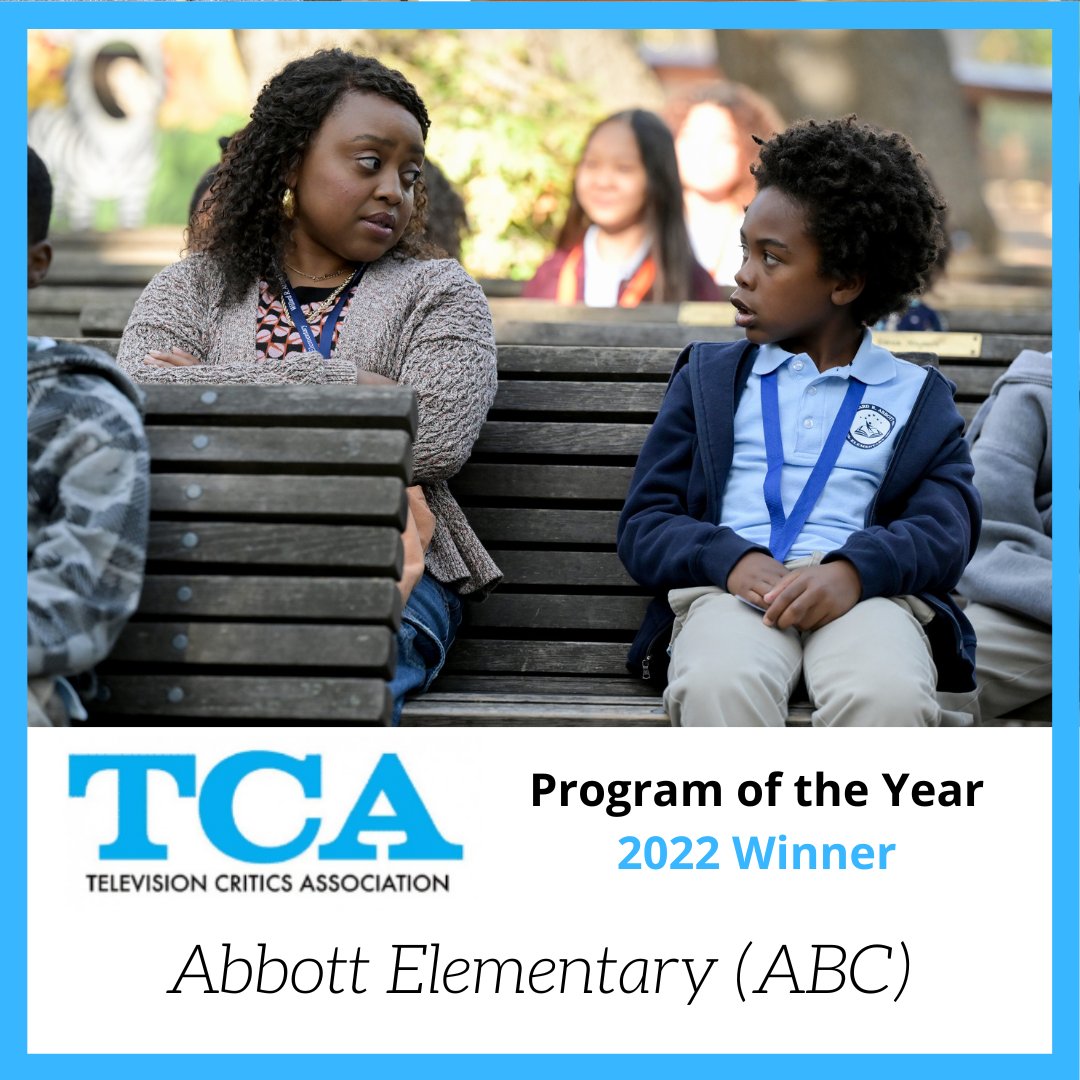 I teased my readers at the end of
Happy International Left Handers Day!
Stay tuned for the Sunday entertainment feature, which could be about Emmy nominations, Saturn Awards nominations, or the Gold Derby TV Awards winners. I don't know yet, so return tomorrow to find out!
The answer is none of the above! Instead, I'm blogging about the winners of the Television Critics Association (TCA) Awards. Deadline reported
'Abbott Elementary' Leads TCA Awards With Four Wins, Including Program Of The Year
earlier this week.
ABC's first-year public school sitcom Abbott Elementary made the grade as the night's top winner with four victories. The series took home some of the TCA's highest honors, including Individual Achievement In Comedy for series creator, producer, writer, and star, Quinta Brunson; as well as Outstanding Achievement In Comedy, Outstanding New Program, and the Program Of The Year Award.
One of the reasons I chose today's topic is that "
Abbott Elementary
" is about public education and, as I wrote most recently in
'Soul' wins Original Score and Animated Feature
, "public education is part of government," so it's on-topic for this blog.
Here are the rest of the Twitter images advertising the show's TCA Awards.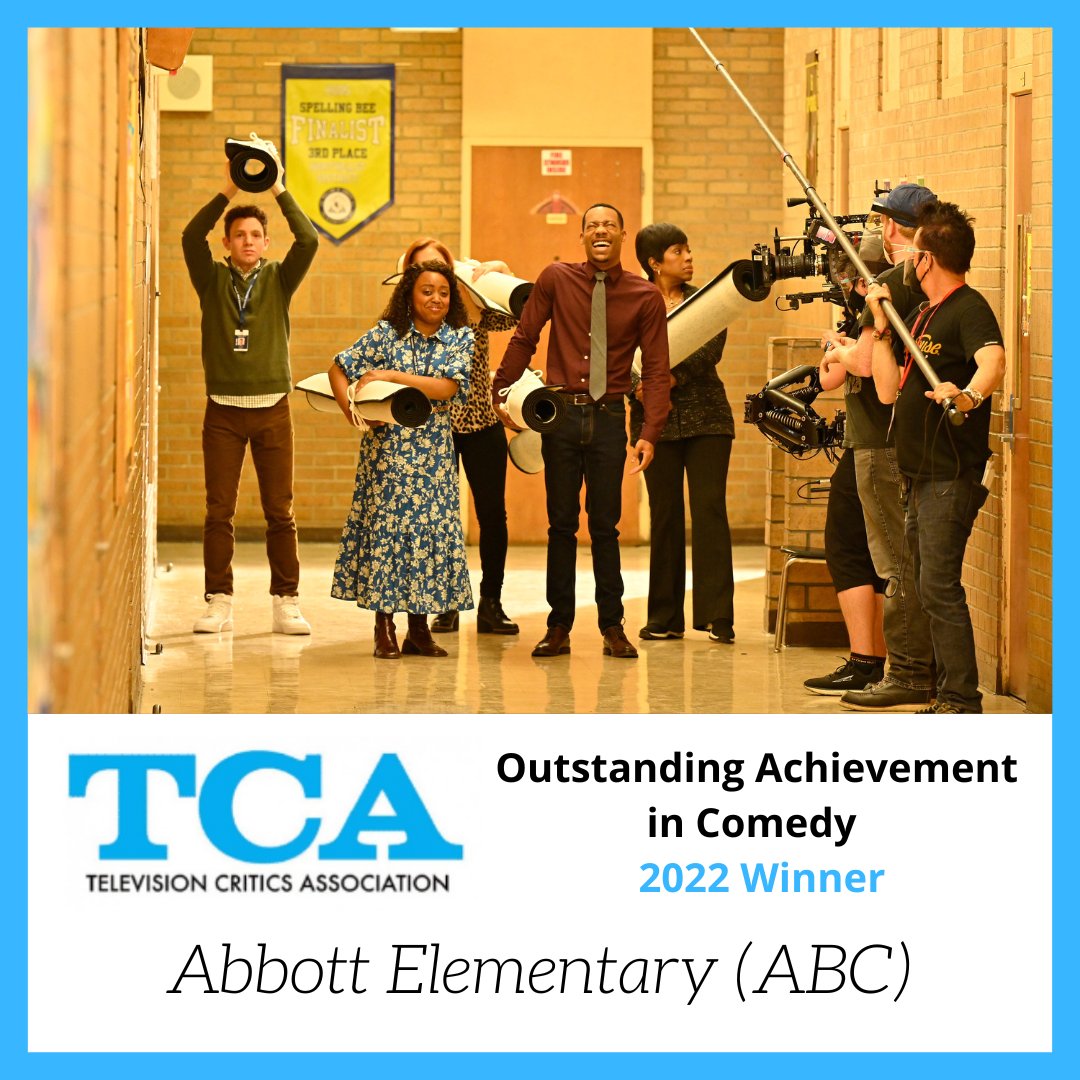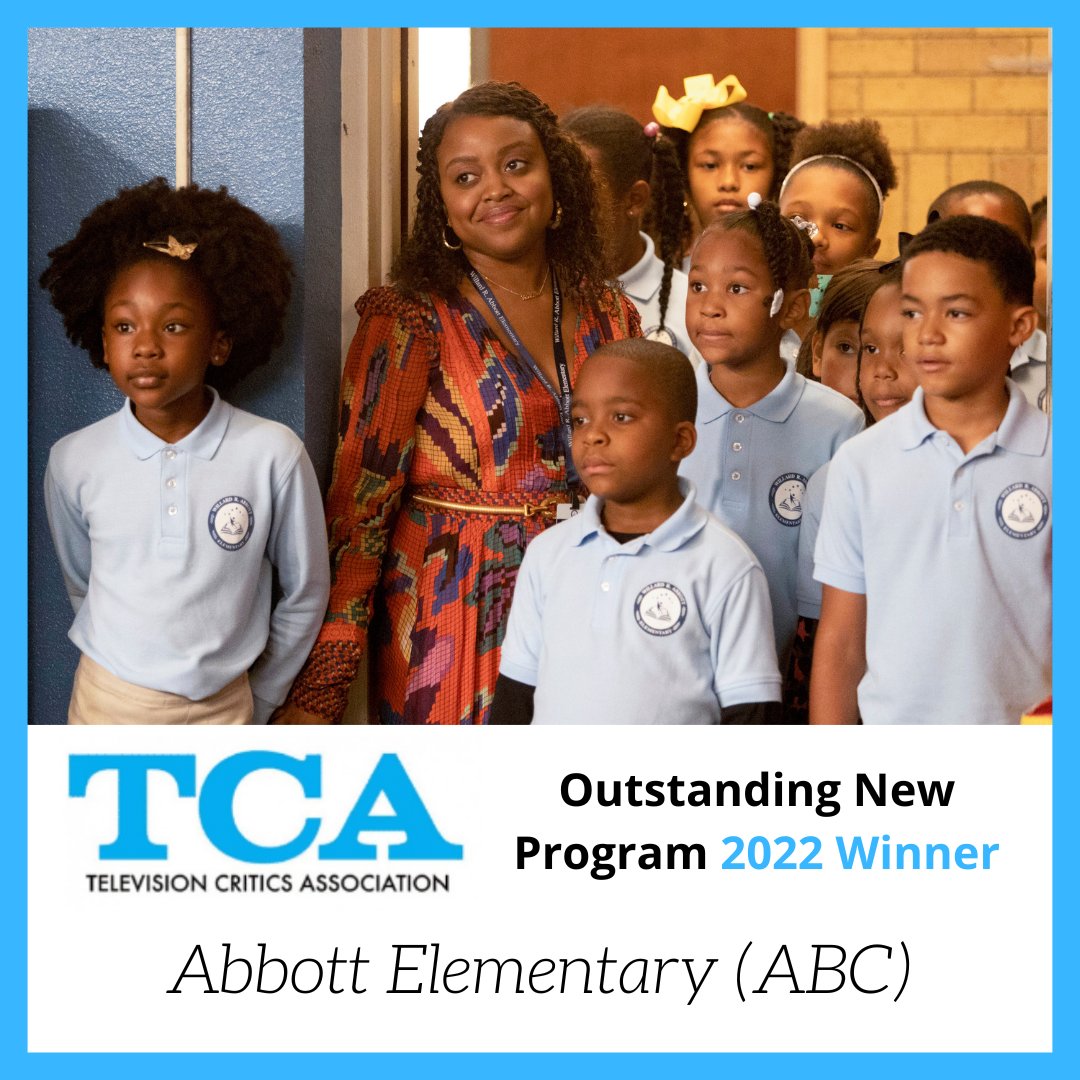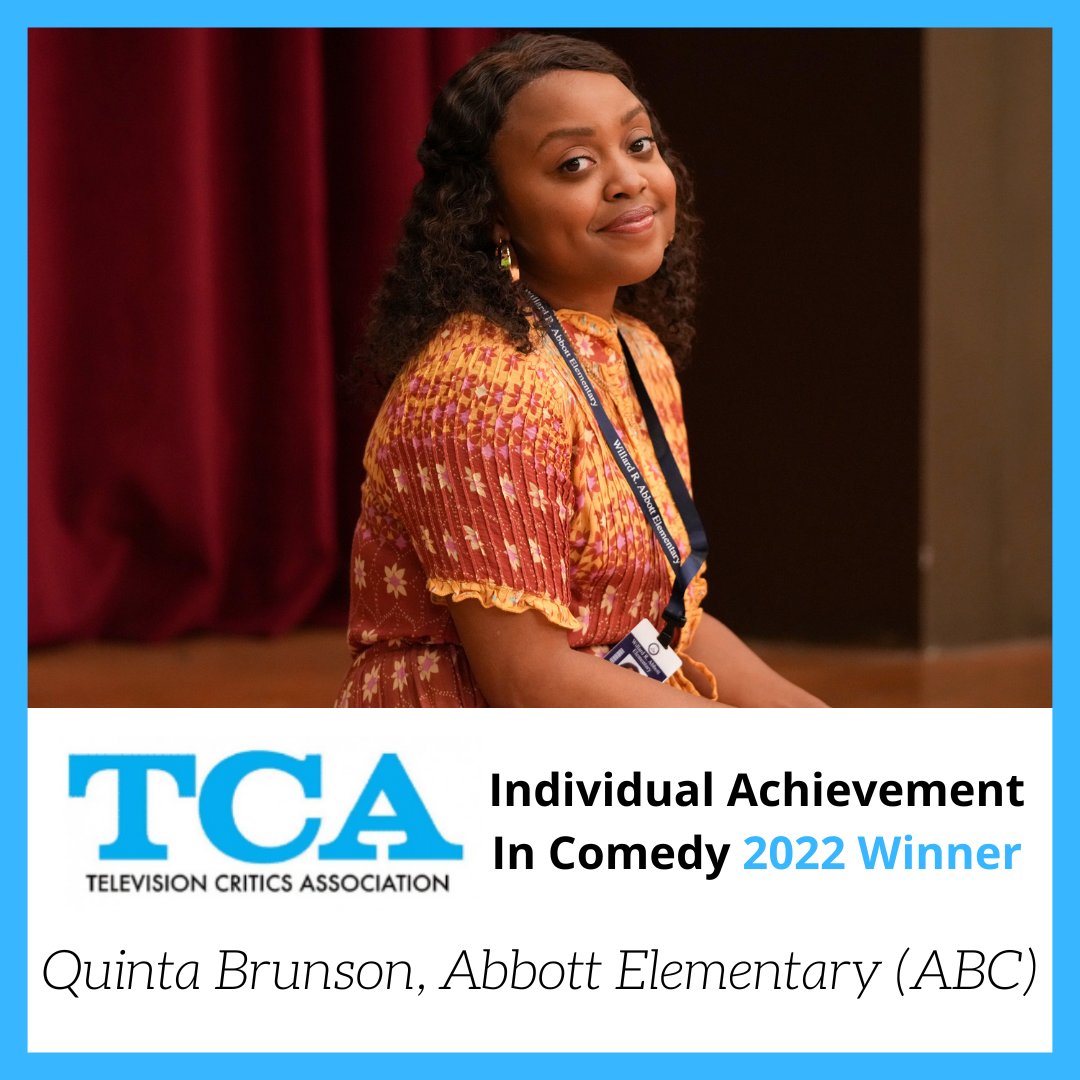 The show has
seven Emmy nominations
in Outstanding Comedy Series, Outstanding Lead Actress in a Comedy Series for Brunson, Outstanding Supporting Actor in a Comedy Series for Tyler James Williams, Outstanding Supporting Actress in a Comedy Series for Janelle James, who also earned a TCA Award nomination for Outstanding Individual Achievement in Comedy, and Sheryl Lee Ralph, Outstanding Writing for a Comedy Series for Brunson, and Outstanding Casting for a Comedy Series. I think these four wins at the TCA Awards have definitely improved the odds of the show winning its categories, but I currently think the only categories where that might push it into the winners circle are for writing and casting, although the competition is stiff for those, too. That didn't stop Gold Derby from asking
Emmy Experts slugfest: Can 'Abbott Elementary' take down 'Ted Lasso'?
Gold Derby editors and Experts Christopher Rosen and Joyce Eng discuss whether "Abbott Elementary" can upset reigning Best Comedy Series champ "Ted Lasso" at the Emmys on the heels of the ABC sitcom's sweep of the Television Critics Association Awards.
Joyce Eng doesn't think that the TCA Awards will affect the Emmy voters, but Christopher Rosen thinks they might because the TCA Awards were announced before Emmy voting began. I'm on Joyce's side. As I keep writing about entertainment awards, electorates matter. I'll have more to say when I blog about the nominations for Outstanding Comedy Series.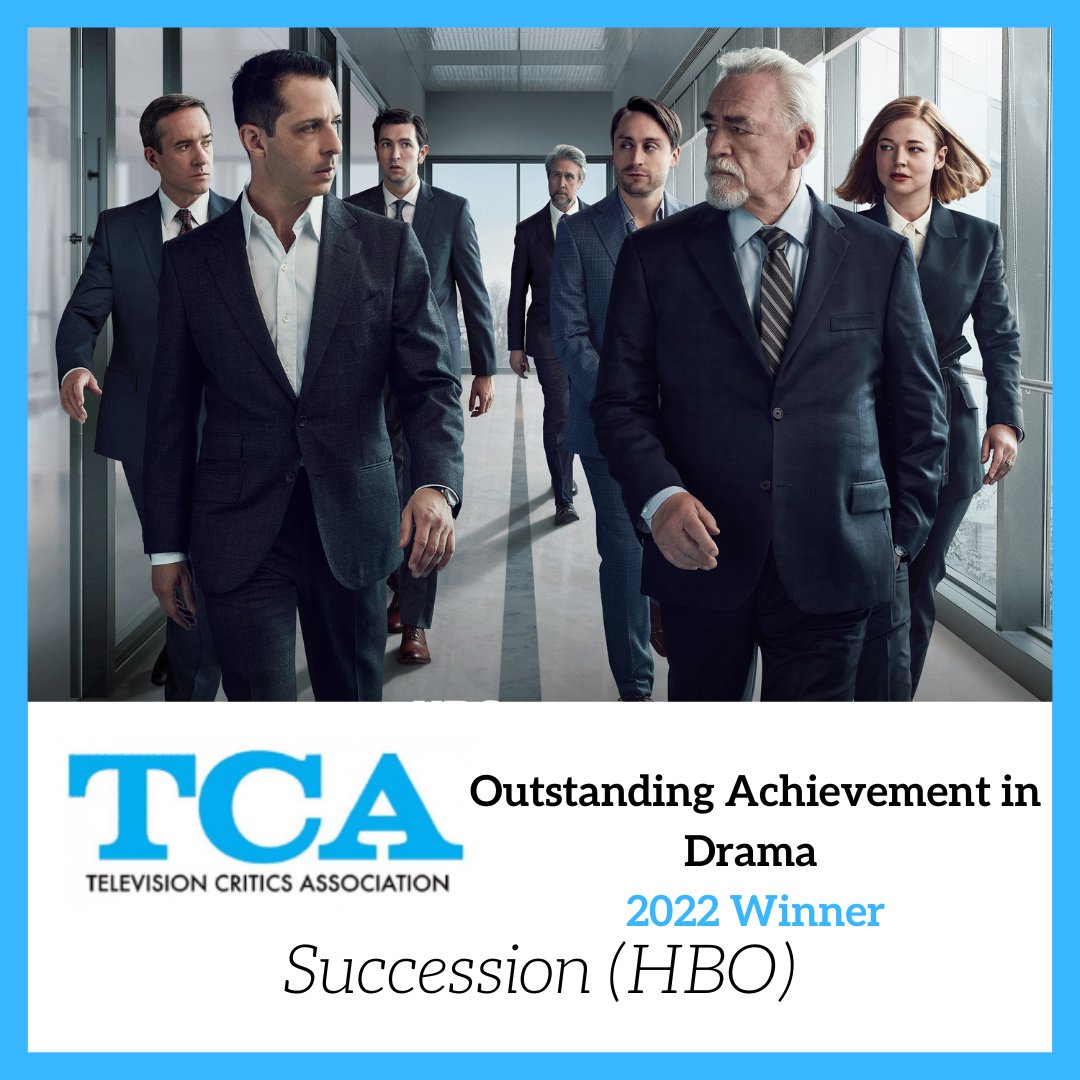 Now for the rest of the winners.
Other winners include This Is Us star Mandy Moore, who earned the award for Individual Achievement In Drama after being snubbed by the Emmys; acclaimed Disney+ rock doc The Beatles: Get Back, which won the Outstanding Achievement In News And Information Award; CBS' globe-hopping The Amazing Race, which shared Outstanding Achievement In Reality Programming with HBO Max's glam Legendary; the surreal Netflix comedy I Think You Should Leave With Tim Robinson, which left with Outstanding Achievement In Variety, Talk, Or Sketch; Hulu's opioid epic Dopesick, which scored the award for Outstanding Movie, Miniseries Or Specials; HBO's dynasty hit Succession, which took home Outstanding Achievement In Drama; and the Netflix adaptation of The Baby-Sitter's Club, which pocketed Outstanding Achievement In Youth Programming for the second-consecutive year.
If Chris R. is right, maybe "I Think You Should Leave With Tim Robinson" has a better chance of winning Outstanding Short Form Comedy, Drama or Variety Series and Outstanding Actor in a Short Form Comedy or Drama Series, especially the latter. Now if Tim Robinson wins, it would come as less of a surprise.
In conclusion, congratulations to all the winners!
Stay tuned for more entertainment tomorrow, as I plan on writing about one of my choices I listed at the top of the post then.