Happy
World
Honey
Bee
Day
! As
I promised yesterday
, I'm writing about award-nominated
television
documentaries
today. I begin with
My Garden of a Thousand Bees | PBS Nature Trailer (2021)
, which my mom told me about and has earned
a nomination for Outstanding Nature Documentary at the News & Documentary Emmy Awards
.
Taking refuge from the pandemic a wildlife filmmaker sets out to record the incredible variety of wild bees in his small garden, finally developing a close relationship with an individual bee that he has followed over its entire life.

Martin Dohrn is an expert at exploring the macroscopic world; his last project on ants with David Attenborough won awards around the world. This time, he unravels a bee filled universe inhabited by winged creatures of every size and shape. From giant bumblebees to scissor bees the size of a mosquito, he has seen over 60 species of bee in his backyard. As he gets sucked into this world, he narrates with the charm and informative voice of a man obsessed. Filmed with one-of-a-kind lenses forged on his kitchen table, this film illuminates its audience with unique natural history insights, and depths of behaviors never recorded before.
In
'The Beatles: Get Back,' 'We Need to Talk About Cosby,' and 'Stanley Tucci: Searching for Italy' all nominated for five Emmy Awards in nonfiction series
, I wrote "Who knows, maybe revisiting the archives was the best thing to do in isolation." For a nature videographer, the best thing to do in isolation was record the nature in his own yard. Considering that
wildlife became bolder and more visible
during the
pandemic
, the timing was fortuitous.
The "Nature" episode's page on PBS's website
has more.
The documentary, which kicks off Nature's 40th season on PBS, follows Dohrn during the COVID-19 lockdown of spring and summer 2020, as he becomes bee obsessed and develops relationships with individual bees. Filming more than 60 species of bees, from Britain's largest bumblebees to scissor bees, which are the size of a mosquito, Dohrn observes how differences in behavior set different species apart from each other. Eventually, he gets so close to the bees, he can identify individuals just by looking at them.

Viewers will marvel at moments timely captured in My Garden of a Thousand Bees, such as bees laying tiny eggs preparing for the next generation, green-fanged spiders feasting on male flower bees and a female yellow-faced bee attacking a Gasteruption wasp to protect her nest. Other fascinating behavior featured in the program includes two male bees fighting each other over a female, different species of bees competing over territory and one busy bee building a nest with a shell and hundreds of sticks. Intrigued by the intelligence of one particular wood-carving leafcutter bee, Dohrn dubs her "Nicky" and sees life at her level as she leaves a lasting legacy in the garden.
That's impressive, but today is dedicated to honeybees, which Seeker examined at the same time "My Garden of a Thousand Bees" was airing, in
The Threat to Bees and Our Food Supply
.
The European honey bees are crucial to our food systems, but they may soon be under threat from a microscopic pest. So what exactly is this threat?

To learn more about other types of bees, make sure to check out the documentary, "My Garden of a Thousand Bees," streaming now on @Nature on PBS...

It's no secret, bees are super important. And it's not just for food sources; bees also keep the health of wild ecosystems in check by pollinating wildflowers, which in turn maintains biodiversity and a thriving terrestrial biomes.

And while all bee species are helpful pollinators, honey bees are CRUCIAL to our own food supply, pollinating close to 90 commercially grown crops in the U.S. But bee populations have been under extreme stresses, from pesticides to the climate crisis, to parasites and diseases.

We are currently losing between 30% and close to 50% of our honeybee colonies every single year. What would be worse in a situation where the balance is already kind of teetering is to add a parasite that we know has a dramatic impact on honeybees.

Unfortunately, that's exactly the situation all bees are facing. Dr. Sammy Ramsey, a scientist at the USDA, focuses on protecting bees from an emerging threat.
Even Seeker told its viewers to watch this episode, just like my mom told me to. Good for them!
Follow over the jump for its News & Documentary Emmy nomination along with the nominations for other nature documentaries at this year's awards.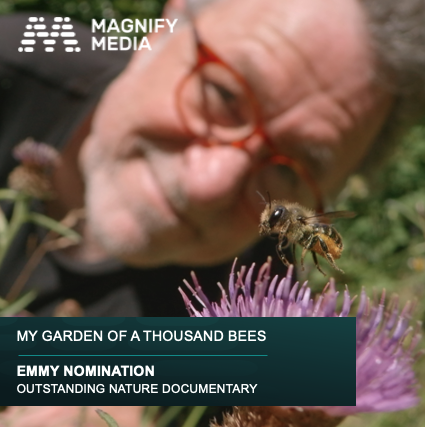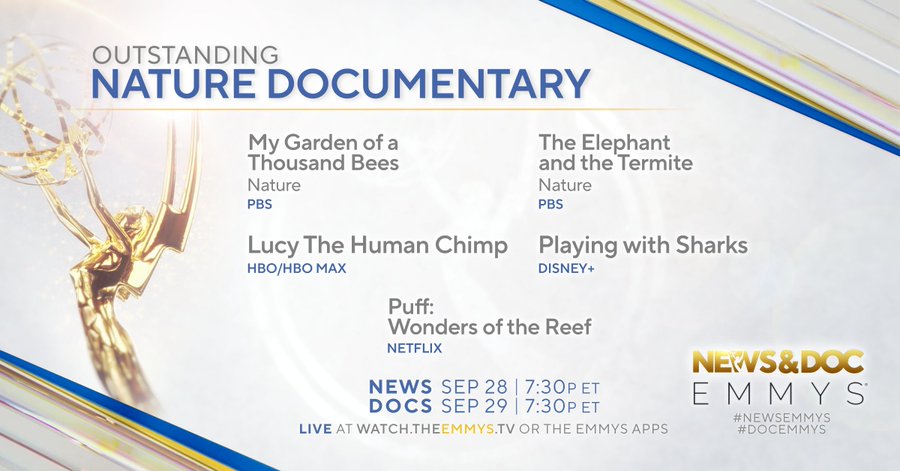 Outstanding Nature Documentary
Lucy The Human Chimp HBO/HBO Max
Nature PBS
The Elephant and the Termite
Nature PBS
My Garden of a Thousand Bees
Playing with Sharks Disney+
Puff: Wonders of the Reef Netflix
As much as I am rooting for "My Garden of a Thousand Bees" in the context of today, I don't consider it the favorite. Instead, I think that's between fellow "Nature on PBS" nominee "The Elephant and the Termite" with three total nominations and "Puff: Wonders of the Reef" on Netflix with two total nominations. I'll embed their trailers after their other nominated categories. Here, I will embed three more segments from the Nature on PBS YouTube channel, beginning with
Busy Bee Builds an Intricate Fortress
.
Nothing can get into this bee's self-made fortress of a shell and sticks.
...
This construction of grass stems takes bee architecture to new heights. The Red-Tailed Mason bee, nicknamed the Tent-Making bee, has solved the problem of other bees breaking into her nursery and it starts with a shell.
I couldn't resist a video with a snail shell in it, most likely a shell of
Cepaea nemoralis
, the subject of
A snail story for Black Friday/Buy Nothing Day
.
Next,
Bee Mating Ritual Caught on Camera
.
In the "bee highway," male bees search for female bees to mate with. When this male bee spots a female, he becomes transfixed and does a bit of a dance.
Not only is this good nature photography, it's interesting science, too.
I conclude the embedded videos from "My Garden of a Thousand Bees" with
Monster Bee Defends his Territory and his Mate
.
Don't mess with this male Wool Carder bee.
...
There is a new bee out in the garden, and he is a "monster." This male Wool Carder bee will mate with any female and chase away any male that comes into his territory.
Wow! That is one big aggressive bee!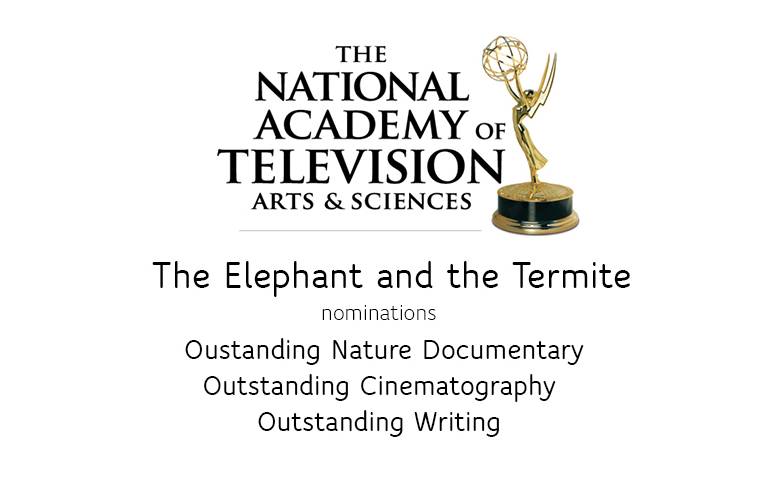 Outstanding Writing: Documentary
9/11: One Day in America National Geographic
HBO Documentary Films HBO
The Forever Prisoner
Nature PBS
The Elephant and the Termite
The Rescue National Geographic
Trafficked with Mariana van Zeller National Geographic
Outlaw Motorcycle Clubs
Trafficked with Mariana van Zeller National Geographic
Romance Scams
While I think "The Elephant and the Termite" is likely the best nature documentary, I don't think it will win this category. It's competing against the two most nominated documentaries at these awards, "9/11: One Day in America" with six nominations and "The Rescue" with five, both from National Geographic. I think one of them will win this category instead, most likely "The Rescue," which is also nominated for Best Documentary. I'll have more when I cover their nominations.
Now to celebrate
Nature: The Elephant And The Termite PREVIEW
from Arizona Public Media.
From mighty elephants to tiny termites, meet the creatures who call the waterhole their home.
I use elephants as an example of foundation species, ones that create communities, in my classes for years. Maybe I should add termites.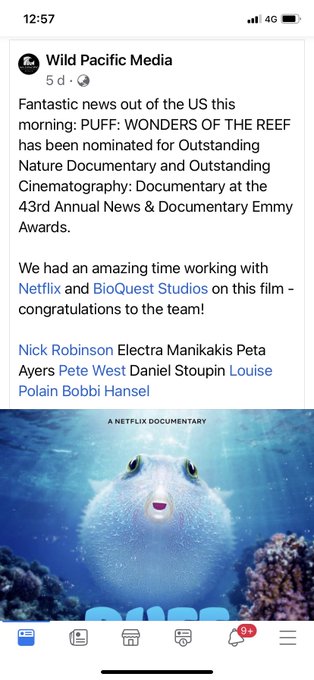 Outstanding Cinematography: Documentary
Buried Showtime
Nature PBS
Pumas: Legends of the Ice Mountains
Nature PBS
The Elephant and the Termite
Puff: Wonders of the Reef Netflix
The First Wave Hulu
The Reason I Jump Netflix
Hey, look, three nominees from "Nature on PBS," including one with no other nominations, "Pumas: Legends of the Ice Mountains!" That fits what I first noticed five years ago,
Nature documentary nominees are well photographed
. It still holds true.
I'm showcasing both of these nominees and their photography, beginning with
Puff: Wonders of the Reef | Official Trailer | Netflix
.
A baby pufferfish travels through a wondrous, microworld full of fantastical creatures as he searches for a home on the Great Barrier Reef.
I don't know if it's the best shot show, but it certainly has the best photographed trailer.
Now
Pumas: Legends of the Ice Mountains | Official Trailer | NATURE | PBS
.
Follow the fate of a puma family in the ice mountains of Patagonian Chile. Narrated by Uma Thurman. "Pumas: Legends of the Ice Mountains" premieres Wednesday, February 3, at 8/7c.

Travel to the ice mountains of Chile to discover the secrets of the puma, the area's biggest and most elusive predator. Discover how this mountain lion survives and follow the dramatic fate of a puma mother and her cubs. Narrated by Uma Thurman.
That shares the same setting as "Chilean Patagonia," the episode of "
Our Great National Parks
" nominated for Outstanding Cinematography for a Nonfiction Program at the Creative Arts Emmy Awards. I guess that part of the world is conducive to great nature photography.
I'm done with insects and other animals, but I'm not done with awards shows. Stay tuned for the Sunday
entertainment
feature.