I telegraphed the subject of this post at the conclusion of
'The Martha Mitchell Effect,' 'Stranger at the Gate,' and 'How Do You Measure a Year?' — three Oscar-nominated short documentaries
.
That's part one of the Sunday entertainment feature. Stay tuned for the highlights of last night's "Saturday Night Live" episode, which will serve as part two.
I begin, like the show, with
Fox & Friends Cold Open: Dominion Lawsuit
.
The hosts of Fox & Friends (Mikey Day, Heidi Gardner, Bowen Yang) discuss the news that Fox News is being sued for lying to viewers about the 2020 election.
This is the fourth comedic take on
the Fox News
-
Dominion lawsuit
, including
Rupert Murdoch's deposition
. I suppose I should write something serious about it, but like
George
Santos
, as long as the story is in the news, it will be an inspiration for comedy.
Speaking of Representative Santos, his name came up in
Weekend Update: Tennessee Bans Public Drag Shows, Trump Lashes Out at DeSantis
.
Weekend Update anchors Colin Jost and Michael Che tackle the week's biggest news, like the House Ethics Committee opening an investigation into George Santos.
I think
The Former Guy
attacking
Ron DeSantis
over Social Security and Medicare is an example of a stuck clock (and is TFG ever a stuck clock!) being right twice a day. Other than that, I'll let the following meme express my opinion of the spat.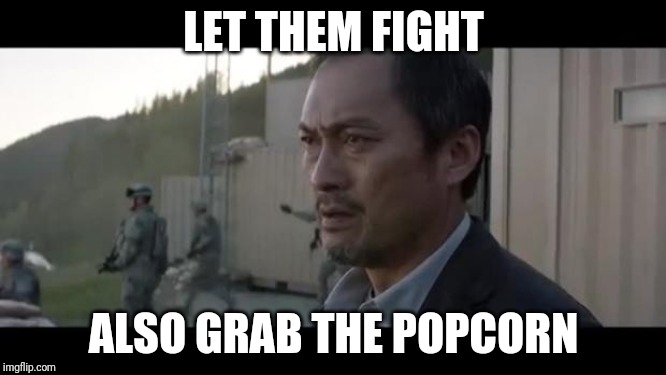 Weekend Update had more about Scott Adams and Dilbert, which I'll get to over the jump.
Weekend Update began covering entertainment stories in
Puerto Rico's Only Zoo Closes, Man Plans to Turn Jail Into Airbnb
.
Weekend Update anchors Colin Jost and Michael Che tackle the week's biggest news, like the James Bond books getting rewritten to remove offensive material.
I'm sorry to hear that Puerto Rico is losing its only zoo. I hope the animals find other zoos to take them and that their new homes deal with the issues described in
Vox asks 'Are zoos...bad?'
Weekend Update had more about the Oscars, but first
Dilbert on Scott Adams' Racist Rant
, as I promised above the fold.
Dilbert (Michael Longfellow) stops by Weekend Update to discuss Dilbert cartoon creator Scott Adams' racist rant.
That's a great piece of prosthetic makeup. As I wrote about the "Behind The Sketch: Mario Kart Trailer" in
'SNL' sends up Trump's visit to the train derailment site in Ohio in its cold open and Weekend Update
, I hope it helps
'SNL' win another Emmy Award
, although I think the fungus-infected zombies in "The Last of Us" will probably have it beat for prosthetics. Fortunately, SNL's real competition is
"We're Here" and "Legendary."
Speaking of awards shows, Weekend Update concluded with
Punkie Johnson and Mikey Day on Their 2023 Oscars Predictions
.
Punkie Johnson and Mikey Day stop by Weekend Update to discuss their predictions for the 2023 Oscars.
That had nothing to do with the Oscars, especially Oscar predictions, but it was a funny segment about entertainers. Just the same, I'm returning to
the episode hosted by Pedro Pascal
again for a more informative sketch on the subject,
The Big Hollywood Quiz
, to conclude this entry.
Game show contestants (Pedro Pascal, Ego Nwodim, Chloe Fineman) answer a series of entertainment trivia questions.
My readers and I would have done better, but the contestants' inability to answer questions about recent films and TV shows helps explain
'Why The Future Of The Oscars And Emmys Might Be In Jeopardy'
as CNBC reported last year. I guess I'll have to make my own Oscar predictions when I write about "
Everything Everywhere All at Once
" and "
RRR
." Stay tuned.