For the
entertainment
-related entry I promised my readers
yesterday
, I'm writing about a genre I've generally avoided in a dozen plus years of blogging, game shows. That's because I blog about the Primetime and Creative Arts Emmy Awards, not the
Daytime Emmy Awards
, which recognized game shows until this year, when they were moved to the Creative Arts Emmy Awards. That's enough, along with covering
RuPaul's Drag Race
, a competition reality show, which is an adjacent genre, to get me to write about them beginning here and now. Without any further ado, here are the nominations for game shows at
this season's ceremony
.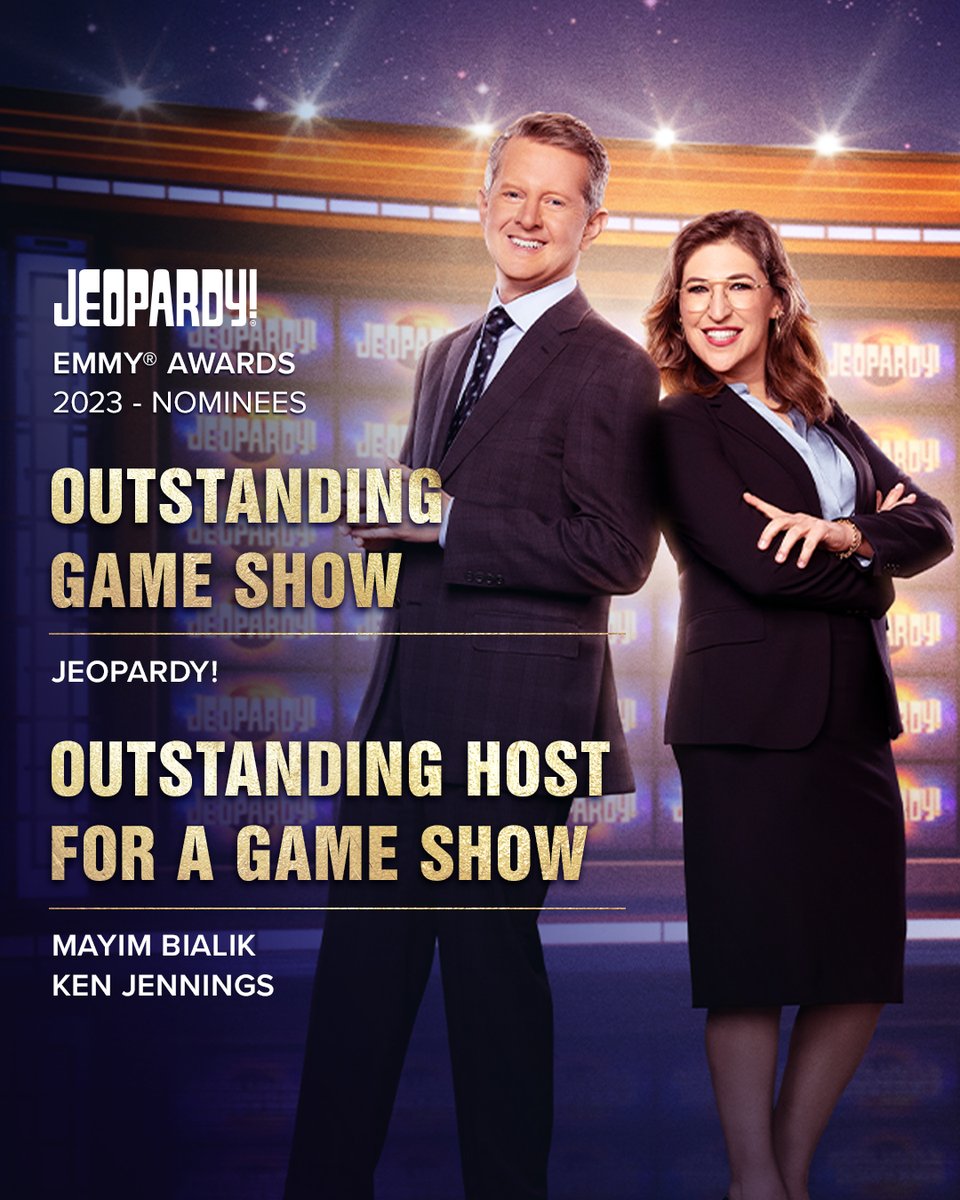 Outstanding Game Show
Family Feud (ABC / Syndicated)
Jeopardy! (ABC / Syndicated)
The Price Is Right (CBS)
That's My Jam (NBC)
Wheel of Fortune (Syndicated)
I have four reasons to pick
Jeopardy!
First, it won this award at
last year's Daytime Emmy Awards
. I know I keep saying that electorates matter in these awards show posts, but in this case I expect the new electorate to agree with the old one. So do
the experts at Gold Derby
, all of whom chose
Jeopardy!
That's my second reason. The third is that it has more nominations than its competition, three. Its nearest competitors,
Family Feud
and
Wheel of Fortune
, have two each. Fourth, it's my personal favorite, as it actually tests how smart its contestants are and it educates its viewers as it entertains them.*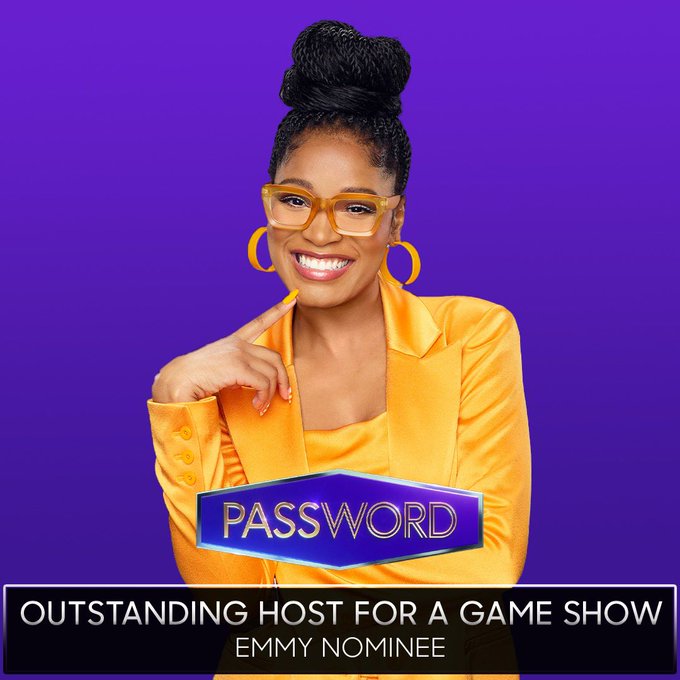 Outstanding Host for a Game Show
Mayim Bialik – Jeopardy! (ABC / Syndicated)
Steve Harvey – Family Feud (ABC / Syndicated)
Ken Jennings – Jeopardy! (ABC / Syndicated)
Keke Palmer – Password (NBC)
Pat Sajak – Wheel of Fortune (Syndicated)
On the other hand, electorates do matter for this category. The Daytime Emmy Awards voters didn't even nominate Mayim Bialik, Ken Jennings, and Keke Palmer last year, instead nominating Wayne Brady for
Let's Make a Deal
, Leah Remini for
People Puzzler
and Pat Sajak
twice
, once for
Wheel of Fortune
and again for
Celebrity Wheel of Fortune
. The only returning nominee is Steve Harvey, who won last year. He's not favored this year. Instead, I'm agreeing with the experts at Gold Derby, three of whom forecast Mayim Bialik while the fourth chose Ken Jennings to win. The odds tie Jennings with
Emmy winner Keke Palmer
for second, which is why I'm featuring her promotional Twitter image here.
*It's also the only one I tried out for. I didn't get past the first round of auditions, as I didn't know who Porky Pig's girlfriend was (Petunia) and miscounted the number of zeros in a trillion (twelve). Oops. That made me relate to
"Weird Al" Yankovic - I Lost on Jeopardy (2022 version) - excerpt
.
I re-recorded a bunch of my old songs for use in the Roku Channel biopic (WEIRD: The Al Yankovic Story), and this is the one that got left on the cutting room floor. I didn't record the whole song, just one chorus - the reason being that we only needed a couple seconds of it for the movie. It was originally going to be used in the drunk driving scene, where Weird Al (Daniel Radcliffe) is repeatedly changing the channels on his car radio (and all the songs are Weird Al songs). Eric Appel (the director) and I ultimately decided that we didn't need to include this song, because we hadn't introduced it previously in the movie, and also because it would have cost us several thousand dollars extra in licensing fees. But since my band and I went through all the trouble of recording this 22-second masterpiece, we figured SOMEBODY should hear it!
Sorry,
"Weird Al" Yankovic - I Lost On Jeopardy (Official HD Video)
won't embed, so click the link to watch it. Just the same, it makes for a perfect preview of the entry I have planned for
World Television Day
tomorrow, which I foreshadowed in
Broken Peach sings 'One Way or Another' from 'Hocus Pocus 2' for Halloween
.
Speaking of Hocus Pocus 2, I thought it should be nominated for Outstanding Television Movie. It was, along with Dolly Parton's Mountain Magic Christmas, Fire Island, Prey, and Weird: The Al Yankovic Story. I don't think it will win; the experts at Gold Derby have it tied for last place with Weird: The Al Yankovic Story and Prey tied for first. I plan on writing more about that category and the other nominations for TV movies when I resume my series on the Primetime and Creative Arts Emmy Awards. In the meantime, called that, too.
Stay tuned.
Previous posts about the 2023 Primetime and Creative Arts Emmy Awards