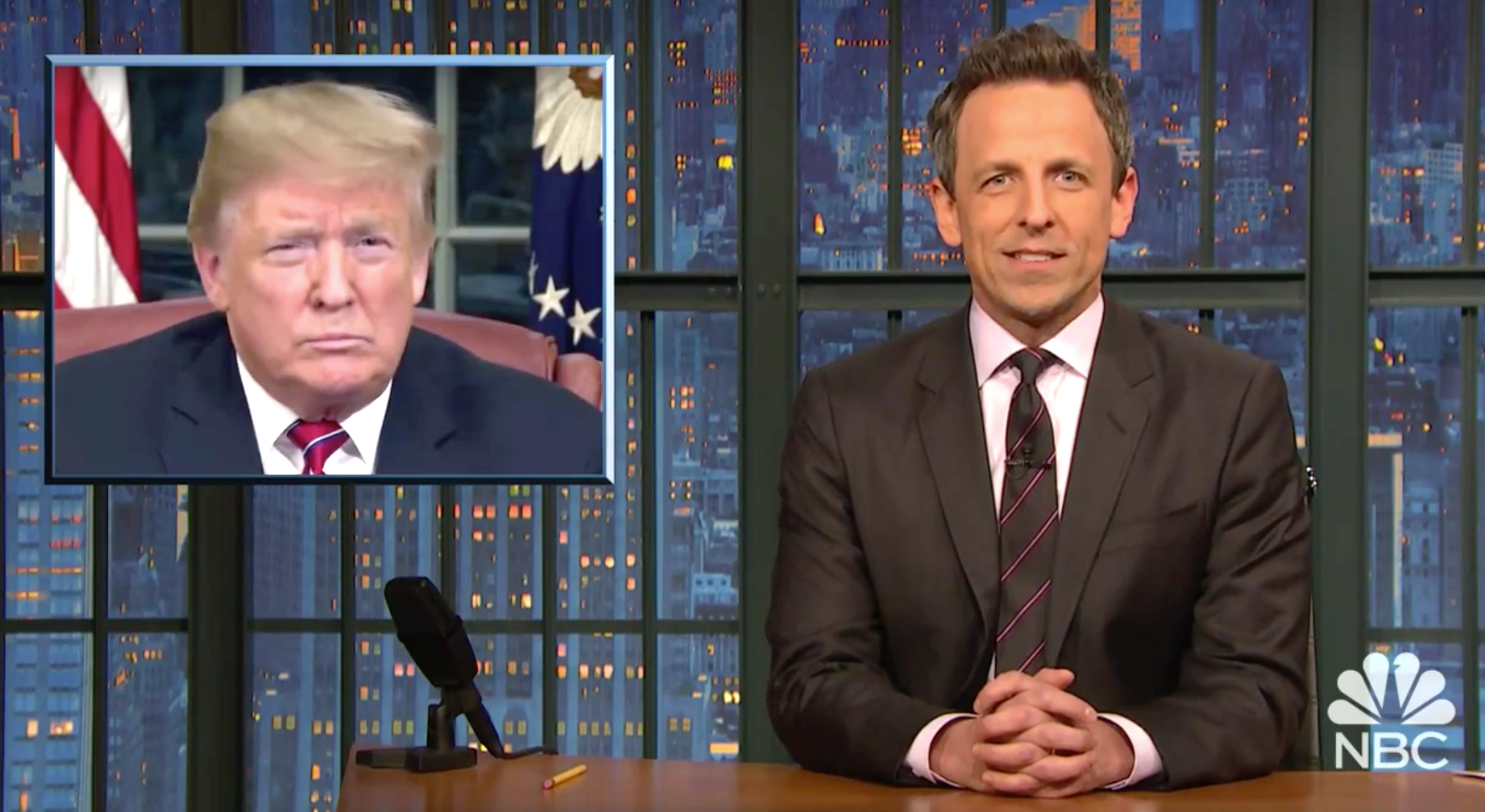 "I may get around to Seth Meyers tomorrow, but that's only if there is no news about
Sears Holdings doesn't announce its liquidation
." That's what
I wrote yesterday
. Since I couldn't find anything about the results of the bankruptcy court hearing or the auction at midnight, I'm going to blog about what Seth Meyers had to say about
the
shutdown
over
the border wall
.*
I begin with the first of three closer look segments on the subject,
Trump to Give Primetime Address on the Shutdown: A Closer Look
.
Seth takes a closer look at the continuing government shutdown and President Trump announcing a primetime address to repeat his lies.
Meyers said the same thing that Colbert did in response to the question about using emergency powers; stop giving Trump any bad ideas. I agree.
Two days later, the Seth Meyers got photobombed by Andy Samberg in
Trump's Wall Has Changed a Lot: A Closer Look
.
Seth takes a closer look at President Trump's primetime address on the government shutdown that he started over his border wall.
This looks a lot like John Oliver's take from three years ago, but I don't mind. The facts need repeating.
The third and final closer look from last week was
Trump Goes to the Border Amid Shutdown: A Closer Look
Seth takes a closer look at President Trump traveling to Texas to make the case for his border wall as the government shutdown drags on.
I see Seth found another way to make fun of Trump's description of how people get into the U.S., first Wile E. Coyote, then Siri after a smartphone has been dropped into a toilet. Both work for me.
I close with one of Seth's guests,
Chris Hayes Says Trump Doesn't Understand the Government Shutdown's Consequences
.
Chris Hayes unpacks Trump's obsession with a southern border wall and talks about his personal efforts to not cover some aspects of the 2020 election.
Chris Hayes is right; there isn't a lot about the shutdown that could directly affect Trump outside of air travel and income taxes. That's too bad, as it needs to be about him for it to matter to Trump.
Seth also covered the shutdown in his monologues, but the jokes, images, and analysis in the closer look segments are almost always superior, so I'll stick with those.
If there continues to be no news about Sears, I'll see if Jimmy Kimmel has good videos on the topic tomorrow. Stay tuned.
*In the morning, Bloomberg reported
Sears Is Said to Extend Talks on Lampert's Plan to Rescue Chain
, so still nothing definitive on whether Sears Holdings will be liquidated or not.