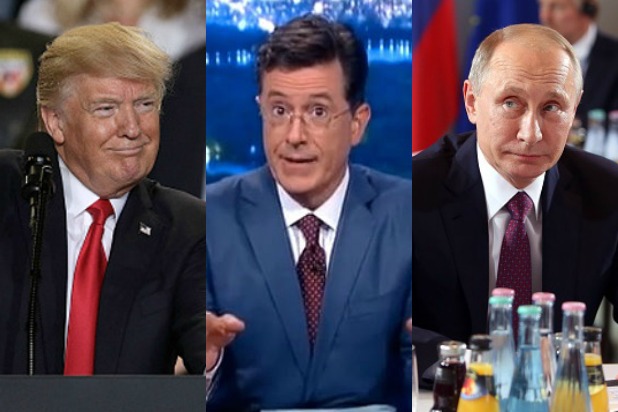 I changed my mind since
yesterday, when I wrote
"If there continues to be no news about Sears, I'll see if Jimmy Kimmel has good videos on the topic tomorrow." Yes, Reuters and CNBC reported
Sears stores to stay open after Lampert prevails in bankruptcy auction with a $5.2 billion bid
, but that won't be official until Friday, when the offer goes before a bankruptcy judge, who could turn it down.* As for Kimmel, his bits and skits about the shutdown pale in comparison to the latest shiny object, the revelation that "
the FBI launched a secret counter-intelligence investigation into President Donald Trump's possible covert relationship with Russia
." For that, I return to "
The Late Show with Stephen Colbert
," beginning with Stephen asking
Is Donald Trump Working For Russia?
Working hard for Russia or hardly working for America?
Evil or stupid — why not both?
Even before the monologue, the show was on the topic, opening the writers imagining
The Interpreter's Notes From The Trump-Putin Meeting
.
The Late Show obtained (and put back together) the interpreter's notes from the Trump-Putin meeting.
Haha. That was on Monday. Last night's show also opened with a segment about Trump's actions involving Russia,
Grimace Puts Trump On The Hot Seat
.
Donald Trump has finally agreed to sit down and answer questions... from Grimace.
Yes, that's based on
a real McDonald's commercial from 2002
.
Finally, Stephen described
The Art Of The Doing Whatever Putin Asks You To
.
President Trump floated an idea so crazy that it just might work... to Putin's advantage.
TrumpNATO/Trumpnado? I like the pun, even if I don't like the idea.
I'll return to the shutdown after tomorrow, when I plan on posting Seth Meyer's take on this latest development about
Trump and Putin's bad bromance
. Stay tuned.
*I promise to report on the judge's ruling when it comes down. Until then, consider Sears and KMart "
not dead yet
."