So far, I've confined my coverage of the 2020 presidential election to
mocking the idea
of
Howard Schultz running for president as an independent
. Other than mentioning
Elizabeth Warren
and
Bernie Sanders
in passing as contrasts to Schultz, I've stayed relatively silent about next year's candidates. That changed today as Washington Governor Jay Inslee declared his candidacy for the Democratic nomination for President of the United States with climate change as his campaign's signature issue.*
The Years Project, who is responsible for the "
Years of Living Dangerously
" TV series and a partner of
Coffee Party USA
, also weighed in on Inslee's candidacy, posting
Jay Inslee Runs For President
today.
Jay Inslee, the governor of Washington state, just announced he's running for president. He thinks he can win by making climate change his campaign's top priority.
The Years Project is obviously very positive about Inslee's positions on climate, energy, and the environment. So am I, which should come as no surprise for
someone who supported Nancy Skinner for Congress five years ago
when she ran on a similar platform. That doesn't mean others are. For a more balanced look, I'm sharing
Jay Inslee campaigns on climate change in 2020 presidential bid
from CBS News.
Washington Governor Jay Inslee is officially running for president. He joins a crowded field vying for the 2020 Democratic nomination. CBS News' Natalie Brand joins CBSN to explain why he's making climate change his top campaign issue.
That Inslee has a history of reaching out to voters beyond the progressive Seattle metro area is a good sign for the general election, should he get that far. As for earning the nomination,
FiveThirtyEight's article on his candidacy
has good news and bad news.
Just before the 2018 midterm elections, Gallup released findings that placed climate change as the fifth-most-important issue to Democratic voters, behind topics like health care and wealth inequality. Still, 75 percent of Democrats said it was an extremely or very important topic, compared with just 27 percent of Republicans. We can see how much the parties have diverged on the issue using a Gallup question that looks at concern about climate change. In 1990, the share of Americans who worried a great deal or a fair amount about global warming did not really differ by party identification. Today, Democrats and Republicans are a world apart.
Of course, any Democrat who wins the nomination will have a similar position on climate change, even if it won't be his or her signature issue, so that might not be any more of an impediment for any of them than Inslee in the slim chance that he gets that far. However, FiveThirtyEight quoted an expert who thinks making climate change a signature issue might be a mistake.
But putting climate change ahead of all other issues could be risky, Stanford University psychologist Jon Krosnick said. He has helped lead national surveys of public opinions on climate change since 1995 that have found that most voters don't make their ballot box decisions based on climate change alone. Krosnick's surveys show that about 18 percent of voters are passionate about climate change, which means that "taking a stand on this issue is electorally very wise, but making this a signature issue is probably unwise."
Here is a table of Gallup findings from last year's election for all voters showing how far down climate change ranks.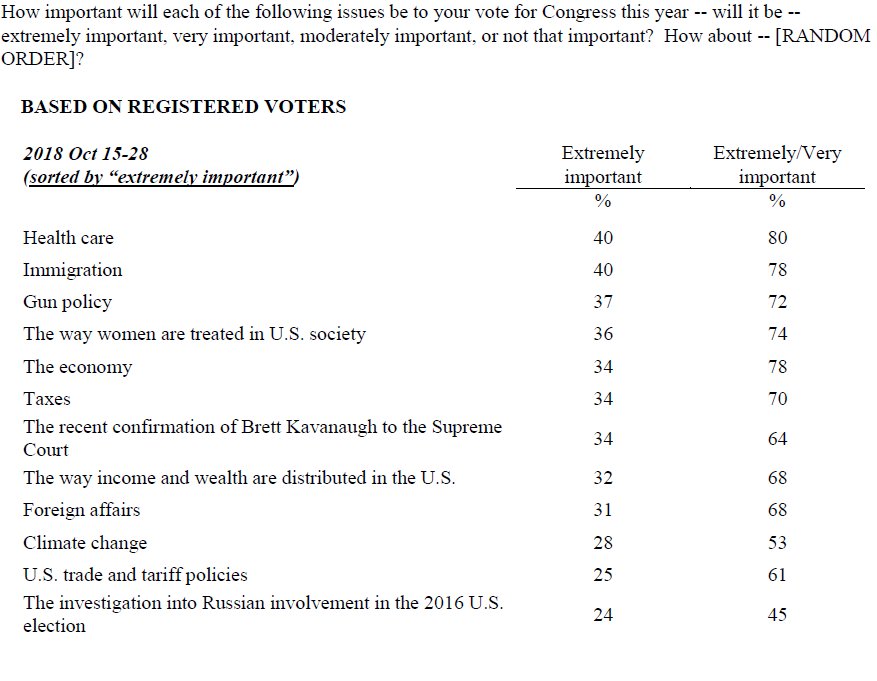 In addition to trying to convince more Americans about the importance of climate change, I think Inslee needs to make his stands clear on all the issues voters currently rate higher than climate and the environment. I wish him good luck; he'll need it.
*This got my attention enough that I decided to postpone the next installment of my series on Oscar winners. I may love entertainment, but there are much more important things. Just the same, I plan on completing the series tomorrow.