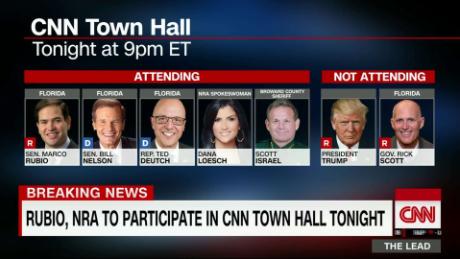 I concluded
'Meet The Press' earns a Cronkite Award for its coverage of climate change
by telling my readers "I'm not done with the Cronkite Awards. Stay tuned for more winners tomorrow." Today's featured winner is the CNN Parkland Town Hall. Here is the description from
the University of Southern California Annenberg School for Communication and Journalism
.
CNN Parkland Town Hall, a two-hour special, aired only seven days after 17 students and teachers were murdered by a gunman at Marjory Stoneman Douglas High School. In this "compelling and powerful" forum, moderator Jake Tapper deftly gave generous space to speak to gun control advocates, politicians, Parkland students, parents and a representative from the NRA. The program helped "advance the national conversation on gun control and violence," the jury said.
Here is the entire
CNN town hall in wake of Florida school shooting
.
Sen. Marco Rubio (R-FL), Sen. Ben Nelson (D-FL), Rep. Ted Deutch (D-FL), NRA spokeswoman Dana Loesch and Broward county Sheriff Scott Israel answered questions from survivors of the school shooting at Stoneman Douglas high school shooting, teachers and parents of the victims.
Last year,
there were 14 nominations for 12 reports about Las Vegas Massacre and other mass shootings at the News and Documentary Emmy Awards
. Parkland was not among them. I suspect coverage of it will earn a lot of nominations at this year's ceremony. This particular program might earn nominations for Outstanding News Discussion & Analysis and Outstanding News Special, although, as I wrote yesterday, "I am not going to hold my breath. It's a long time until the end of July, when the nominees are announced, and the competition will be stiff."
By the way, my responses to the mass school shooting at Marjory Stoneman Douglas High School in Parkland, Florida included
Instructions on how to deal with an active shooter
, which became
the eighth most read entry of the seventh year of the blog
,
The latest from Vox on the gun control debate
, which included clips from this town hall, and
Music at March For Our Lives
. These last two ended the eighth year of this blog as the 22nd and 25th most read entries between March 21, 2018 and March 20, 2019. I will write a retrospective post about both of them plus
Update to 'Doctors to Congress: Fund gun violence research at the CDC and NIH,' the third most read entry of the seventh year of Crazy Eddie's Motie News
, which was the 30th most read entry of the eighth year of the blog, in a special retrospective post about gun contol next month.
I might have more about the Cronkite Award winners next month as well. In the meantime, stay tuned for a retrospective entry about
Facebook knows your political affiliation and much more
, the top post of the eighth year of the blog for Throwback Thursday and another retrospective about the most read retrospectives for Flashback Friday (how recursive!), followed by this year's celebration of
Earth Hour
.