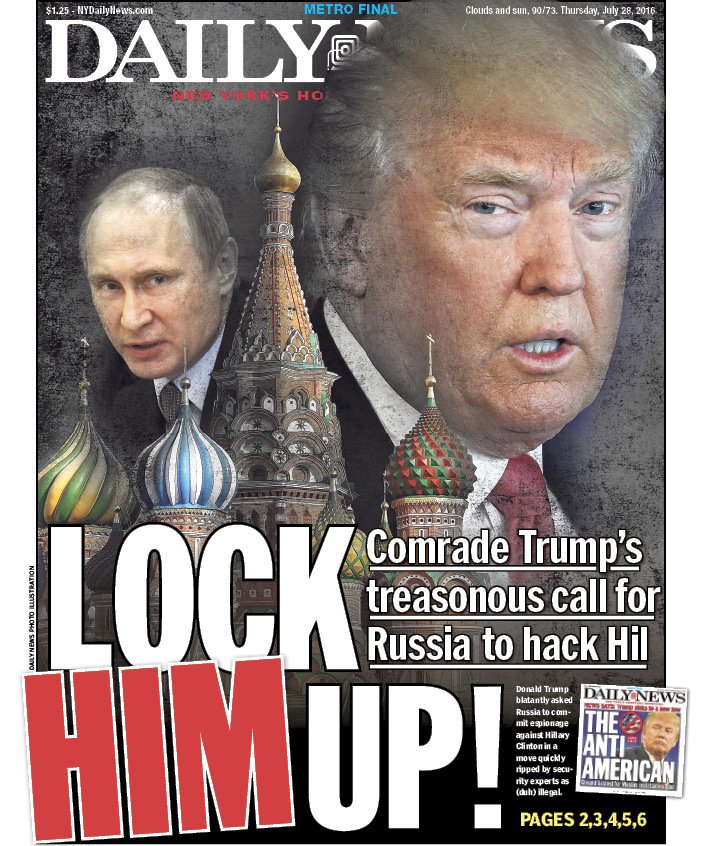 Hat/tip to Kevin Robbins at Hometown USA.
In the wake of the release of Democratic National Committee emails by Wikileaks and
the strongly suspected Russian involvement in the hacking that exposed them
, Trump held a press conference in which
he addressed his relationship with Putin and Russia
. Near the end, he asked Russia to find Clinton's missing emails.
Watch it for yourself
, along with the reaction.
Key figures in the Republican Party addressed Donald Trump's comments urging Russia to find Hillary Clinton's missing emails. CNN's Jim Acosta reports.
For the third time in the history of this blog, it's time to run the
Nate Silver
scandal checklist
(
original here
).
"1. Can the scandal be reduced to a one-sentence soundbyte (but not easily refuted/denied with a one-sentence soundbyte)?"
Yes. Trump is asking a hostile foreign power to intervene in American elections to his benefit. As for "easily refuted," Trump tried that (
he was being sarcastic
) but it didn't work.
"2. Does the scandal cut against a core element of the candidate's brand?"
Yes. Trump's slogan is "America First," but this request is not a patriotic one; in fact, some have called it treasonous.
"3. Does the scandal reify/reinforce/"prove" a core negative perception about the candidate, particularly one that had henceforth been difficult to articulate (but not one that has become so entrenched that little further damage can be done)?"
Yes. It reinforces the perception that Trump is an authoritarian who admires other authoritarians, especially Putin.
"4. Can the scandal readily be employed by the opposition, without their looking hypocritical/petty/politically incorrect, risking retribution, or giving life to a damaging narrative?"
So far, yes. Democrats in general and Hillary Clinton's people in particular are already doing so. About the worst thing it could do is remind people about the Wikileaks release of the DNC's emails.
"5. Is the media bored, and/or does the story have enough tabloid/shock value to crowd out all other stories?"
I thought the answer would be no, as there are lots of other news, but apparently it's yes. Surprise!
That's five yes answers. Trump is now ahead of Janice Daniels, former Mayor of Troy, who was recalled, and right up there with Chris Christie, whose presidential campaign flopped after New Hampshire. That's yet another reason why Trump and Christie make a good pair.
Follow over the jump for more from CNN and the New York Daily News.
For an example of how Trump's attempt at refutation didn't work, watch CNN's
Heated debate over Trump's Russia 'sarcasm'
.
CNN political commentators Scottie Nell Hughes, Hilary Rosen, and John Avlon get into a heated debate over Donald Trump's recent comments concerning Russia.
For the Democrat's exploitation of the scandal, watch
Sen. Harry Reid: Give Trump fake CIA intel briefings
.
During an interview, Sen. Harry Reid told CNN's Manu Raju that the CIA should give Donald Trump fake intel briefings and that he "won't know the difference."
The scandal didn't directly appear on the convention stage, but the negative perception that Trump is too chummy with Putin and admires authoritarians did, as
Biden said Trump embraces dictators 'like Putin'
.
During his speech at the Democratic National Convention, Vice President Joe Biden warned voters that Donald Trump "embraces dictators like Russia's Vladimir Putin."
Oh, yeah, that solidified a negative perception about Trump.
Speaking of Trump being chummy with Putin, here are two more cartoons showing the two together by way of
Kevin Robbins at Hometown USA
.
Vladimir Putin
,
the most interesting man in the world
and
macho man
,
riding his sparklepony
. Let's see if this increases my
page views from Russia
, which are already high.