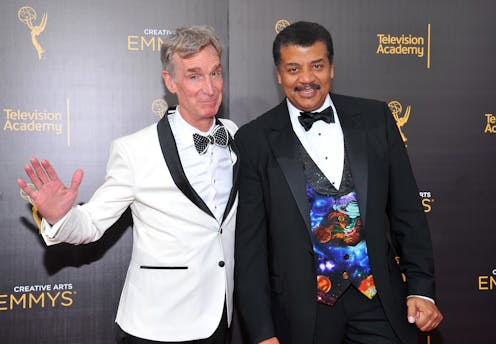 For this week's Sunday entertainment feature, I'm returning to the Primetime and Creative Arts Emmy Awards to recognize three regular subjects of my blogging here,
Bill Nye
,
Neil deGrasse Tyson
, and
NASA
, all of whom have nominated shows at this year's
Creative Arts Emmy Awards
.
I begin with
Bill Nye Saves The World
. The Netflix series has earned a nomination for Outstanding Production Design for a Variety, Reality, or Reality-Competition Series. This is almost identical to
the nomination it earned last year
for Outstanding Production Design for a Variety, Nonfiction, Reality, or Reality Competition Programming. Congratulations on the near-repeat! On the other hand,
Nye's series is competing
against "Dancing With The Stars," "Last Week Tonight With John Oliver" (
the episode on the now-dead Sinclair-Tribune merger and long-dead Warren G. Harding
I already wrote about), "Saturday Night Live," and "The Voice."
"Saturday Night Live" won this Emmy Award
last year and I think it's favored again this year. As I wrote last year, "Bill Nye and Netflix should just be happy to get the nomination."
"Bill Nye Saves The World" missed out on being renominated for Outstanding Writing for Nonfiction Programming this year, a category
it lost to "13th" last year
. I'm not surprised, as this year's nominees compose a tough field, which I plan on writing about later. In the meantime, here is
the Official Trailer for Season Two
.
He's a science guy. An entertainer. A spiffy dresser. And he's back to drop some knowledge on life-changing topics.
Once again, I'll have to watch this show; I know my students are.
"
StarTalk With Neil deGrasse Tyson
" earned a fourth nomination for Outstanding Informational Series or Special, a repeat from
last year
. This joins its nomination for Reality Television
at the 2018 EMA Awards
, where I mentioned its Emmy nomination.
I'd have rooted for "StarTalk with Neil deGrasse Tyson," as it was nominated for an Emmy last year and again this year. It lost to "Vice," which it is competing against for Outstanding Informational Series or Special this year, just as it was last year. I'll be writing about both later, especially "Vice," which also has nine News and Documentary Emmy nominations.
I doubt either "StarTalk" or "
Vice
" will win. Instead, I think it will be either "
Leah Remini:
Scientology and the Aftermath
," which
won this category last year
, or
Anthony Bourdain: Parts Unknown
, which
won the category the four years before that
. Because of
Bourdain's recent suicide
, I suspect his show has the inside track. As for "My Next Guest Needs No Introduction With David Letterman," I will tell the show and Netflix the same thing I said about "Bill Nye Saves the World," just be happy to be nominated.
I'll write about "Anthony Bourdain: Parts Unknown" and its competitors in the other six categories in which it is nominated later, but before I do, I'm being a good environmentalist and recycling what I wrote in June.
I'm sure I'll be writing about Emmy nominations for both Bourdain and "Parts Unknown" next month, just as I will for R.I.P. Stephen Hawking 1942-2018. Those will be bittersweet experiences.
"
Stephen Hawking's Favorite Places
" was not renominated at the News and Documentary Emmy Awards this year, but he was a guest in an episode of
StarTalk with Neil deGrasse Tyson
.
As tribute to the life and works of world-renowned Stephen Hawking, host Neil deGrasse Tyson's recent StarTalk interview with the groundbreaking theoretical physicist. Also featuring astrophysicist Janna Levin, comedian Matt Kirshen, physicist Michio Kaku, and Bill Nye the Science Guy.
That sort of makes up for the lack of a nomination for Hawking.
Follow over the jump for NASA/JPL's nomination as well as two nominees that I consider to be honorary entries about space.
Moving even farther out into space, "
NASA JPL: Cassini's Grand Finale
" earned a nomination for Outstanding Original Interactive Program. This is the video I probably should have used instead the NASA news clip I included in
Goodbye, Cassini!
The final chapter in a remarkable mission of exploration and discovery, Cassini's Grand Finale is in many ways like a brand new mission. Twenty-two times, NASA's Cassini spacecraft will dive through the unexplored space between Saturn and its rings. What we learn from these ultra-close passes over the planet could be some of the most exciting revelations ever returned by the long-lived spacecraft. This animated video tells the story of Cassini's final, daring assignment and looks back at what the mission has accomplished.
Joining "Cassini's Grand Finale" as a nominee in the category is "Back To The Moon," a glorified Google doodle. The nomination is probably for
the 360 version
, but I'm embedding
the theatrical version
instead.
The Google Doodle, Google Spotlight Stories, Google Arts & Culture, & Cinémathèque Française teams present Back to the Moon celebrating the life and artistry of French illusionist and film director Georges Méliès. Produced by Nexus Studios.
That's much more speculative fiction, both fantasy and science fiction, than science or space, but it's a fun clip just the same.
Joining both are three speculative fiction featurettes, "Blade Runner 2049: Memory Lab," "Coco VR," and "Spider-Man Homecoming VR Experience." I'll have more to write about then later when I cover the speculative fiction nominees.
The final nominee that earned an honorable mention for being about space was "
Earth: Shot On iPhone
," a nominee for Outstanding Commercial. I included it because it quotes Carl Sagan from "Pale Blue Dot."
Our only home. Shot on iPhone through the lens of everyday users. Written and narrated by Carl Sagan, from the book, Pale Blue Dot — A Vision of the Human Future in Space.
That's cool. I'll discuss it and the other nominees for Outstanding Commercial, "Alexa Loses Her Voice," "In Real Life - Monica Lewinsky - Anti-Bullying," "It's A Tide Ad - Tide," and "The Talk - P&G - My Black Is Beautiful," in a future installment about the public service announcement entries among them. Stay tuned.