I opened
Mike Pence at Voteview and On The Issues for National Veep Day
with a whine.
I concluded last night's Sandy Hook Promise's 'Back-To-School Essentials' and P&G's 'The Look' among Emmy nominees for Outstanding Commercial with my hope and dread for today.

[S]tay tuned for a celebration of National Veep Day. With luck, Joe Biden announces his running mate. Otherwise, I am stuck writing about Mike Pence. I hope not.

It's almost noon on Sunday and Joe Biden still has not announced his pick. If he were going to do so today, he'd likely have done it by now to make the Sunday Morning talk shows. So, Mike Pence it is.
While that post was surprisingly successful, earning 382 default and 406 raw page views to rank 16th for
August 2020
, it wasn't what I wanted to write that day. Now that Joe Biden selected
Kamala Harris
and she was nominated at
the Democratic Convention
, it's time to compose the the entry I wanted to post on
Veep
Day
. Better late than never!
Ever since I made the first infographic meme for Harris using
her On The Issues page
, she has had to share them, first with Biden in
OnTheIssues.org's take on the Democratic presidential candidates from left to center
and then with Val Demings in
On The Issues' take on Democratic Vice-Presidential contenders from left to center
. Now that she's the Democratic Vice Presidential nominee, she finally gets an image to herself. As I first wrote
last December
, Harris left the campaign with an economic score of 10 and a social score of 73 and she re-entered the campaign with the same scores.
I'm being a good environmentalist and recycling the infographic I first created for
Harris
in
Senators and Representatives running for the Democratic nomination are drifting to the left as they campaign
in July 2019. While she has drifted both left and right since then, she has maintained an ideological score of -0.709 throughout August. It helps that the Senate has been in recess all month.
Follow over the jump for new videos of drink suggestions to toast Harris at the debates or other speaking events.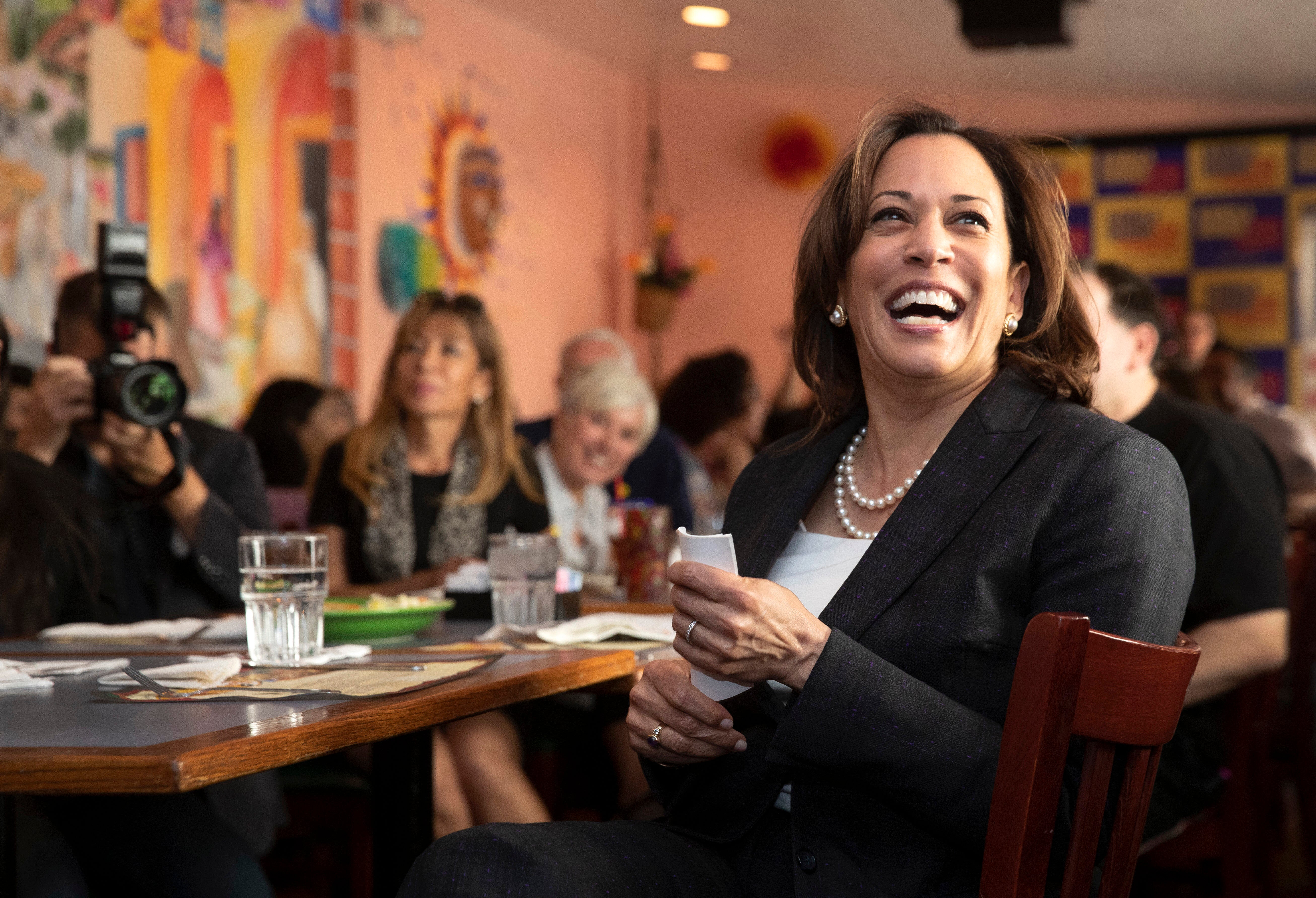 "I'm just waiting for Biden to choose to select the beverages for his running mate," I wrote on
this year's Veep Day
. I begin by recycling what I wrote for Harris in June 2019's
Drinks for the Democratic debates, Part 2
.
While Kamala Harris told Eater her favorite comfort food is french fries, U.S. News and World Report mentioned that her favorite restaurants are Amber India and Dosa in San Francisco. I couldn't find any alcoholic beverages on Dosa's menu, but Amber India's bar menu has some really interesting cocktails. Unfortunately, they're all unique, although one, the Pink Elephant, has several variants out in the wild. Any one of them will do.
Here's
Sandra Lee - Pink Elephant Cocktail
.
Originally aired as part of the "Cottage Chic" episode (Episode SH0807H) on the Food Network, June 16th, 2007.

Ingredients
• 1 part white cranberry juice
• 1 part berry vodka
• 1/2 part raspberry liqueur (recommended: Chambord)
• 1/2 part Limoncello
Directions
To a shaker full of ice, add all ingredients. Shake well and pour into chilled martini glasses.
I used this because it's a video featuring the former First Lady of New York State. Her ex-boyfriend, Governor Andrew Cuomo, is a Democrat.
Now for the cocktail I actually featured more than a year ago: "That written, Harris is from Oakland, California, and the most famous drink to come out of there is the Mai Tai from the original Trader Vic's." I embedded a
Tipsy Bartender
video for the recipe, but Skyy John has since taken it down. He uploaded
a new video
for the drink, but I don't think it has as much personality as
How To Drink's recipe
, so I'm using it instead.
In this episode of How to Drink, I'm making one of my favorite cocktails: the Mai Tai. The Mai Tai may be the pinnacle of Tiki glory and made the way Vic Bergeron invented it in 1944 with a balanced, spirit forward, glass of pure magic. Next time you find yourself at a Tiki Bar, or hosting a Tiki party make sure you have yourself a Mai Tai. You won't regret it. Cheers!
...
Mai Tai Ingredients:
- 1 oz or 30 ml of Jamaican Rum
- 1 oz or 30 ml of Rhum Agricole
- .5 oz or 15 ml of Dry Curaçao
- .5 oz or 15 ml of Orgeat
- .25 oz or 7 ml of Rock Candy Syrup
- 1 oz or 30 ml of Lime Juice
- Shake
- Serve over Crushed Ice
- Garnish with a Sprig of Mint
Now for a completely new drink suggestion inspired by Harris's Jamaican ancestry on her father's side. Out of all of Tipsy Bartender's
Jamaican recipes
, I've chosen the most recent,
Jamaican Me Happy Punch
.
What?! The mixer in this punch is Seagram's Escapes! Jamaican me thirsty!!

HERE'S THE RECIPE:
Rum
Strawberry Pucker
Seagram's Escapes Jamaican Me Happy
Lemon-Lime Soda
Watermelon
Strawberries
Lemons
And there you have it!
I plan on recycling these graphics and drinks along with those for Pence for this year's
Vice Presidential Debate
. In the meantime, stay tuned for the next installment in my coverage
of
the
Emmy
Awards
.