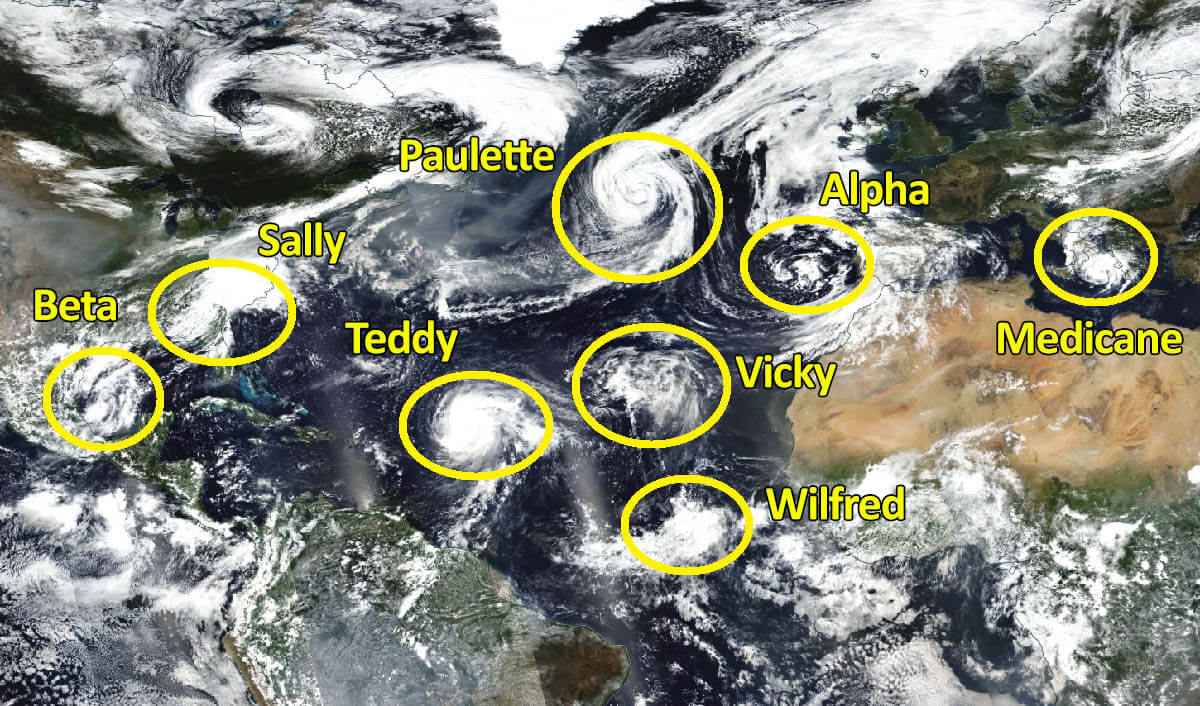 I promised my readers more hurricane coverage in
WOOD-TV in Grand Rapids shows how Hurricane Sally and western wildfires look from Michigan
.
This isn't even the worst of the damage from wind and water. I might show those in a few days once Sally finishes passing over land or when the National Hurricane Center runs out of names and starts using Greek letters.
It ended up being when storms with Greek letters for names formed. One of them, Tropical Storm Beta, became the first Greek-letter-named storm to make landfall in the U.S. CBS Evening News reported in
Tropical Storm Beta slams Texas with heavy rains, flooding
the day before yesterday.
Remnants of Tropical Storm Beta are battering the Gulf Coast with torrential rains from Texas all the way to New Orleans. Janet Shamlian reports.
As I promised, this clip shows some of the damage from Hurricane Sally as well as the flooding from Tropical Storm Beta. Power is still out in some areas from Sally.
13News Now (WVEC) in Hampton, Virginia, put what is now Tropical Depression Beta in context as part of its
Tropics Update: Hurricane Teddy, Tropical Depression Beta, Tropical Storm Paulette
.
13News Now Meteorologist Tim Pandajis has the latest a few storms, including Hurricane Teddy which is heading towards Nova Scotia, even though it's expected to weaken into a post-tropical cyclone. Tropical Depression Beta is also expected to weaken even further after making landfall in the U.S. And guess what?? Paulette's back! This time as a tropical storm!
Not only is Beta the first Greek-letter tropical system to make landfall in the U.S., it is the ninth named tropical system to make landfall in the U.S., tying a record that dates back to 1916, more than a century ago. As Tim Pandajis pointed out, the 2020 hurricane season still has nearly two months to go and a very active season like 2005 and 2020 could produce storms in December or even January, so that record could easily fall and 2020 would set a new record. That would be very on-brand for 2020.
Also on brand for 2020 would be a zombie storm, which Pandajis mentioned as well. Follow over the jump for more on that.
KHOU 11 uploaded a segment focusing on the event,
Only in 2020: Paulette comes back to life as 'zombie tropical storm.'
More than a week after hitting Bermuda as a hurricane, Paulette has come back to life as a "zombie tropical storm." Seriously.
A storm "coming back to life" is rare, but not unheard of, as CNN reported in
'Zombie' Tropical Storm Paulette returns from the dead because it's 2020
.
"Conditions can become hostile for a tropical storm to maintain its intensity, but if it doesn't dissipate completely, it can revive days later when conditions become more favorable," Miller said.

And with the apocalypse that 2020 has been, this year is prime for these spooky storms.

"2020 is a good candidate to experience a zombie storm because water temperatures are above average over a bulk of the Atlantic Ocean, and obviously we are seeing a record number of storms -- which ups the chances one could regenerate," [CNN meteorologist Brandon] Miller said.

Paulette isn't the first storm to return from the dead. The last time this happened was in 2004 with Hurricane Ivan.
It isn't the first, but it hasn't happened in the Atlantic for 16 years. It didn't even happen in 2005.
Finally, the image I used to illustrate this entry showed something I had never seen before, a
medicane
. 13News Now (WVEC) reported on that in last week's
Tropics Update: A "medicane"? Storm Ianos takes aim at Greece
.
Meet Janus (Ianos in Greek), colloquially known as a "medicane," or Mediterranean hurricane. It's a non-tropical storm that formed in the Med and has gained some tropical characteristics as it strengthens over the warm water. Expected to bring 50-60 mph winds to Greece.
I had never heard of a medicane before, but as the climate warms up, it's something people in the region should learn to expect. That's the bad news. The good news is that any day I learn something new is a good day, even if it's about a natural disaster caused by climate change. I hope my readers agree.