Happy
National
Coffee
Day
! Today is also the first presidential debate between Donald Trump and Joe Biden. As an entertainment service to my readers, I'm sharing
This Bipartisan Drinking Game Will Help You Survive Tonight's Presidential Debate
from Delish.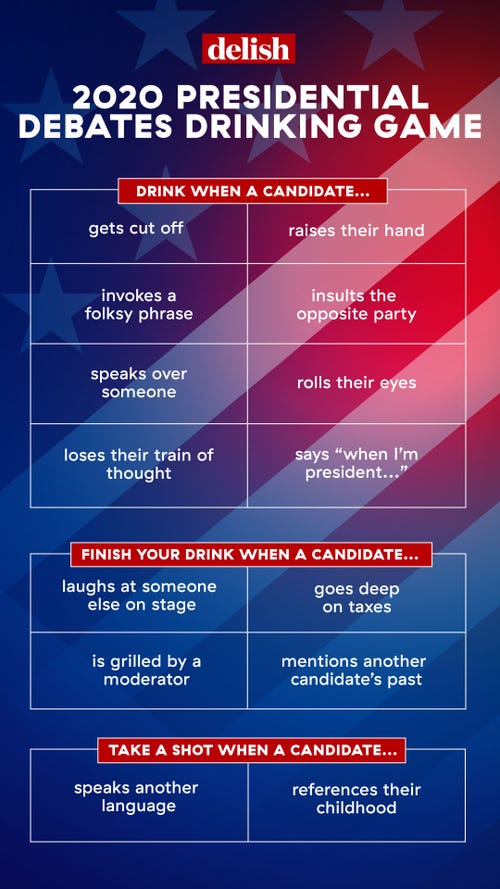 Enter: our entirely bipartisan drinking game. It includes items that happen again and again in debates and are often super cringey. Yes, the candidates are all fighting to talk, but do they have to bicker like that? And must they recount so many long, open-ended, irrelevant stories from their youths!? You get it.

Again, we kept this game extremely bipartisan, but if you'd like to add some items for things that really grate you—like Senator X's habit of gesticulating wildly or Congresswoman Y's tendency to bring the discussion back to the old days—that's your prerogative. It's your living room! Drink up!
This should be generic enough for anyone reading who is watching the debate. In fact, it's generic enough that it can be used for any political debate this season, regardless of office, from President down to county commission or even city council if it has partisan candidates. I'm an environmentalist, so I like to reuse and recycle. I also like to reduce, so I'm not proposing another drinking game, at least not today.
Now that we have the drinking game, it's time for the drinks. Follow over the jump for drink suggestions for the candidates.
First, the drinks remaining from
Drinks and drinking games for Donald Trump and the GOP debates
that I posted to my personal blog, Crazy Eddie's Motie News. As I wrote, I like to reuse and recycle!
Finally a drink based on DONALD TRUMP! It's green for his money with a flaming orange top for his hair!
...
THE DONALD TRUMP COCKTAIL
1/2 oz. (15ml) Hennessy
1/2 oz. (15ml) Grand Marnier
1/2 oz. (15ml) Vodka
1/2 oz. (15ml) Peach Schnapps
1/2 oz. (15ml) Blue Curacao
1/2 oz. (15ml) Sweet & Sour
Orange Half
Bacardi 151
The video I used five years ago has been made private, but
the recipe for the Donald Trump Cocktail
is still up on the Tipsy Bartender site. On the other hand, the video for
Trump and Stormy
, which Tipsy Bartender uploaded two years ago, is still up on YouTube, so I'm adding it here.


An orange twist on the Dark & Stormy!
I had a Trumptini recipe that was being served at the Trump International Sonesta Beach Resort in Miami five years ago, but the site that hosted it has been replaced with one that has social engineering malware, so I'm replacing it with the next recipe from Pinterest.
The defunct Trump Vodka was used in several recipes for another Trumptini and the Trumpolitan. One can barely read the recipes in the image below.
I conclude this section by recycling the Billionaire Cocktail.
Ingredients
2 oz. high-proof bourbon, such as Baker's
1 oz. fresh lemon juice
1/2 oz. simple syrup
1/4 oz. absinthe bitters or absinthe
1/2 oz. grenadine syrup made from pomegranate, such as Employees Only
Lemon wheel, for garnish
Instructions
Combine bourbon, lemon juice, absinthe bitters or absinthe, and grenadine in a shaker over ice. Shake vigorously and strain into a coupe glass. Garnish with the lemon wheel.
Here is an image from Liquor.com, which has the above recipe now.
The irony of these drinks is that Trump doesn't drink alcohol. If you wish to follow his lead, here is a diet coke in a McDonald's cup.*
Now the drinks for the challenger, Joe Biden, which I last recycled in
Drinks and drinking games for the 2020 Democratic Primary debates
.
Like Clinton, Sanders,
Trump
, and
Santorum
, Biden has a drink named after him,
the Biden Beer Bomb
.
.5 bottle of Sam Adams Cherry Wheat Beer (or beer of your choice. Wheat beer or hefeweizen works best)
1.5 oz. Woodford Reserve Bourbon
.5 oz. Cherry Brandy
.5 oz. simple syrup

Need a frozen beer mug or beer glass, then place bourbon, cherry brandy, and simple syrup in a Boston shaker with ice, and shake until cold. Pour mixture into the bottom of an ice-cold mug, then add beer.
As if that's not enough, there is a
Vice President
cocktail.
1 1/2 oz Cuban rum, Havana Club Añejo Especial 1 oz Mandarin orange liqueur, Mandarine Napoleon
1/2 oz Campari
Instructions
Stir, strain, up.
The irony of these drinks is that Biden doesn't consume alcohol. Instead, he prefers a cranberry mocktail like this
Virgin Cosmopolitan
.
Ingredients

4 Parts Cranberry Juice
1 Part Lime Juice
1 Part Orange Juice
1 Part Simple Syrup
2 Dashes Orange Bitters
1 Twist Orange

How to mix

Fill a shaker with ice cubes. Add all ingredients. Shake and strain into a chilled cocktail glass. Garnish with orange.
With that, my readers are all ready for tonight's debate. Cheers!
Cross-posted in part to Coffee Party USA's blog as
Coffee Party USA celebrates National Coffee Day with a drinking game for the 2020 Presidential Debates
.
*Of course, there's always Rick Perry's recipe for a Trumptini.