Just last month, I blogged about
massive California fires that were climate-fueled weather disasters
. If anything, the situation in California is worse now. PBS NewsHour's
California wildfires illustrate the consequences of climate change
puts the crisis in context.
A record heat wave is scorching California, where about two dozen wildfires are currently burning. Nearly 15,000 firefighters are battling steep terrain and extremely dry conditions as they struggle to control the raging infernos. On Sunday, temperatures in Los Angeles County reached 121 degrees. Amna Nawaz reports and talks to Leah Stokes of the University of California, Santa Barbara.
That reading of 121
o
F was recorded in Woodland Hills, where I grew up. Here is the official notification from the National Weather Service, which the
Los Angeles Police Department tweeted on September 6th
.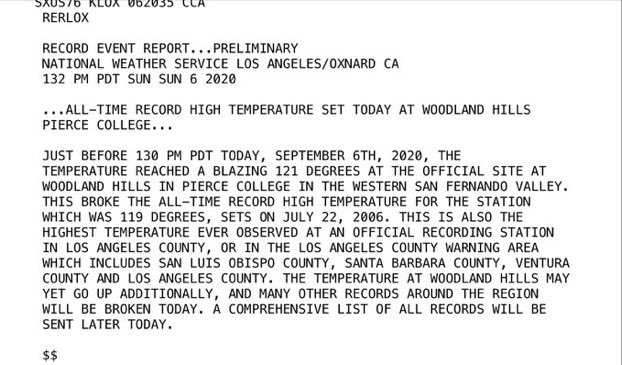 This is the third time I've written about
record temperatures
in
Woodland Hills
. This time, "Woodland Hills" trended on Twitter. As I remarked two years ago, "This is not the way I want my boyhood home to make the news."
Follow over the jump for how commercial network television covered the story.
ABC News had more footage and reporting from the fire scenes in
More than 2 dozen wildfires burning in California | WNT
.
A gender-reveal photo shoot allegedly caused one of this weekend's destructive wildfires in California, according to firefighters.
CBS Los Angeles had more on the blaze started at a gender reveal party in
Homes Destroyed, Evacuations Remain For El Dorado Fire Sparked By Pyrotechnics
.
Firefighters Monday continued to battle the El Dorado Fire — which was sparked during a heat wave Saturday when a family attempted to stage a gender reveal photo in Yucaipa using pyrotechnics — and then exploded to more than 8,000 acres, destroying several homes and forcing hundreds to flee.
Because of the devastation, this incident might be enough to make gender reveal parties unfashionable. Otherwise, words fail me.
To close, I recommend my readers click on
Vox and Verge Science on California's year-round fire season
for more on how climate change and development patterns are making fire season both longer and more severe in the U.S. west, especially in California. As I wrote then,
welcome to
the 400 ppm world
.