Happy
World
Bee
Day
! The purpose of today's international day is "to acknowledge the role of bees and other pollinators for the ecosystem," something I've been doing for years when I blog about
bees
. I begin with two videos from the United Nations Regional Information Centre for Western Europe about the day, starting with
World Bee Day 2021
.
Almost 80% of our flora depends on animals, especially insects, for pollination...Bees are essential to our environment, but they are in danger...Because every little bit counts, let's act together #ForPeopleForPlanet.
While this video has the preview image I want for today's post, its description sacrifices information for emotional appeal, including emojis I haven't figured out how to reproduce on my blog and have replaced with ellipses. On the other hand, last year's video,
World Bee Day - 20 May, 2020
, has an informative description I like.
Bees and other pollinators, such as butterflies and hummingbirds, are increasingly under threat from human activities. But pollinators contribute directly to food security and are key to conserving biodiversity.
I like this description much better in part because it mentions "other pollinators" besides bees, which is the theme of the rest of the post. Follow over the jump.
The pollinators that receive most of the attention on this day are honeybees, but they have their own day,
World
Honey
Bee
Day
, so I'm going to look at other pollinators with the Los Angeles Zoo's
World Bee Day 2020: Spot the Native Bees at the L.A. Zoo!
*
On May 20, 2017, United Nations member states approved this international observance as a way to acknowledge the vital role of bees and other pollinators in Earth's ecosystems. California is home to about 1,600 native bee species...
The thousands of other bee species deserve attention, too, but other than the
Rusty-Patched Bumblebee
and
endemic Hawaiian bees
being placed on
the endangered species list
and
a passing mention of the Western Bumblebee
, I haven't written much about them. Today is a good opportunity to remedy that.
Moving on to pollinators other than bees, the Food and Agriculture Organization of the United Nations (FAO) observed World Bee Day two years ago by uploading
when we think of pollinator we may only think of bees..
When we think of pollinators we may only think of bees...
but did you know butterflies, birds, moths, beetles, and even bats...
are pollinators too!
They help produce our food by pollinating plants and crops.
In fact, 75% of all crops depend, in part, on pollination!
Protecting our pollinators is vital for our future of food!
I can show this video to my students, making this post blogging as professional development.
I'm not done with
biodiversity
on this blog. Tomorrow is
Endangered
Species Day
and Saturday is
the International Day for Biological Diversity
, a day I haven't celebrated before but is on topic for my blogging. Stay tuned. In the meantime, happy World Bee Day!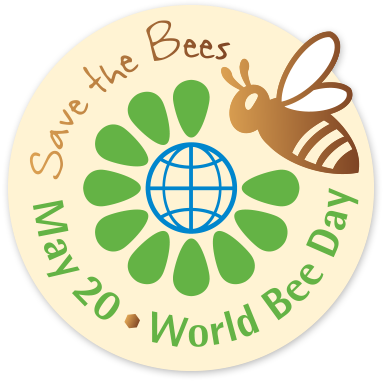 *Much to my surprise, this is the first time I've mentioned the Los Angeles Zoo in eleven years of blogging here, even though it was my childhood zoo. It's about time I corrected this oversight, too.