I told my readers to "stay tuned for more" at the end of
Drinks for the Democratic debates: Hillary Clinton
as "I've already found a Vice President cocktail recipe for Biden." I'll get to that, but since he's (so far) not in the debate, I'll save him for later. Instead, I'm "feeling the Bern" and presenting the drink suggestions for Bernie Sanders.
Follow over the jump for two joke image suggestions and two very real recipes for Bernie Sanders.
First, the jokes, beginning with a bad one from
Hypeline
.
Bernie Sanders = Grain Alcohol




Bernie Sanders is no more than a cheap grain alcohol. Nothing fancy because let's face it, nobody should have anything better than anyone else. This is a cheap alcohol that will get the job done. Nobody really likes it but since we need to make sure everyone can equally get alcohol, this is only thing you might be lucky enough for the government to afford you.
As I wrote about their suggestion for Clinton, Hypeline leans right, so their bias interferes with their creativity. Fortunately, I won't have to cite them again.
Vinepair
has a similar suggestion, but at least they're funnier about it.
This self-proclaimed socialist needs a rum with similar values. We've chosen Havana Club because it's still (sort of) Cuban-owned, and thus not sold in the States. Fight the power with a daiquiri, Bernie.
Expect more from Vinepair in future installments.
Like Clinton,
Santorum
, and
Trump
, Sanders has a drink named after him. Like Trump, this one is official.
Food and Wine
shared the story and recipe.
Sanders treated everyone at the party to a custom cocktail—the Bernie Paloma. The drink was developed by Miguel Marcelino Herrara from D.C.'s hip cocktail spot, Barmini. And while Bernie Sanders doesn't exactly seem like the type who throws back $17 cocktails (good on him for drinking Heady Topper), the drink that bares his name still sounds pretty good.

If you plan to vote for the Vermont Senator (or even if you don't), here's what you should toast with (per the NY Times):
The Bernie Paloma:

1/2 oz. Vermont maple syrup
1/2 oz. fresh lime juice
2 oz. fresh grapefruit juice
2 oz. silver tequila
Garnish: "salt air," which is sea salt, lime juice, water and Sucro, emulsified with a hand blender.
Bobby Flay of Food Network has another suggestion,
The Old Vermont
.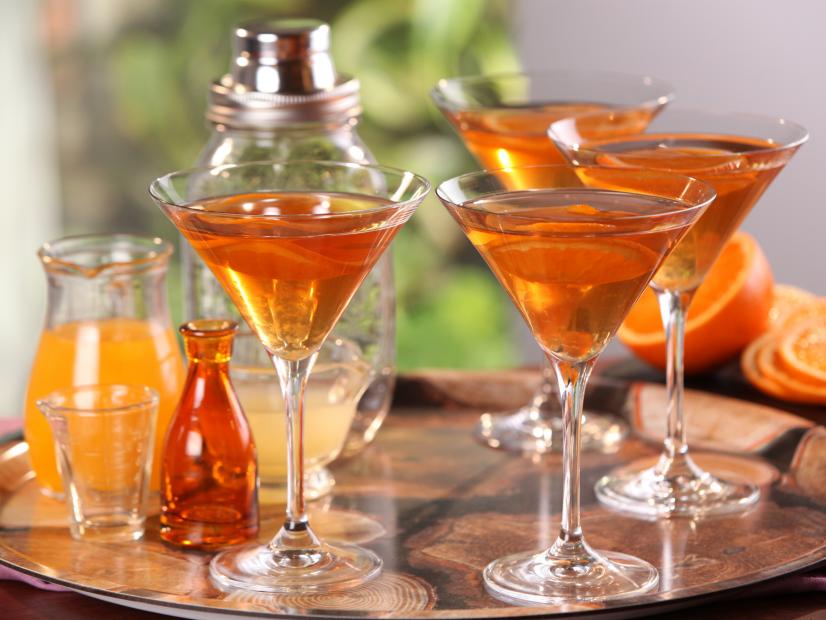 Ingredients

1 1/2 ounces gin
1/2 ounce grade B pure maple syrup
1/4 ounce freshly squeezed lemon juice
1/4 ounce freshly squeezed orange juice
2 dashes bitters, such as Angostura
Ice
Orange rind

Directions

Combine the gin, maple syrup, lemon and orange juice and bitters in a cocktail shaker. Add some ice and shake a few times. Strain the drink into a martini glass and garnish with the orange rind.
This recipe is one of the suggestions from
Berniementum's party guide
along with this shot glass.
This post would not be complete without the rules for Sanders from Paul W.'s
Democratic Debate Drinking Game for October 2015 Even Though The Election Is Still 2016 And All: The All's Fair In Love And Gwar Version
.
If Bernie ever gives off the vibe of being that absent-minded economics professor from your college courses, take a drink.
If Bernie talks about single payer replacing ObamaCare, bang your head against the nearest desk/counter and take a drink.
If he shouts out halfway through the debate "Great Scott! It's almost October 21, 2015! I need to go warn Marty about this!" and hops into a nearby DeLorean with a flux capacitor and flies off, take three drinks in honor of the Back to the Future trilogy.
Stay tuned for more recipes for the candidates, including two drinks for Joe Biden. Somewhere in there, I'll wish my readers a
Happy Wester
and mark the return of "The Walking Dead."
Zombies
!