Today, I'm fulfilling the second promise I made at the end of
SNL mocks Trump for Presidential Joke Day
, "stay tuned for...the winners for Dramatic Presentation at the
Hugo Awards
."* Tor.com has announced
the winners of all the Hugo Awards
, so it's time to check my prediction that "I think "Arrival" will win this category in a walk." It did. Eric Heisserer can put the rocket for Best Dramatic Presentation (Long Form) next to his
Saturn Award for Best Film Screenplay
and the
Ray Bradbury Award for Outstanding Dramatic Presentation
. Congratulations! The best science fiction film of last year really did win, the Saturn Award for "Rogue One: A Star Wars Story" notwithstanding.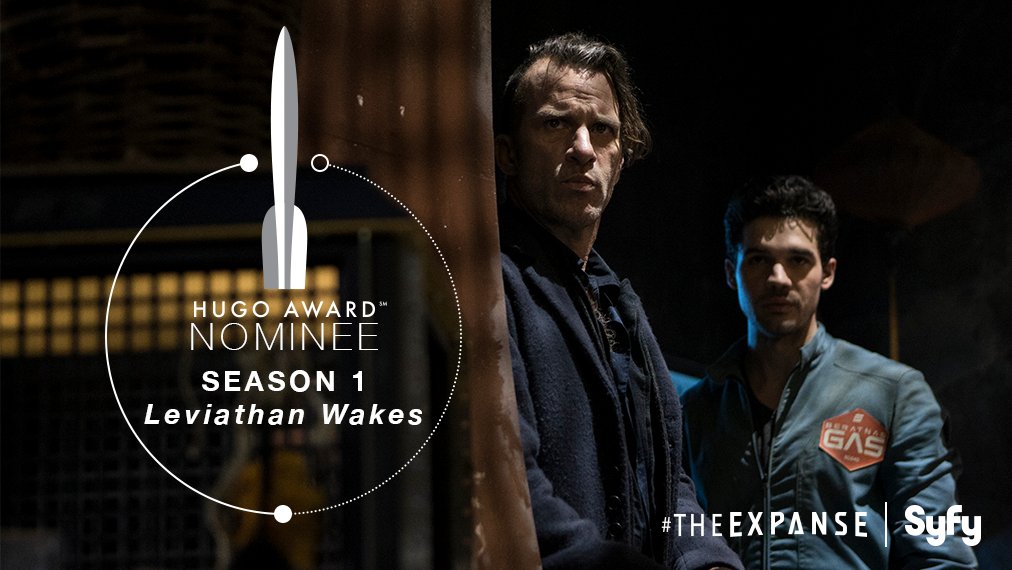 It turns out that I didn't make a prediction for Best Dramatic Presentation (Short Form); I was too busy whining that "Westworld" wasn't nominated. It turned out that the episode I proposed, "
The Bicameral Mind,
" didn't qualify. It has a running time of 90 minutes, which meant it qualified for the long form category, not the short form. "
The Original
" would have qualified at 68 minutes, but it wasn't nominated. Darn. I reacted by deciding to
promoting "Westworld" at the 2017 Saturn Awards
. It worked, as
it won the Saturn Award for Best Science Fiction Television Series
.
As for what I would have predicted in April, it would have been "Black Mirror: 'San Junipero'" or "Doctor Who: 'The Return of Doctor Mysterio.'" However, if I were voting, it would have been for "The Expanse: 'Leviathan Wakes.'" Much to my pleasant surprise, it won. Congratulations! My favorite of all the nominees won!
It turns out that it was the second time for this story at the Hugo Awards. The book "Leviathan Wakes" was nominated for
Best Novel
in 2012 but didn't win. Looks like being turned into a television show helped it the second time around.
As for the rest of the nominees, it looks like the insurgency posed by the Sad Puppies and Rabid Puppies is over, as none of their nominees won (again) and most of the slate didn't even get nominated. That's the good news. The bad news is that these people, like the Gamergators, have become more active outside of fandom. Ugh.
*The first I satisfied by posting
Worksheet for 'Treasures of the Earth: Power'
. The third will be about the winners of the
Teen Choice
Awards
. Stay tuned.