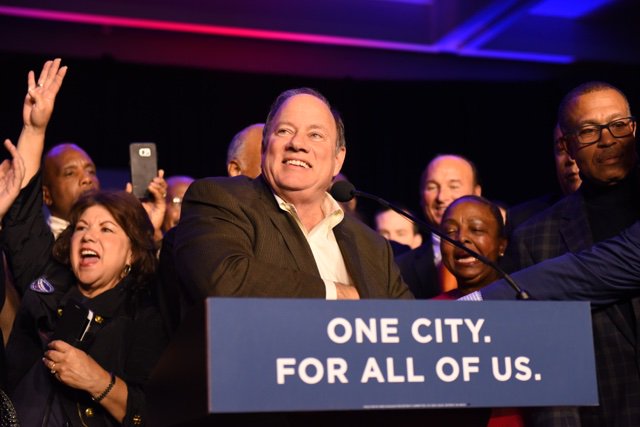 Here's news so expected I wrote the first half of this post's title of on Sunday:
Mike Duggan wins re-election, beating Coleman Young II for Detroit mayor
from WXYZ.
Congratulations to
Mayor Mike Duggan
! I agree with him and the overwhelming majority of Detroiters that Detroit is moving in the right direction. I also would like to agree with Duggan as he says
"This is the year we put us-versus-them politics behind us forever,"
as MLive reported.
"This is the year we put us-versus-them politics behind us forever," says Detroit Mayor Mike Duggan after winning reelection, Nov. 7, 2017.
I hope that's true, but I'll have to wait to see if it is. Until then, "One Detroit!"
The other Detroit contest I was watching was for Detroit City Clerk. The Detroit Free Press reported
Janice Winfrey re-elected Detroit clerk in tight race
.
Incumbent Janice Winfrey has won re-election as city clerk in a race that went down to the wire.

With all 590 precincts reporting, Winfrey was ahead by roughly 1,400 votes, with 49,882, (50.5%). Challenger Garlin Gilchrist II had 48,400 votes (49.0%) in what election watchers predicted would be a race down to the wire.
I live out in the suburbs, not in Detroit, but I was still rooting for Gilcrist. That should come as no surprise after what I wrote in
The party starts as Michigan recount begins as ordered
.
That a third of precincts in Detroit may be ineligible for a recount is not good news for anyone having their hopes up that this recount will change the result of the election. If anything, Trump's lead may increase because of it. It also makes me even less enamored of both Janice Winfrey, the Detroit City Clerk, and Cathy M. Garrett, the Wayne County Clerk. Neither one of them appears to be running a tight ship, or otherwise these kinds of irregularities would happen so frequently. If either ever is up for nomination at a Michigan Democratic Convention for Secretary of State, I'm not voting for them and might just see if I could join a group to recruit another candidate. Barb Byrum in Ingham County or Lisa Brown in Oakland County, the first two counties to participate in the recount, would be my choices.
Winfrey deserved that scare and I hope it makes her run the Detroit City Clerk's office better. As for the Democratic nomination for Secretary of State, I doubt either Byrum or Brown will be running next year. Jocelyn Benson, who ran for the office in 2010, is running again. I already plan on voting for her, both at the convention and in the general election.
Follow over more election news from across Michigan.
There is more good news from Grand Rapids, as reported by WOOD-TV:
Nov. 7 election: Millages, Kzoo and GR leaders
.
The big races on West Michigan ballots Tuesday included a number of operating millages, as well as elections for city leaders in both Grand Rapids and Kalamazoo.
Longtime readers of this blog should remember that I started political coverage here by following the
Troy Library Millage
in 2011, so it should not surprise them that I'm thrilled that the library millage passed overwhelmingly. The same is true of the transit millage for Rapid. I covered that in
2011
the last time it was up for a vote. Along with the school millage passing, it was a good night for sustainability and education in Grand Rapids.
Flint also had an election yesterday. MLive reports
Flint Mayor Karen Weaver survives recall vote with landslide victory
.
FLINT, MI - Flint Mayor Karen Weaver has survived the recall election against her, according to unofficial results reported by the Genesee County Clerk's office.

In a landslide victory, the Flint mayor pulled ahead in the 18-person mayoral race, snagging nearly 53 percent of Flint's vote, according to unofficial results.

She will now serve out the remainder of her elected term until November 2019.
Congratulations!
Finally, news from my old stomping grounds (and beat when I wrote for Examiner.com) in Ann Arbor and Washtenaw County beginning with
Washtenaw commissioners celebrate 2-to-1 win for mental health and public safety tax
from MLive.
Conan Smith and Michelle Deatrick address a crowd on election night at Black Pearl in downtown Ann Arbor.
Another victory for sustainability and civilization!
Conan Smith mentioned Chip Smith in his victory speech. Chip returned the favor by mentioning the millage in
Chip Smith gives victory speech after winning Ann Arbor council race
.
Smith addresses supporters at the Black Pearl in downtown Ann Arbor after narrowly defeating Ali Ramlawi in the 5th Ward race for Ann Arbor City Council on Nov. 7, 2017.
I'm proud that Chip is one of my Facebook friends.
That's it for Michigan election news today. Stay tuned for more election news from around the country tomorrow and Friday.