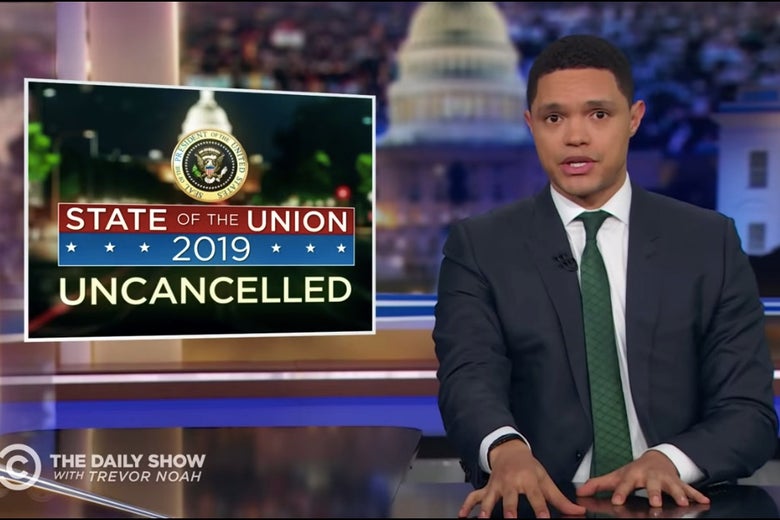 One of the government functions that was delayed by
the partial government shutdown
was the State of the Union address. That finally happened on
Tuesday
. It became such a big deal, three late night shows went live to have timely responses. The first was "The Daily Show with Trevor Noah," which shared
State of the Union 2019: Uncancelled – LIVE
on YouTube as well as on air.
"One thing we can all agree on: Trump read really well." Trevor breaks down the best – and worst – of the State of the Union.
Next on was "The Late Show with Stephen Colbert," where
Stephen Delivers The Restate Of Our Union
.
Stephen Colbert delivers a LIVE monologue following Trump's un-lively State of the Union Address.
An hour later, "Late Night with Seth Meyers" took
A Closer Look at the State of the Union Address
.
Seth takes a closer look at President Trump's 2019 State of the Union address in which he attacked the investigations of his presidency and repeated his demand for a border wall.
The three men ended up very similar jokes about the speech. I guess having relatively little time to prepare steered them to go for easy jokes about obvious material. On the other hand, "Full Frontal with Samantha Bee" had an extra day to prepare and made fun of different things. Just the same, she also made fun of the length in
The State of the Union is Long
.
Trump's State of the Union was a buffet of lies and left-field promises backed by zero decisions, but at least it did put a lot of people to sleep!
I liked some of those "left-field promises" that Trump made and Bee pointed out, but I have little faith that he'll actually accomplish any of them. The man needs more discipline. On the other hand, his lack of discipline also means he has trouble making the things he wants that I don't like happen, either, so maybe I should be happy about that.