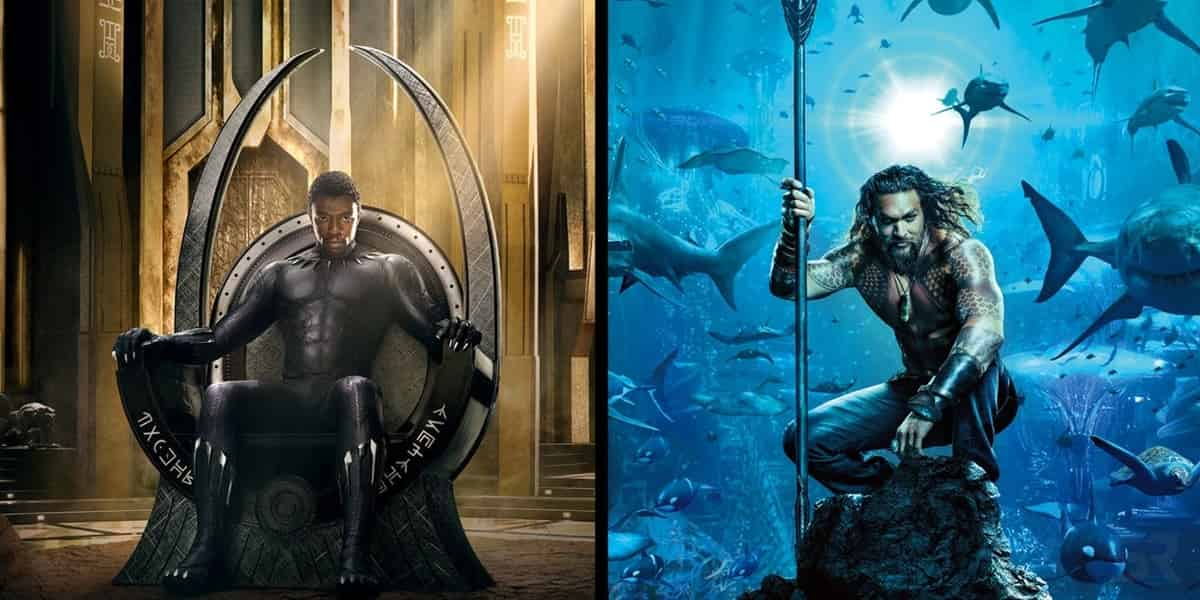 After examining the highest grossing movie
dramas
,
comedies
, and
documentaries
about government and politics released during 2018, it's time to recognize the most lucrative genre films about politics and government, including action films that incorporate fantastic or futuristic elements, such as fictional government agencies and countries, in addition to speculative fiction films (science fiction, fantasy, horror, or superhero), most of which I also wrote about in
The highest grossing speculative fiction films of 2018
. Here they are from
the top 200
at
Box Office Mojo
.
1 Black Panther $700,059,566
5 Aquaman $328,547,042
8 Mission: Impossible - Fallout $220,159,104
20 Fantastic Beasts: The Crimes of Grindelwald $159,362,631
39 The First Purge. $69,488,745
55 The Predator (2018) $51,024,708
78 Mile 22 $36,108,758
83 Annihilation $32,732,301
84 Isle Of Dogs $32,015,231
87 Robin Hood (2018) $30,824,628
100 Overlord $21,704,844
102 The Happytime Murders $20,706,452
108 Sorry to Bother You $17,493,096
121 The Darkest Minds $12,695,691
143 Hotel Artemis $6,708,147
170 Sgt. Stubby: An American Hero $3,782,328
The number one movie, both in terms of box office and award nominations, is
Black
Panther
, which has
seven Oscar nominations
: Best Motion Picture of the Year, Best Achievement in Music Written for Motion Pictures (Original Score), Best Achievement in Music Written for Motion Pictures (Original Song), Best Achievement in Costume Design, Best Achievement in Production Design, Best Achievement in Sound Editing, and Best Achievement in Sound Mixing. In addition, "Black Panther" won two
SAG Awards
for Outstanding Performance by a Cast in a Motion Picture and Outstanding Performance by a Stunt Ensemble in a Motion Picture,
two Grammy Awards
for Best Rap Performance and Best Score Soundtrack For Visual Media and two awards at the BAFTA Awards for Best Achievement in Special Visual Effects and an EE Rising Star Award for Letitia Wright. Wow!
The only other speculative fiction film about politics or government in the top 200 to earn Academy Award nominations is
Isle of Dogs
with two, Best Animated Film and Best Original Score. It's not likely to win either. Instead, it should be happy with its Annie Award for Outstanding Achievement for Voice Acting in an Animated Feature Production, its Art Directors Guild Award for Variety or Awards Show, Music Special or Documentary, its two Golden Trailer Awards for its trailer and poster, and its Satellite Award for Best Motion Picture, Animated or Mixed Media.
Those are the best films according to the awards shows, but the worst are almost certainly "The Happytime Murders" and "Robin Hood," both of which earned multiple
Razzie nominations
. "The Happytime Murders" has five Razzie Nominations, Worst Picture, Worst Actress for Melissa McCarthy, Worst Supporting Actor for Joel McHale, Worst Screen Combo for any two actors or puppets, Worst Director, and Worst Screenplay. Yikes! That's worse than "Death of a Nation!" "Robin Hood" is a little better off with three nominations, Worst Picture, Worst Remake, Rip-Off or Sequel, and Worst Supporting Actor for Jamie Foxx. The rest of their nominations at other awards programs testify to their awfulness. "Robin Hood" was nominated for Sequel or Remake That Shouldn't Have Been Made by the Alliance of Women Film Journalists, who nominated Melissa McCarthy as Actress Most in Need of a New Agent for her role in "The Happytime Murders." In addition, has nominations for Worst Movie of the Year from the Golden Schmoe Awards, Houston Film Critics Society Awards, and
St. Louis Film Critics Association. What a stinker!
Both of these movies are down there with "Baywatch," which had four nominations at
the 2018 Razzies
. When I listed it among the eligible films for
the first Coffee Party Entertainment Awards for movies
, the reaction was "you just put that there to see if we were paying attention." Pretty much, and that's the reaction I am hoping for when I list them this year, too.
I conclude with a winning song from "Black Panther" that I didn't include among
the nominated movie songs at the 2019 Grammy Awards
, "
King's Dead
" by Kendrick Lamar, Jay Rock, Future & James Blake.
Music video by Jay Rock, Kendrick Lamar, Future, James Blake performing King's Dead. (C) 2018 Aftermath Records
And here's
Kendrick Lamar, Jay Rock, & Anderson .Paak Tie For Best Rap Performance
.
Kendrick Lamar, Jay Rock, Future, James Blake & Anderson .Paak tie for Best Rap Performance. Watch Jay Rock's speech for Best Rap Performance at the 61st GRAMMY Awards.
Congratulations and good luck at the Oscars, where I now think "Black Panther" is favored to win Original Dramatic Score.