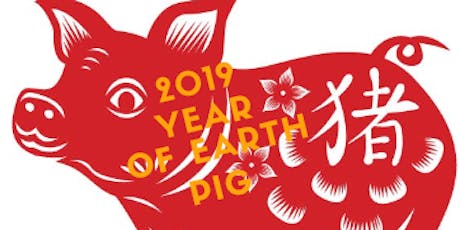 Happy Lunar New Year! So long
Year of the Earth Dog
. Welcome the Year of the Earth Pig! I begin the festivities with Syracuse.com explaining
Chinese New Year: The Year of the Pig
.
Chinese New Year is February 5, 2019. It's the first year of the earth pig since 1959.

What is the Year of the Pig? What sign are you?

Learn more about the 12 animals and the five elements that make up the Chinese Zodiac, as well as what type of personality you have based on astrology.

Video by Christa Lemczak. Music: "Under Oriental Skies" by Geoff Harvey
This is a special year for me, as I wrote in
Earth Signs
six years ago.
I was born in the year of the Earth Pig. I joke about this by calling myself an aardvark, which is Afrikaans for "earth pig."
It's cool that I've returned to the same exact sign that I was born under. However, neither my readers nor I should take the astrology seriously as "I consider all of this harmless but fun nonsense that I'm presenting for entertainment purposes only."
Speaking of entertainment, the Voice of America uploaded
Lunar New Year Celebrated in the US
yesterday. I found it both fun and educational. I hope my readers do, too.
It's time to conclude this post with the generic greetings
I've
recycled
many
times
over
.
Mandarin: Gong Xi Fa Cai/Xin Nian Kuai Le
Cantonese: Kung Hei Fat Choi
Hokkien (Fujian/Taiwanese): Kiong Hee Huat Tsai/Sin Ni khòai lok
Source
Simplified Chinese: 恭喜发财 新年快乐
Traditional Chinese: 恭喜發財 新年快樂
Source