Looks like I'm not done writing about the
trade
war
after describing its possible effects of tariffs on
retail in particular
and
the U.S. economy in general
. Yesterday, China hinted that it might restrict exports of rare earth elements to the United States, a hint that became a threat. This is something I've been warning my students could happen all this decade. Here is an update of the top portion of a graph I show them every semester.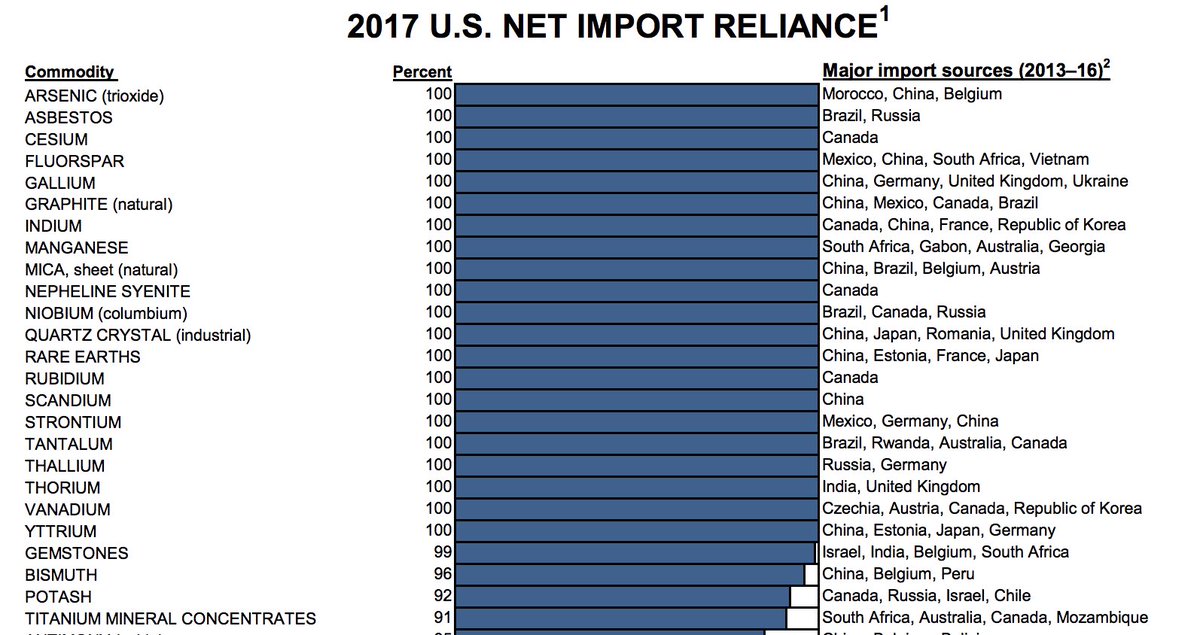 I point out that the U.S. is 100% dependent on imports of 21 minerals, chief among them rare earths, and that many of the countries that we import them from are not our friends, especially China and Russia. Not only do I tell my students this, but I say that China in particular could cut off exports of rare earths, which would cripple our ability to make many products.
NBC News
lists many of them.
If you have a smartphone or computer, own a flat-screen TV, drive a hybrid car or use a myriad of other high-tech devices, you'll no doubt come into contact with these elements — mined from the earth's crust and supplied predominantly by China — countless times a day.
...
Rare earth minerals are a crucial component of products that cut across the U.S. economy, not only in the tech sector but in the energy industry as a catalyst for oil refineries and in wind turbines, and in the automobile industry for manufacturing electric vehicle motors.
...
The elements' names, which include cerium, promethium, scandium, might sound like something out of science fiction, but each one can be used for a variety of purposes — from making magnets, batteries and lights, to glass production and the cooling of nuclear rods.

The U.S. military also depends on rare earths for the construction of equipment used in satellites, lasers, jet engines, radar and sonar systems, and other sophisticated machinery.
In other words, losing our access to China's rare earths, which supply 80% of the what the U.S. uses, would be crippling to our high-tech economy. We would be even more dependent on Chinese finished goods that contain rare earths instead of being able to make our own. Ironically, trying to avoid this situation is what got us into this mess in the first place, as the Chinese are using the threat of restricting exports of rare earths in retaliation for our sanctions on Huawei, the Chinese telecommunications company.
CNBC has been covering this story since it broke yesterday. Follow over the jump for the videos.
CNBC began its coverage with
China threatens to withhold rare earth metal sales to gain leverage on trade
.
A potential new front opening in the trade war with China after an official comment is being viewed as a veiled threat over "Rare earth metals." CNBC's Eunice Yoon reports from Beijing.
"Don't say we didn't warn you" has never sounded more ominous. Of course, I could say the same thing about what I've been telling my students all along.
CNBC continued its coverage yesterday with
No access to rare earth minerals could be 'serious problem for US's high tech production', says expe[rts]
.
Beijing is considering cutting off the U.S.'s access to rare earth minerals. James Pethokoukis, AEI, and Joel Trachtman, Tufts' Fletcher School, join 'The Exchange' to discuss how serious the threat may be.
All of that sounds pretty grim, even with James Pethokoukis mocking the U.S. Government and especially the current Administration for its lack of foresight and preparation.
This morning, CNBC offered some hope in the form of
Co-chair of America's only rare earth mine discusses China's threat
.
China dominates the rare earth market, one of the few countries that engages in the expensive process of refining those metals making them useful for everyday products. But this week, the news out of China was that Beijing is considering blocking access to those minerals for the United States. James Litinsky, founder and CEO of JHL Capital Group and co-chairman of MP Materials, joins "Squawk Box" to discuss.
It turns out that the U.S. actually can produce up to 10% of the world's supply. It just doesn't refine it. In the short term, that situation leaves us as vulnerable to a Chinese embargo of rare earths as we were to the OPEC oil embargo of 1973 and supply disruptions like the Iranian Revolution and Iran-Iraq War. In the medium and long term, it gives us the promise that we could be more self-sufficient,
just as we have for oil
.
That's the good news. The bad news is that I have been warning about the possibility of this happening in my classes, if not on this blog, for a decade. Sometimes, I'd rather not be right.