Happy Throwback Thursday! For today's retrospective, I'm updating and looking back at
Anderson Cooper shows other politicians besides Alexandria Ocasio-Cortez dance on The Rediculist
. I'll have the story of that entry over the jump. First, I'm looking at a documentary featuring Ocasio-Cortez and three other women who ran for Congress last year, "Knock Down
the House." Here is
the official trailer from Netflix
.
Follow the stories of four inspiring women who took on history in the 2018 midterm election. Knock Down The House, only on Netflix May 1.
It turns out that my old hometown paper, the Los Angeles Times, posted
a review of the documentary by Kenneth Turan
on YouTube. Watch it.
"Knock Down the House" captures Alexandria Ocasio-Cortez during her campaign and historical election victory.
That's a glowing review.
I'm sure I'll see this movie nominated for a
Best Political Documentary nominees at the 2018 Critics' Choice
Documentary Award
or two, likely an Emmy, and possibly even an Oscar. Also, I'll try to remember to nominate it at
Coffee Party
Entertainment Awards
later this summer for television shows or next year for movies.
Follow over the jump for the top post about
Representative Ocasio-Cortez
and how it became so popular.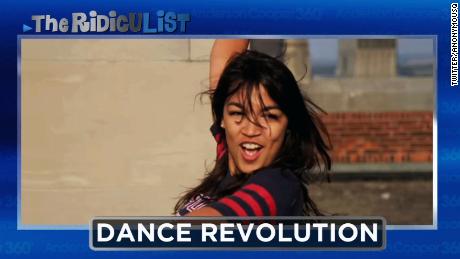 Anderson Cooper shows other politicians besides Alexandria Ocasio-Cortez dance on The Rediculist
from January 6, 2019 was the 27th most read entry of the eighth year of Crazy Eddie's Motie News and the only one from 2019 to crack the top 40 of the previous blogging year.
It earned its 2520 total raw page views by being shared at the Coffee Party USA Facebook page and Kunstler's blog. In my comment on
In the Deep Mid-Winter
, I wrote "[I]f you're skewering left-leaning women, don't forget Congresswoman Alexandria Ocasio-Cortez. While she is ineligible to run for President because of her age, she's making lots of news between her
dancing
and
proposing to raise the top tax bracket to 70%
."
Not only is the entry the most read of the current calendar year, it was the top post of January 2019 with 2439 default page views. It was also tied for most commented on during January 2019 with 4 comments.
Stay tuned for another retrospective tomorrow, which will be about a third consecutive year of lower life expectancy in the U.S.
Previous posts in this series