Happy
Mother's
Day
! To celebrate, I'm following up on
Baby names from entertainment for Mother's Day 2018
, itself an installment of
a series
that goes
all the way
back to
Game of Thrones--names, geology, and security theater
in 2014.
I begin, as I did last year, with the Social Security Administration reporting
Social Security's Top Ten Baby Names of 2018
.
Just arrived! Find out the top 10 baby names of 2018 from Social Security, the source for baby names each year!
Once again, Emma, as in Stone and Watson, is the most popular girl's name and Liam, as in Hemsworth and Neeson, is the most popular boy's name. As for Logan, Wolverine's first name, it has fallen all the way down to tenth.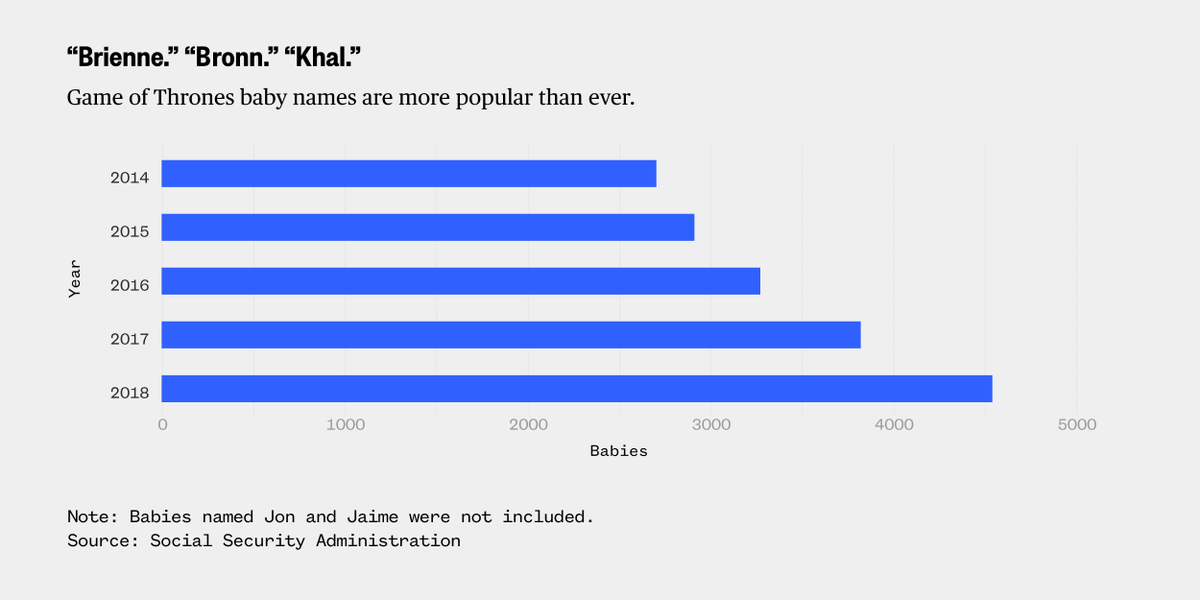 Of course, no examination of baby names on this blog would be complete without a reference to either
Game of Thrones
or
Star Wars
.* Since
I wrote on the Revenge of the Sixth
that "That's it for Star Wars until the Saturn Award nominations are announced, whenever that may be," it's Game of Thrones' turn. For that, I turn to
IndieWire
.
2,545 girls have a name, and it's Arya. That's according to Social Security data on last year's baby names, which continues the trend of new parents naming their children after "Game of Thrones" characters. And though everyone's favorite knife-wielding daughter of Winterfell was once again the show's most popular namesake, other inhabitants of Westeros had a good showing as well: 516 girls named Khaleesi were born last year (as were, somewhat distressingly, 19 Caleesis, 14 Khaleesias, and five Khaleesies) in addition to 434 Yaras, 319 Lyannas, 125 Shaes, and 102 Renlys.

But wait, there's more! 2018 also introduced the world to 58 Tyrions, 33 Briennes, 30 Jorahs, 29 Sansas, 21 Catelyns, 17 Ellarias, 15 Oberyns, 14 Theons, and 11 Gregors whom one hopes weren't actually named after the Mountain. (His track record with children isn't exactly great.)
CBS News reported on the change in rank instead of the raw numbers in
"Game of Thrones" baby names are more popular than ever
.
The name Arya ranked 119th for female names, making a significant jump from 942nd place in 2010 - the year the show debuted. But another spelling of the name, Aria, was much more popular in 2018, ranking 19th.

Khaleesi, the title given to wives of nomadic warlords, rose nearly 100 spots in 2017, ranking 549th. Yara made one of the largest increases last year, jumping a few hundred spots to 672nd.
Khaleesi actually ranked 549th in 2018, not 2019. As for Yara, I associate that name with Yara Martinez, who acts in both "
Jane
the
Virgin
" and "
The
Tick
," more than "Game of Thrones." Speaking of "Jane the Virgin," Xiomara, the name of Jane's mother,
continued to increase in popularity
, rising 130 places from 855 to 725. It might do that one more year, as this is the final season of the show.
I'm finishing this entry with some drink recipes for mom. Instead of one from Tipsy Bartender, I'm sharing
Mother's Day Drink Recipes
from Coborn's Family of Stores.
Jayne is back with some delicious, easy-to-make drink recipes - perfect for Mother's Day!
A toast to mom! Speaking of which, it's time for me to call mine. Happy Mother's Day!
*I'm saving
Star Wars names for Father's Day
. Stay tuned.