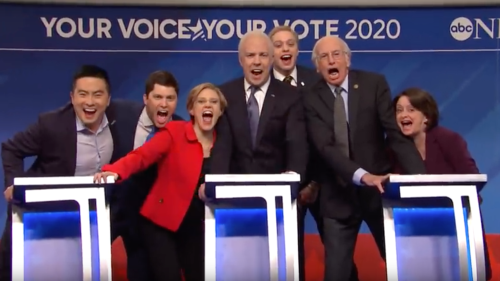 For this week's Sunday entertainment feature, I'm returning to the
Iowa
Caucuses
and
the current episode
of "
The Worst Wing
" with help from
SNL
, just as I did in
SNL has fun with the December Democratic debate and impeachment
two months ago.
I begin, as the show did, with
New Hampshire Democratic Debate Cold Open
.
2020 Democratic presidential candidates Tom Steyer (Pete Davidson), Amy Klobuchar (Rachel Dratch), Elizabeth Warren (Kate McKinnon), Joe Biden (Jason Sudeikis), Bernie Sanders (Larry David), Pete Buttigieg (Colin Jost) and Andrew Yang (Bowen Yang) face off in a debate.
Once again, Michael Bloomberg crashes the debate, this time via
his ads
. He'll probably crash the next SNL debate parody, which should be on the 22nd, as
he hasn't qualified for the Nevada debate next week
and probably won't. So far, neither has Andrew Yang or Tom Steyer. That means only five people on stage.
I'll drink to that
!
SNL moved on from the debate to other political news to open
Weekend Update: Trump Acquitted
.
Weekend Update anchors Colin Jost and Michael Che tackle the week's biggest news, like President Trump's reaction to his impeachment acquittal.
While that pretty much summed up the week in national politics, Weekend Update wasn't done. SNL returned to the topic to close the segment in
Weekend Update: Cathy Anne on Trump's Impeachment Acquittal
.
Cathy Anne (Cecily Strong) weighs in on President Trump's acquittal from the impeachment trial.
I agree with everything the character said about the trial.
With that, I'm done with last week's episode of "The Worst Wing." Good riddance!