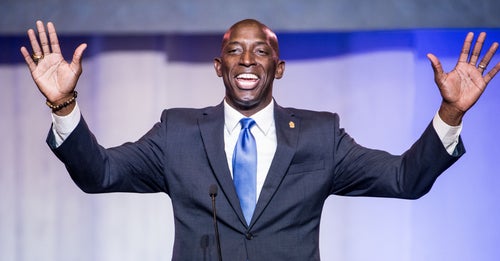 I'm not done chasing shiny objects. After I wrote
Macy's announces 125 stores closing and 2,000 corporate jobs cut, a tale of the Retail Apocalypse
, I returned to the main page of
On The Issues
, which I had checked when writing
Joe Walsh walks away from the Republican primary and says he'll support the Democratic nominee
. I noticed that
Wayne Messam
was missing from the list of active Democratic candidates. I looked under "Withdrawn or undecided contenders for 2020" and found his photo and link to
his page
. It turns out he suspended his campaign on November 20, 2019.
Vox
had the story.
Wayne Messam, the mayor of Miramar, Florida and an early — but almost entirely overlooked — entrant into the 2020 Democratic presidential race, has suspended his White House bid.

"I knew the odds were a steep hill to climb but I have always fought for what is right and will continue to break barriers never broken," Messam wrote in a Medium post announcing his plans to suspend his campaign — perhaps indefinitely — Wednesday.

"Although the campaign goal of becoming President was not realized at this moment, I could not be more thankful for the many supporters including my family, friends and so many Americans I have had the awesome opportunity to meet on the campaign trail all over this nation," he added.
I'm not surprised, as the video with the most views on YouTube about Messam that I found on a search was Team Coco's AKA Conan O'Brian's show on TBS segment
How Wayne Messam Raised $5 For His Presidential Campaign
.
After taking a closer look at Wayne's campaign website, Conan isn't surprised that the 2020 hopeful fell short of his fundraising goals.
LOL, that video was uploaded on October 25, 2019, but accurately predicted that Messam would drop out soon afterwards. Considering that Conan used to write for "The Simpsons," which is notorious for predicting events years, sometimes decades, in the future, I shouldn't be surprised.*
As for my excuse, I was too busy writing about
Mike Bloomberg and Deval Patrick joining the Democratic primary contest
and coming up with
drink suggestions for them
to notice. On the one hand, oops. On the other, both are still in the contest, so I don't feel so bad.
Follow over the jump for the drink suggestions and memes I'm retiring now that I've finally caught up with Messam missing from the contest.
First, my suggestions from
Drinks for the candidates who didn't make the debates
.
Next, Wayne Messam.
Spoon University, the same source that listed the Duck Fart as the unofficial cocktail of Alaska has the Rum Runner as the unofficial cocktail of Florida, so here is Common Man Cocktails' video.
Let's learn how to make a rum runner cocktail, a rum-based cocktail that was born out of the 1950's and one bars surplus of rum. The Rum Runner is often a pile of rum in a glass with varying recipe designs. Our rum runner? On the rocks, no blender.
Too bad Messam never made a debate stage. That would have been a fun drink.
Next, the meme I made for
Wayne Messam at On The Issues, take one
Based on Messam's current scoring, he has an economic score of 25 and a social score of 65, which leads On The Issues to classify him as a Moderate Liberal, just like Marianne Williamson, whose scores he matches. That written, there are a number of issues for which On The Issues has not recorded a position to score, so I expect that Messam's rating and classification might change, which is why I called this "take one." In particular, his position is likely to move left, either to Hard Core Liberal or Libertarian-leaning Progressive. Should that happen, I will post a "take two." Stay tuned.
I reused that meme and much of the quoted text in
On The Issues shows most of the Democratic candidates have moved left during the campaign, too
. I observed then that I expected it to change.
Wayne Messam, whose evaluation at On The Issues prompted my re-examination of the candidates, still has an economic score of 65 and a social score of 25, making him a Moderate Liberal. Right now, I rank him as the twenty-first most liberal candidate. Let's see how long that lasts, although I suspect he might drop out before his scores change.
That prediction came true, as Messam's scores were still 65 and 25 on November 23, 2019, the last time I checked all the candidates, and three days after Vox reported on his dropping out. It's also why I repeated myself in
Democratic candidates continue to drift leftwards according to On The Issues
, which I won't do here. Instead, I'll note that
On The Issues
currently lists his ideological scores as 8 on the economic scale and 80 on the social scale, which makes him a Hard Core Liberal, exactly where I thought he'd end up seven months ago. I can derive some small satisfaction from that, even if it took me nearly three months to find out.
OK, that's enough chasing shiny objects for this blog today. Stay tuned for the Sunday entertainment feature.
*The joke about the NBA and China is something I have to follow up, as Vox has a video about the relationship between the two.