I finished
Pier 1 Imports files for bankruptcy, a tale of the Retail Apocalypse
by telling my readers to "stay tuned for an update to
Drinks for candidates at the September and October Democratic debates
. I bet it will be time to add
Bloomberg's drink suggestions
. Any takers?" Well, that happened, as NPR reported yesterday
NPR/PBS NewsHour/Marist Poll: Sanders Leads, Bloomberg Qualifies For Debate
. Good thing no one took me up on betting against that happening!
With that, it's time for a new drinking game. I begin with a meme from
Delish
.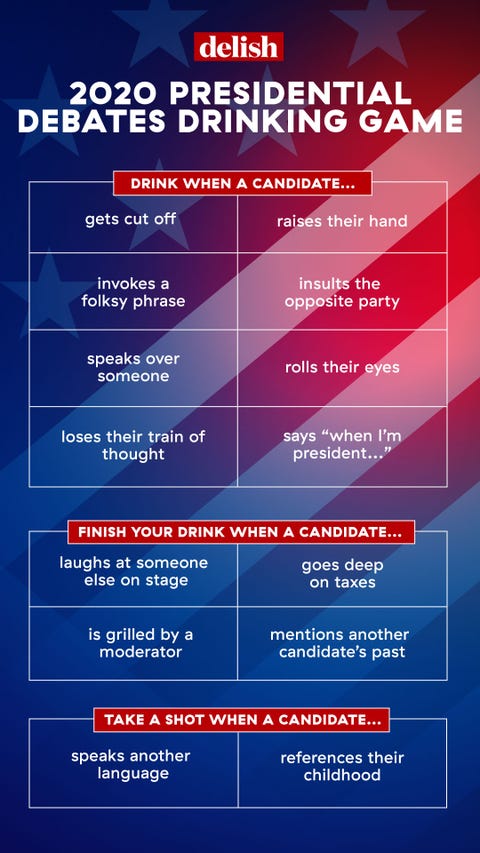 This drinking game, in addition to being simple, has aged better than the others, even
DebateDrinking.com
, which hasn't been updated since December.
Rolling Stone
last updated its game in January.
BTR
at least has one for the last debate in New Hampshire, but I don't know how well it will work unless one substitutes New Hampshire for Iowa and Nevada for New Hampshire. Just the same, happy drinking!
Follow over the jump for the drink suggestions, which I've recycled. Of course I did; I'm an environmentalist.
I begin my recycling with the suggestions I originally posted in
Drinks for the Democratic debates: Joe Biden
five years ago.

Like Clinton, Sanders, Trump, and Santorum, Biden has a drink named after him, the Biden Beer Bomb.


.5 bottle of Sam Adams Cherry Wheat Beer (or beer of your choice. Wheat beer or hefeweizen works best)
1.5 oz. Woodford Reserve Bourbon
.5 oz. Cherry Brandy
.5 oz. simple syrup

Need a frozen beer mug or beer glass, then place bourbon, cherry brandy, and simple syrup in a Boston shaker with ice, and shake until cold. Pour mixture into the bottom of an ice-cold mug, then add beer.

As if that's not enough, there is a Vice President cocktail.


1 1/2 oz Cuban rum, Havana Club Añejo Especial
1 oz Mandarin orange liqueur, Mandarine Napoleon
1/2 oz Campari
Instructions
Stir, strain, up.

The irony of these drinks is that Biden doesn't consume alcohol. Instead, he prefers a cranberry mocktail like this Virgin Cosmopolitan.


Ingredients

4 Parts Cranberry Juice
1 Part Lime Juice
1 Part Orange Juice
1 Part Simple Syrup
2 Dashes Orange Bitters
1 Twist Orange

How to mix

Fill a shaker with ice cubes. Add all ingredients. Shake and strain into a chilled cocktail glass. Garnish with orange.

In any event, if Biden enters the Democratic primary contest, both my readers and Paul W.'s will be prepared.
Next, Bloomberg, for whom I'm reusing three recipes from
Drinks for Republican candidates: Graham, Pataki, and Gilmore
that I suggested for George Pataki. Since Bloomberg used to be a Republican, I think it's appropriate.
First, the
New York Sour
.
This is a crazy cocktail the mixes red wine, lemons juice and whiskey to create and sweet tasting layered cocktail.
...
NEW YORK SOUR
2 oz. (60ml) Bourbon
1 oz. (30ml) Lemon Juice
1 oz. (30ml) Simple Syrup
Tops with Red Wine (Shiraz or Malbec)
Next,
The Manhattan
.
Ladies and gentlemen a classic cocktail....THE MANHATTAN. This is an old school cocktail that is still relevant today. It is the perfect mix of whiskey, sweet vermouth and bitters. If you love whiskey then you must try this drink.
...
MANHATTAN
2 oz. (60 ml) Whiskey
0.5 oz. (15 ml) Sweet Vermouth
2-3 Dashes of Bitters

2 oz (60 ml) Whisky
0.5 oz (15 ml) Sweet Vermouth
2-3 Dashes of Bitters
If that's not enough,
About.com has a recipe for a New York Cocktail
.
Ingredients

2 ounces blended whiskey
1 ounce lemon juice
1 teaspoon superfine sugar
1/2 teaspoon grenadine
Lemon twist for garnish
...
Preparation

Pour the ingredients into a cocktail shaker with ice cubes.
Shake well.
Strain into a chilled cocktail glass.
Garnish with the lemon twist.
I'm also going to steal
Saveur's recipe for the Billionaire Cocktail
from
Drinks and drinking games for Donald Trump and the GOP debates
.
Ingredients
2 oz. high-proof bourbon, such as Baker's
1 oz. fresh lemon juice
1/2 oz. simple syrup
1/4 oz. absinthe bitters or absinthe
1/2 oz. grenadine syrup made from pomegranate, such as Employees Only
Lemon wheel, for garnish
Instructions
Combine bourbon, lemon juice, absinthe bitters or absinthe, and grenadine in a shaker over ice. Shake vigorously and strain into a coupe glass. Garnish with the lemon wheel.
Bloomberg deserves this drink more than Trump. Besides, Tom Steyer already has the Billionaire's Margarita.
Of course, if one wants something non-alcoholic to toast Bloomberg, one can always drink the soft drink of one's choice in a Big Gulp cup.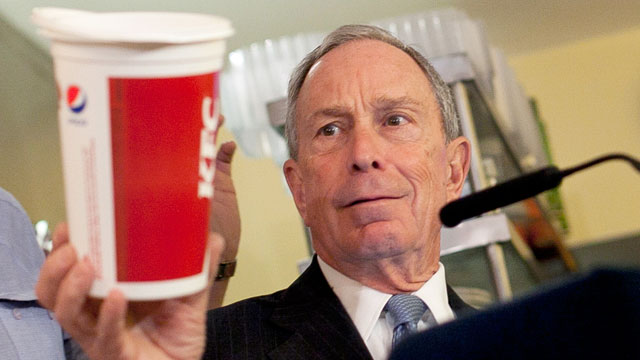 When I look up Pete Buttigieg's favorite drink, the one that turns up consistently is beer. However, Eater quotes his husband as saying Mayor Pete likes "Beef jerky, string cheese, and Gatorade." If one wants to drink beer,
South Bend has some good craft breweries
, if one can get one of their beers. However, I'm more intrigued by the Gatorade, which is used in
Tipsy Bartender's Skittle Punch
.
That looks like a fun drink and better than beer, although not better than the sentiment on this beer that Mayor Pete found in the Green Room to Colbert's show.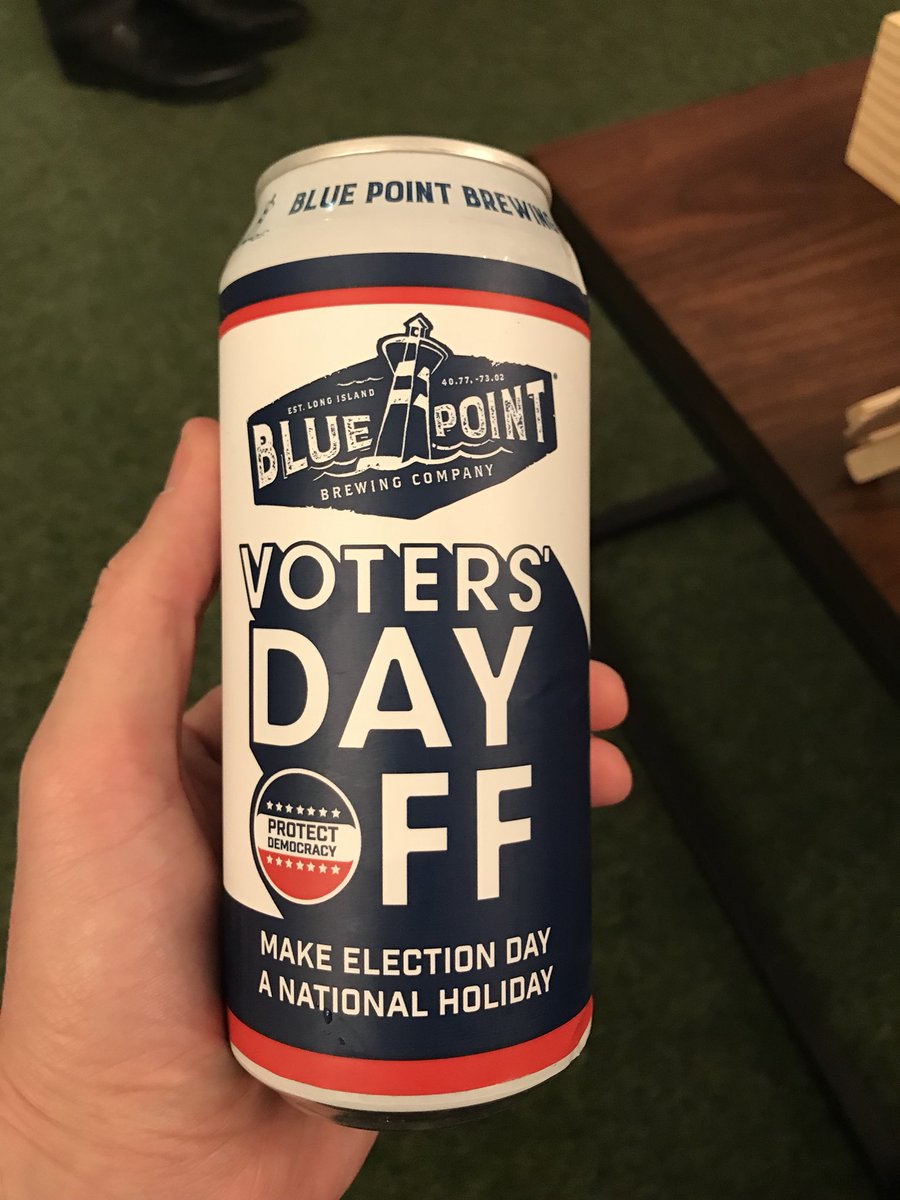 I'll drink to that!
Amy Klobuchar's favorite comfort food, a baked potato, doesn't inspire much in the way of drinks besides vodka, and that's not very inspiring. Neither is the video of her drinking a beer; I've already recommended a beer to salute Elizabeth Warren (see below). However, Minnesota does have an official cocktail, The Bootleg. Watch
Lunds & Byerlys
show how one is made.
Mix up a batch of refreshing, citrusy Bootleg cocktails.
The booze used is Prairie Vodka, so the drink does tie into potatoes after all!
I'll be a good environmentalist and recycle for
Bernie Sanders
.
First, the jokes, beginning with a bad one from Hypeline [Now on Medium].



Bernie Sanders = Grain Alcohol

Bernie Sanders is no more than a cheap grain alcohol. Nothing fancy because let's face it, nobody should have anything better than anyone else. This is a cheap alcohol that will get the job done. Nobody really likes it but since we need to make sure everyone can equally get alcohol, this is only thing you might be lucky enough for the government to afford you.

As I wrote about their suggestion for Clinton, Hypeline leans right, so their bias interferes with their creativity. Fortunately, I won't have to cite them again.

Vinepair has a similar suggestion, but at least they're funnier about it.



This self-proclaimed socialist needs a rum with similar values. We've chosen Havana Club because it's still (sort of) Cuban-owned, and thus not sold in the States. Fight the power with a daiquiri, Bernie.

...
Like Clinton, Santorum, and Trump, Sanders has a drink named after him. Like Trump, this one is official. Food and Wine shared the story and recipe.


Sanders treated everyone at the party to a custom cocktail—the Bernie Paloma. The drink was developed by Miguel Marcelino Herrara from D.C.'s hip cocktail spot, Barmini. And while Bernie Sanders doesn't exactly seem like the type who throws back $17 cocktails (good on him for drinking Heady Topper), the drink that bares his name still sounds pretty good.

If you plan to vote for the Vermont Senator (or even if you don't), here's what you should toast with (per the NY Times):
The Bernie Paloma:

1/2 oz. Vermont maple syrup
1/2 oz. fresh lime juice
2 oz. fresh grapefruit juice
2 oz. silver tequila
Garnish: "salt air," which is sea salt, lime juice, water and Sucro, emulsified with a hand blender.

Bobby Flay of Food Network has another suggestion, The Old Vermont.



Ingredients

1 1/2 ounces gin
1/2 ounce grade B pure maple syrup
1/4 ounce freshly squeezed lemon juice
1/4 ounce freshly squeezed orange juice
2 dashes bitters, such as Angostura
Ice
Orange rind

Directions

Combine the gin, maple syrup, lemon and orange juice and bitters in a cocktail shaker. Add some ice and shake a few times. Strain the drink into a martini glass and garnish with the orange rind.

This recipe is one of the suggestions from Berniementum's party guide along with this shot glass.


It may not be fair that I have so many recipes for Bernie, but that's what happens when he runs twice. I'm ready for him!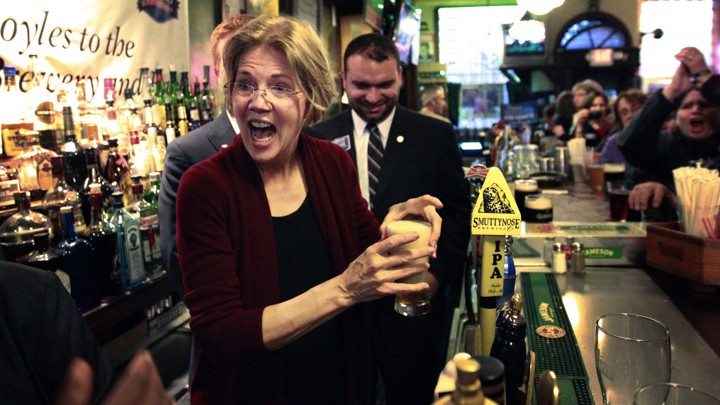 Elizabeth Warren drank a beer when she announced her candidacy, in fact,
a Michelob Ultra
. That's fine, but I prefer Samuel Adams Boston Lager, which is what I think she should have been drinking, as it's from Massachusetts and has patriotic connections.
Now for the two candidates who are still running but aren't in tonight's debate in Las Vegas. I'm including them for their supporters and the off-chance that either earn any delegates, which should qualify them for future debates. In particular, I think Tom Steyer could win a delegate or two in South Carolina.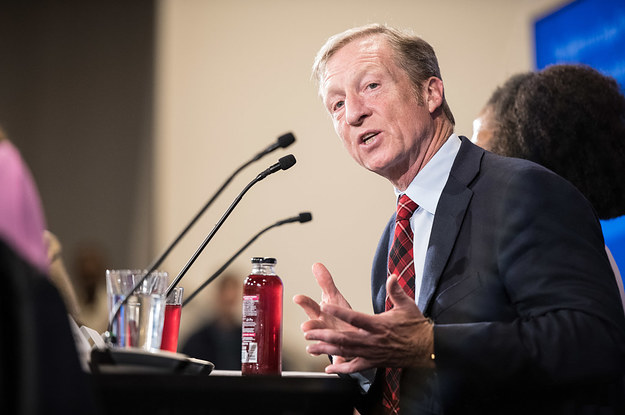 I have just the drink for him,
the Billionaire's Margarita
. Take it away, Skyy and Sophia!
Get your big pimpin' on with the....BILLIONAIRE'S MARGARITA! This is a small twist on a classic, made with the intention of morphing it into a manlier drink! It's a refreshing mix of tequila, Grand Marnier, and lime juice. Drink like a billionaire!
Now for a candidate that I don't expect to appear in any debates this year, but I'm including her drink just for her few fans to consume while they watch the rest of the field on the debate stage.
Since Tulsi Gabbard represents Hawaii, the obvious choice would be a Blue Hawaiian. However, she named
her favorite comfort food as vegan cupcakes
, so I'm recommending a cupcake drink instead. Here's Tipsy Bartender's
Chocolate Cupcake Cocktail
.
This creamy shot is the perfect dessert martini for chocolate lovers!
I hope it's vegan!
With that, enjoy
tonight's debate
and the rest, including the one on
Fat Tuesday
in
South Carolina
along with any after that.