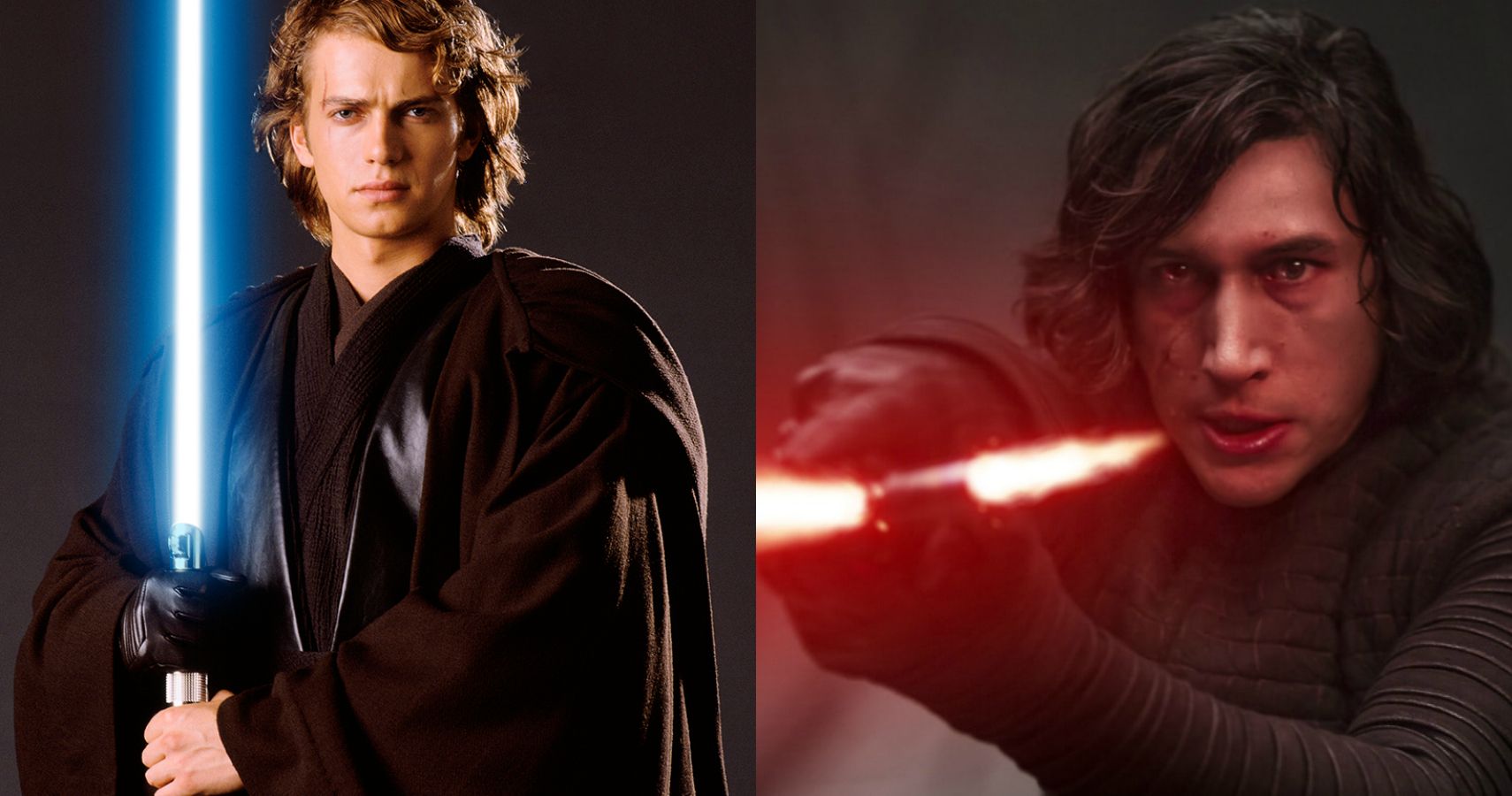 I'm still in an "I can't be all DOOM all the time" mood, so instead of covering
falling
birth
rates
, I'm delivering the second half of the "double edition of
baby
names
from
entertainment
" I said I was writing at the beginning of
Top baby names of 2019 and 2020 for Father's Day weekend
. That's because I started looking at "
Star Wars
" and "
Game of Thrones
" names beginning with Kylo at the Social Security Administration website after I posted yesterday's entry and couldn't resist indulging my curiosity.
Not only was last year the best year for Kylo as a baby name, Kylo had
the fourth largest increase in popularity by rank
, jumping 483 places from 932 in 2019 to 449 in 2020. That made Kylo more popular than the character's given name Ben, which
fell 50 places from 770 to 720 between 2019 and 2020
. Adam, the name of Kylo's actor, also lost popularity, declining from 96 to 90.
Anakin also increased in popularity last year, jumping 255 places from 959 to 704 for the seventeenth largest rise in rank. 2020 was also the best year for the name in its history. Despite that good news, the trend I noticed two years ago culminated in Kylo handily passing Anakin in popularity. Kylo can tell his grandfather that now, he is the master, just as Darth Vader told Obi-Wan in "A New Hope."
Not all "Star Wars" names from the new trilogy fared as well. Rey as a boys name continued sinking, falling 86 places to 888 in 2020 from 802 in 2019. Rey still hasn't cracked the top 1000 girls names, although the actress's name Daisy ticked up 21 places from 164 to 143, the highest position it has held since 2003. Finn had already been popular before "The Force Awakens," but the movie made it more popular, reaching a peak in 2018 at 166. Since then, its popularity slowly sunk to 173 in 2019 and 178 in 2020.
Names from the original trilogy have been doing well, especially Leia, which the following chart shows having its second best year ever in 2020.
While Leia jumped 38 places from 333 to 295 between 2019 and 2020, last year wasn't the peak of its popularity so far. That title belongs to 2017, when the name held rank 282. Luke, a name popular long before Star Wars existed, has held fairly steady after a long slow rise, ranking 32 in 2019 and 31 in 2020. The Force is with both siblings, or at least their names.
Follow over the jump to see how names from "Game of Thrones" and other entertainment franchises have fared the past two years.
Arya's standing improved from 2018, when I last reported on it, to 2019, rising 27 places from 119 to 92, cracking the top 100 for the first time ever. It then fell 20 places in 2020 to 112, still the name's second most popular year.
On the other hand, the popularity of Khaleesi peaked in 2018 and then dropped dramatically since. The title of the Queen of Dragons lost its luster, declining 32 places from 551 at its height to 583 in 2019, then 150 places to 733 in 2020, the 26th largest drop of any female name last year. Wow! Unlike names from "Jane the Virgin," which have continued to gain in popularity after the show ended, names from "Game of Thrones" have lost momentum after the series ended.
Three names from sports caught my attention as increasing in popularity, Kobe, Bryant, and Gianna, all names associated with the tragic loss of star basketball player Kobe Bryant and his daughter Gianna in a helicopter crash in Calabasas last year. Kobe had the eleventh largest jump in popularity among boys names last year, leaping 317 places from 556 to 239. Bryant experienced the 25th largest increase in popularity, springing 171 places from 829 to 658. Gianna, already a popular name, rose 37 places within the top 100 from 79 to 12. May Kobe and Gianna rest in power and their names live on in glory.
I close with two final names that caught my notice. Mazikeen, the name of a female demon from "Lucifer," had the fifteenth greatest increase in popularity, climbing 303 places out of the underworld beneath the top 1000 for the first time in its history to claw its up to 998 from 1301, with 253 baby girls given that name in 2020. It only took four years and the show moving from Fox to Netflix for that to happen.
Speaking of names with evil associations, Karen had the fourteenth greatest fall of any girls name last year, dropping 171 places from 660 to 831. While the name had been losing popularity since 2003 with a slight uptick in 2007, its popularity dropped dramatically last year. If anyone is looking for an effect of
the pandemic
on baby names, they can stop right here to see it.
That's it for baby names this year. Stay tuned for a busy long
holiday
weekend, with
Juneteenth
and
National Martini Day
tomorrow,
Father's Day
, the
Summer Solstice
,
American Eagle Day
, and
National Seashell Day
on Sunday,
World Giraffe Day
on Monday,
World Rainforest Day
on Tuesday, and the inaugural
National Detroit-Style Pizza Day
on Wednesday. Doom in the form of falling birth rates can wait.