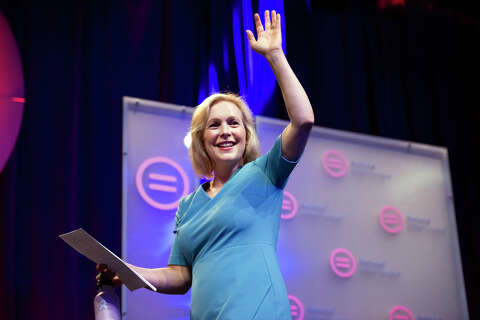 First
John Hickenlooper dropped out
, then
Jay Inslee
followed by
Seth Moulton
. All three were picked by the reporters and editors of FiveThirtyEight in
their first 2020 drop out draft
. They were the first, fifth, and second picked, respectively. Yesterday, the third candidate picked left the contest, as CBS News reported
Senator Kirsten Gillibrand drops out of 2020 presidential race
.
Democrat Kirsten Gillibrand says she's dropping out of 2020 presidential race amid low polling and fundraising struggles. The New York Times was first to report the news.
ETA:
CBS News later uploaded
2020 Daily Trail Markers: Senator Kirsten Gillibrand drops out of presidential race
, which examined Gillibrand dropping out in depth.
Senator Kirsten Gillibrand announced she's dropping out of the 2020 presidential race. The Democrat from New York ran her campaign on promises to fight for women's rights and policies like paid family leave. As a senator, she gained prominence while pushing for reforms in prosecuting sex crimes in the military. 2020 campaign reporter Cara Korte joins CBSN with Wednesday's edition of 2020 Daily Trail Markers.
So now the first, second, third, and fifth candidates picked by FiveThirtyEight have dropped out. Four down, five to go. The fourth candidate chosen in the drop out draft is Tim Ryan. My readers and I will see if he's next. In the meantime, follow over the jump for the drink and memes I am retiring now that Gillibrand is no longer running.
First, from
Drinks for the Democratic debates, Part 2
.
via GIPHY
Kirsten Gillibrand made it easy by naming "a glass of whiskey at the end of the night" as her comfort food. That makes me like her a lot better, just not enough to ever vote for her in the primary. Speaking of liking her more, here she is tending bar.




She doesn't need a cocktail; whiskey shots will do just fine.
Next, two memes.
Amy Klobuchar will have a meme to herself the next time I update
Democratic candidates...according to On The Issues
; she won't have to share it with Gillibrand.
I expect to use the following from
Senators and Representatives running for the Democratic nomination are drifting to the left as they campaign
one more time, as I plan on updating the Voteview scores Friday or Saturday. After that, I'm retiring it.
Finally, I'm going to share my promise from
WXYZ, WDIV, and MSNBC cover O'Rourke and Gillibrand in Michigan
: "I'm still not voting for her in the Michigan primary next year." Gillibrand has made it easy for me; she won't even be on the ballot!